Cleansed
Sarah Kane
Fear No Colours
C nova
–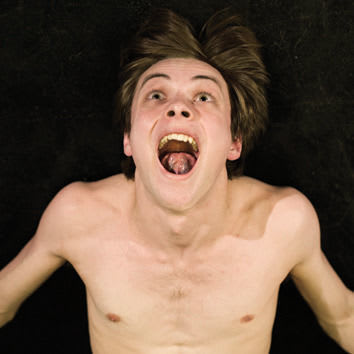 This production of a tricky Sarah Kane play may be low budget but it is high quality.
Cleansed looks at obsessive love from a number of perspectives. Siofra Dromgoole's Grace is so enamoured of her brother Graham that she literally tries to become him.
In doing so, she enters a dystopian netherworld run by sinister Tinker, Erfan Shojanoori. He is in thrall to her but so is Raymond Wilson playing simple Robin.
Finally, selfless devotion is depicted by Rod and Carl, respectively Callum Partridge and Skoog.
The team from Glasgow University shows wonderful commitment through 70 tiring but invigorating minutes as they bring a gory view of love to a stage barely four paces across in any direction.
On the plus side, the acting under Julia Midtgard's direction is first rate, while the choreography by Sophie Lamont and Samuel Skoog manages to combine beauty with a degree of meaning.
However, the use of chip shop ketchup to convey amputations is less successful than the original rubbery limbs.
If there is a criticism, there is a question as to whether the symbolic references to violence might pass those who have never seen the play by.
Sarah Kane is not everybody's cup of tea but this production is well worth a try and suggests that the members of Fear No Colours are well worth following in the future.
Reviewer: Philip Fisher