Cleveland Street the Musical
Book and lyrics by Glenn Chandler, music by Matt Devereaux
Boys of the Empire
Above the Stag Theatre
(2011)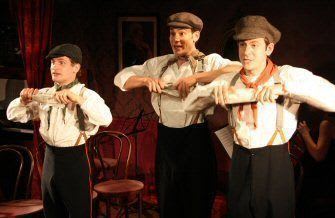 A plushly decorated four storey residence at 19 Cleveland Street London housed one of the many hundreds of brothels that existed in Victorian London. Its notoriety came about because, unlike the majority, this den of ill repute not only hosted the aristocracy but was also one of the few establishments that catered specifically for a homosexual clientele, in a period when all homosexual acts were illegal.
Run by two Madams, ex-renter Charles Hammond and his ex-prostitute French wife, Caroline, the nearby Telegraph Office unknowingly provided the establishment with a seemingly inexhaustible supply of young lads willing to moonlight after a tough shift delivering telegrams, earning in an hour or two what they got for a week's work at the GPO.
When the police investigated a minor theft at the Telegraph Office, details of the nefarious arrangement emerged. Although the names of a number of aristocrats and holders of public office were hinted at as being patrons in the ensuing scandal only the telegraph boys were prosecuted, and later the editor of The North London Press who dared to publish the identities of Cleveland Street's visitors. These were said to include Prince Eddy, son of the Prince of Wales, who was promptly despatched on a tour of India whilst Hammond and others fled to France.
It's not an uninteresting story and the scandal might have a higher profile today if it weren't for the more memorable Marquis of Queensbury/Oscar Wilde outrage of some five years later. Extensive research by Glenn Chandler (creator of Taggart and author of two detective novels, several TV scripts and plays) is evident in Cleveland Street the Musical which is rompily light-hearted, but occasionally weighed down by its worthy authentic references.
The mostly simplistic lyrics with some contrived rhyming flag up Chandler's inexperience in this field. With lightly drawn familiar types for all the roles and songs that are mostly droll set pieces that come out between dialogue rather than being driven by it, often drifting way off topic, this is a show that wears its Music Hall inspiration on its sleeve. The result is un-symbiotic pockets of entertainment with a first half that risks being tiresome: over-long, containing almost no action and going over the same ground more than once with insufficient wit to sustain repetition and a good deal of cliché about "fine upstanding members" and the like.
Musically Cleveland Street has a bit of everything and it all sounds rather like something else. There's a nod in the direction of Gilbert and Sullivan, another song is reminiscent of The Addams Family theme with much finger snapping, whilst another says "Goodbye, Leicester Square" - geographical reference or evoking a song that wasn't written for more than another decade?
Director and choreographer Tim McArthur keeps the lowbrow frolicking rollicking and the cast throw themselves into it, but for everyone's sake Chandler and Devereaux could have provided more of the substance behind the sex, lies and cover-ups.
"Cleveland Street the Musical" plays until 29th May 2011
Contains male nudity
Reviewer: Sandra Giorgetti