Cloaca
Maria Goos
Old Vic
(2004)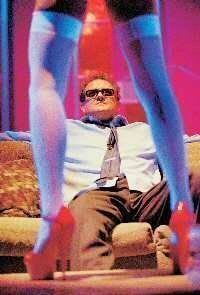 The long-awaited arrival of Kevin Spacey as Artistic Director at the Old Vic ensured that the opening night audience was greeted by cameramen galore, mercifully kept back by crush barriers.
His selection for an opening play is brave in the extreme. A British premiere of an unknown Dutch playwright is hardly Hamlet or Sir David Hare. Cloaca is a light comedy that eventually takes on more depth in a worthwhile second half.
Up to the interval it shows a reunion of four overgrown college kids, twenty years on. They are simultaneously suffering mid-life crises and the light comedy before the interval derives from their travails and predicaments.
They are in the gigantic modern art installation of a flat belonging to Stephen Tompkinson's Pieter. Designer Robert Jones packs this with avant-garde pieces including a wild selection of sculptures stretching from classical through globular to red neon.
Pieter is a gay council worker who has made his money and his life by acquiring and occasionally selling council-owned artworks. In particular, he majors in van Goppel, a greengrocer-like man whose paintings sell for millions.
Now the council wants them back but help is at hand in the form of proto-cabinet minister, Jan, and the constantly shouting Adrian Lukis' Tom, just released from "two months in the madhouse".
The selfish Jan (what else could a politician be?), played by Hugh Bonneville, has just walked out on his wife and four children after an incident with a meat fork can provide ruthless blackmail.
Tom is happy to offer Pieter his legal training. It could hardly have been of more value if he wasn't disbarred as a result of a twenty-year coke habit.
As if this sad lot wasn't bad enough, they are inexplicably joined by Neil Pearson's convincingly slimy Maarten, an experimental playwright who is currently sleeping with Jan's not yet 18-year-old daughter.
Suddenly after the interval the play takes off. There is a superb sub-Madness dance routine, complete with dark glasses and pork pie hats, that brings the house down. This is followed by the arrival of Ingeborga Dapkunaite's spunky stripper who first hilariously harangues birthday boy Jan and then delightfully downsizes odious Maarten.
This is a signal for more a serious turn in proceedings as Jan gets an unwanted political post, Pieter despairs and the other two suddenly grow up.
Cloaca is not the greatest start to what everyone must hope will be a successful venture, drawing the community into The Old Vic and attracting younger, film-fed audiences to theatre. It has some great moments and the big sitcom names in the cast should prove attractive and ensure that sales hold up.
This review originally appeared on Theatreworld in a slightly different version
"Cloaca" plays at the Old Vic until 11th December
Reviewer: Philip Fisher