Clybourne Park
Bruce Norris
Royal Court Theatre Downstairs
(2010)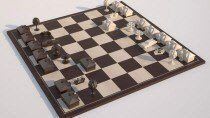 In Clybourne Park Bruce Norris fearlessly steps up to the plate to challenge taboo and political correctness in suburban America.
The framework that he uses owes a lot to Caryl Churchill's Cloud Nine, exploring the topic from the viewpoint of a single house in the eponymous district of Chicago at two points in time.
The first act takes place in the late 1950s, as a couple prepare to leave a property that has become a hell on earth for them. Two years earlier, Russ and Bev's ex-army son had killed himself after admitting to terrible war crimes while serving in Korea.
Steffan Rhodri as Russ is seemingly living on a knife edge and while clearing the house is just bearable, the arrival of a stream of visitors is not. Sophie Thompson plays his wife as the kind of woman who could drive a saint to distraction with her constant bright inanities.
In a symbol of the times, they treat Lorna Brown as their "Colored" girl Francine respectfully, rather like a pet but when talking, ignore her presence as you might a dumb puppy.
The parish priest, played by Sam Spruell, has a knack of winding Russ up to the extent that he is driven to defending himself angrily with "language more appropriate to the locker room".
However, the key arrival is Martin Freeman's obnoxious, outraged Karl who reveals that, unknown to all, the house is to be sold to a Negro family. He demands that this is stopped, by whatever means, in a speech that beggars belief half a century on.
The early somewhat whimsical tone soon gives way to sinister undercurrents as the play develops into a dark and frequently extremely funny comedy.
After the interval, the house has been gutted and a yuppie White couple played by Freeman and Sarah Goldberg are trying to move into what has become a Black neighbourhood. In doing so, they fire up an equal amount of passion in a carefully constructed reversal of what we have already seen.
The new group, who make allusions to their predecessors, start with polite debate but soon dissolve into tirades of offensive abuse that becomes bitterly hilarious, even duelling with a stream of jokes that, told by a stand-up, could lead to race/gender/disability riots.
Designer Robert Innes-Hopkins gets both sets and costumes exactly right, immediately placing us in the dowdiness of the 1950s then, after the interval, bringing things up to shabby date.
At times, while building in a carefully crafted crescendo, the plotting can seem overly schematic as Norris ensures that his ideas are conveyed unequivocally. This can also bleed into the characterisations, especially of the paired characters played by Sophie Thompson and Lucian Msamati.
Best served are Steffan Rhodri before and Sarah Goldberg and Lorna Brown after the interval respectively but in particular Martin Freeman, who gets many of the best lines in his dual bigot roles.
Clybourne Park may be a comedy but it makes some telling points about prejudice and the way that in the last fifty years, rather than disappearing, in fact, it has merely changed and is as strong as ever.
Norris's previous London outing in the same theatre space, The Pain and The Itch, was the first that Dominic Cooke directed after taking over at the Court and launched what has turned out to be a fertile period for the theatre in fine style.
This highly entertaining play, which suggests that the writer has a unique authorial voice offering biting social satire within domestic settings, consolidates that impression and will be a very hot ticket.
Playing until 2 October
Philip also reviewed the 2011 transfer to Wyndham's Theatre
Reviewer: Philip Fisher