Clytemnestra
Gwyneth Lewis
Sherman Cymru
Sherman Cymru
–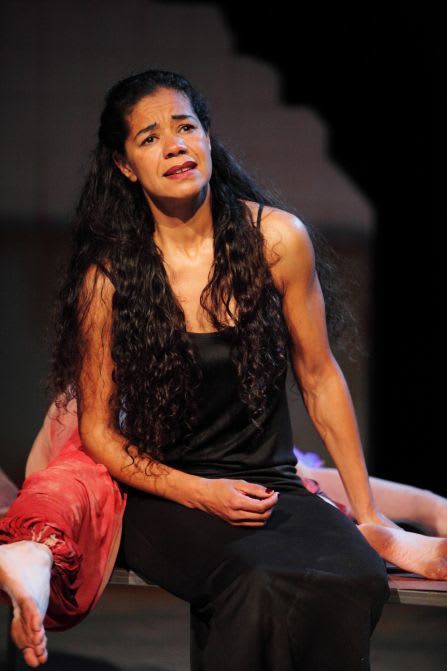 It's hard to imagine a more adventurous choice for Sherman Cymru's first entirely home-grown main stage presentation in their re-developed building than Clytemnestra. The theatrical debut of Gwyneth Lewis, one of Wales' most respected poets, it's a fragment of ancient Greek myth, freely adapted from Aeschylus, set in a timeless context and given a boldly non-naturalistic treatment; the commercial risk mitigated by casting a major television actress in the title role.
I'm forced to admit at this point that my knowledge of the Classics is somewhat limited. Fortunately, the narrative is mercifully basic: in a time of war, Agamemnon, the king, gives up his daughter, Iphigenia, to a horrific fate in order to secure food for his starving people; his distraught wife, Clytemnestra, plots a bloody revenge in conjunction with her husband's enemy, Aegisthus, while her other daughter, Elektra, looks helplessly on.
From the very beginning of this production, when we're presented with Iphigenia's promenading ghost, and the concept of the Furies—eerie embodiments of selected characters' dark thoughts—it's clear that the audience is not going to be spoon-fed with facile contemporary relevance or easy naturalism. Director Amy Hodge makes full use of the stage—the set (designed by takis) gives us a complicated scaffolding arrangement to one side, representing (amongst other things) an abbatoir, around which the bickering choral "plebs", played by Matthew Bulgo, Eiry Thomas, and Adam Redmore (who also double as Furies) congregate; and on the other, a bloodstained landscape. Later on, clever use is made of a trapdoor; later still, objects of vital significance descend from the sky, as if gifted by the gods.
The piece is dominated by the commanding, effortlessly regal Jaye Griffiths as the queen, driven to near-insanity by her grief and anger, with Nia Gwynne frighteningly, compellingly intense as her contorted, constantly goading Fury. The principal male roles suffer in comparison: Nick Moss as the emotionally conflicted Agamemnon, and Jonah Russell, the scheming Aegisthus, perhaps don't register as strongly as they should. Rhian Blythe is affecting as the disregarded Elektra; Kezrena James heart-breaking as Iphigenia and suitably inscrutable as Cassandra, Agamemnon's mistress.
Choreographer Johan Stjernholm is perhaps the main supporting player—his marshalling of the Furies in particular is creepily effective. Mention should also be made of Simon Thorne's portentous, subtly futuristic soundtrack, and the sensitive lighting design (by Lee Curran).
Lewis's dialogue is measured and propulsive rather than poetic, only jarring when the Furies make fleeting contemporary references. For the most part, the author doesn't seek to pretend that the story is ripped directly from today's headlines—the central theme is universal: powerful people who do the wrong thing for what they consider to be the right reasons. We are also prompted to contemplate the irrationality of maternal love, as Clytemnestra weeps for one daughter, whilst apparently indifferent to the welfare of the other.
I attended on a rainy Tuesday night; the house was far from full. A shame, since this is a briskly told tale, richly visual, constantly engaging, and replete with rewardingly startling moments; a robustly and imaginatively physical take on text-based theatre.
Reviewer: Othniel Smith