Color Inside the Lines
Jenny Stafford
Flying Solo!
Online@theSpaceUK
–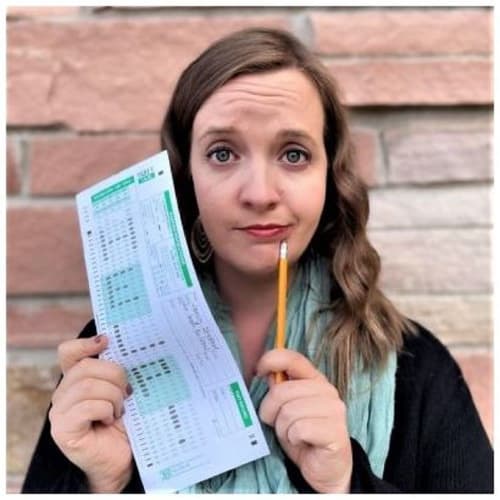 Color Inside the Lines is a bit of a cheat. Although posted online, it is a live performance recorded at Denver's Walnut Room. The nature of the show, however, makes it unlikely it would work so well without the warm interaction between author / performer Jenny Stafford and her audience. Before going any further: Stafford is American hence the spelling of 'color'.
All her life, Jenny Stafford has prided herself on being unconventional—of not 'coloring' within the lines. When a fortune teller imposes herself on Stafford and predicts she will never find love, Stafford re-examines her life and wonders if the one time she yielded to peer group pressure—and rejected a classmate regarded as unpopular—denied her the chance for a soulmate.
Color Inside the Lines balances between theatre and observational comedy. As a monologue with songs it is a practical demonstration of the benefits of eccentricity. Director Penny Cole nudges the show towards theatre—there are limited props and Mark Castellano's gentle guitar sets a thoughtful, sophisticated tone. The songs are also in the theatrical tradition: used for moving forward the story. Although they feature choruses, they serve as a narrative describing the various characters encountered by Stafford or setting out her experiences and opinions.
Stafford takes a rueful approach, describing events that never quite went as anticipated. The low-key and laid-back tone lulls the audience into a relaxed frame of mind, leaving them vulnerable to the most powerful emotional moment. Stafford builds to what seems to be a perfect conclusion, carefully imparting the positive life lessons learned only to reveal it is a fantasy that precedes a tragedy. Stafford's willingness to avoid the obvious and introduce dramatic, even shocking, elements makes Color Inside the Lines a memorable experience.
This is not to say the show is dour. Stafford is a witty, self-aware host constantly admitting to her own limitations (acknowledging the number of her dates who were in the closet, she wonders if her parents knew they did not need to offer the 'sex talk'). Feeling her age, Stafford talks her young audience through innovations from the past of which they may be unaware—including 'paper'. Stafford carefully avoids sentimentality, admitting to being touched but not to the extent to draw tears.
Color Inside the Lines is a poignant play, full of recognisable situations and with plenty of dry humour delivered by a host to whom it is easy to relate.
Reviewer: David Cunningham