Come Fly With Me
Adam Lenson and Glyn Kerslake
Salisbury Playhouse
Salisbury Playhouse
–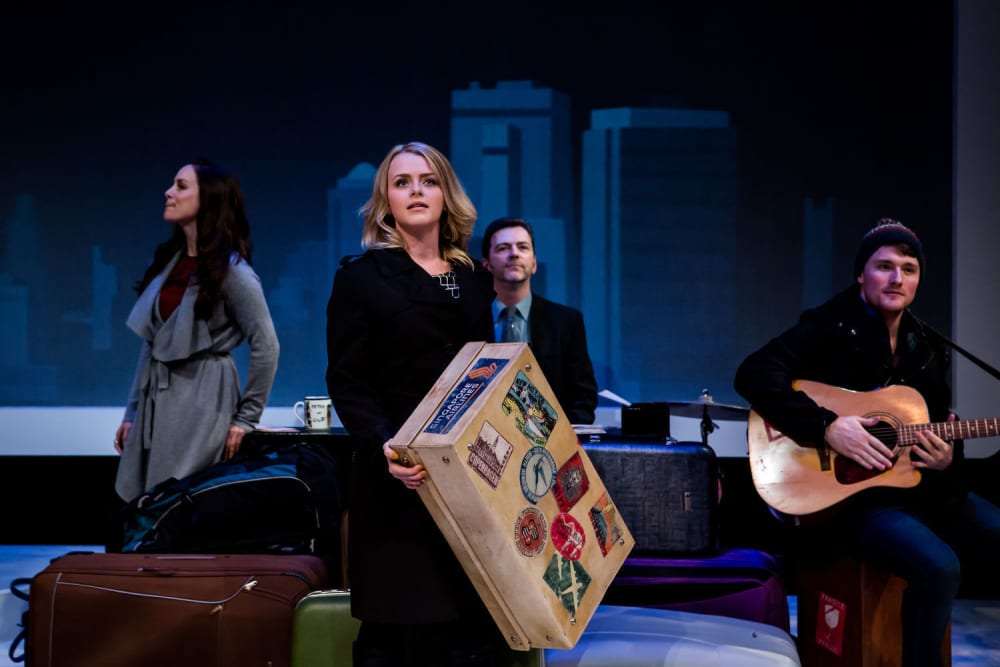 It's just a few days till the winter solstice. You tend to be aware of things like that when you live in the shadow of Stonehenge.
So just the time of year, you might think, for dark clouds and general gloom. And, perhaps, just the time of year to be dreaming about escaping to some sun-drenched beach far away.
It's certainly gloomy in the Salberg, the Playhouse's studio theatre. There's a simple low thrust stage, a piano and a pile of well-used and rather shabby suitcases. They'll have their own roles later in the show as sunbeds, cars, items of furniture, a bicycle and even a fridge.
Their main use, though, apart from being packed and unpacked as the action requires, is as extra percussion for the guitar and piano accompaniment to the songs. (Oh to have been around while the suitcases were being auditioned for pitch and sound quality!)
Behind the acting space is an enormous screen. It has no colour; it's just a vague, oppressive grey cityscape. Yes. We definitely think getting away might be quite a good idea.
Like last year's wildly successful London Calling used songs to move the action along; Come Fly With Me does the same, only with far fewer technical effects and rather more songs (forty-eight are listed in the programme).
As in London Calling, the actors are also accomplished dancers, singers and musicians. Glyn Kerslake who, along with Adam Lenson and Gareth Machin, artistic director of the Playhouse, devised and directed the production, we remember from last year. He is such a serious achiever, in fact, that he has to have a whole page of the programme to list his credits. Watching him perform, we can understand why he is so much in demand.
And the other three? Elaine Glover, Matthew Harvey and Natasha Brown? We can only sit back and marvel at their dexterity as they slide effortlessly into quickfire changes of role, musical instrument or genre.
Such a mixture of songs too, some sentimental, some funny, a lot we recognise, some we don't but will come to love. Can we ever forget the sad "Leaving on a Jet Plane", the belligerent "Driving Like an Asshole" or the hilarious take on Sullivan's "Little List" song? This one refers to packing, of course, together with advice on what to take with you (half the clothes you think you might need together with twice the money).
Then the terror of the first time flyer, the panic at the airport as you search for your gate or your boarding pass and the general rush and scramble before you're eventually settled, exhausted, into your seat.
And so act one comes to an end with the optimistic "This Time Tomorrow". Perhaps all the saving, hard work and anticipation will have been worth it after all.
As we file back into the studio for act two after the interval, we're greeted by sunshine, blue sky and a beach. They're really going travelling, with songs to evoke Paris ("Love It"), Italy ("That's Amore"), a night in Bangkok, America ("Sitting on the Dock of the Bay", of course), New York (twice) and many others.
There's even nightlife, with stars and fairy lights to go with the music. Of course, you've got to have one couple who aren't enjoying themselves, but that's life, isn't it? Total perfection's a bit boring.
And when it's time to make tracks for home they're generally not sorry. Nor are we. Not really. There are so many lovely songs and memories to carry with us, '"ake Me Home" (Country Roads) and Simon and Garfunkel's "Homeword Bound" among them.
And if it was director Gareth Machin's aim, as he said, to take his audience on a wonderful holiday and bring them home with sunshine in their step, he and his team have certainly succeeded. I think a lot of the audience are already looking forward to next December's show.
Reviewer: Anne Hill