Come from Away
Book, music and lyrics by Irene Sankoff and David Hein
Phoenix Theatre
–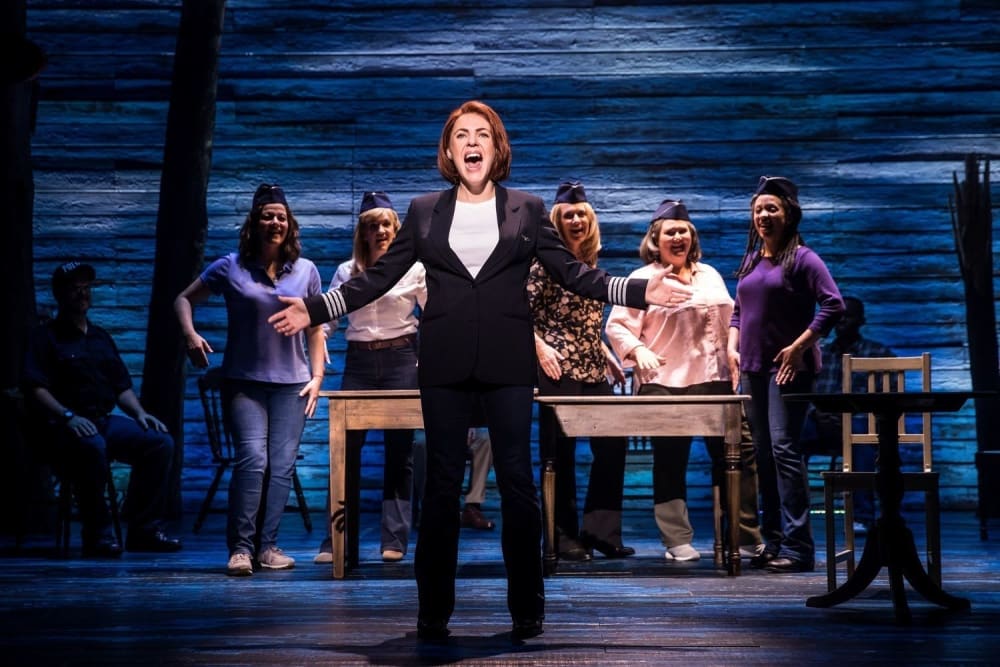 Come from Away is a miracle. At a time when cynicism seems the only response to global affairs, this uplifting American import has the ability to bring a smile to the face of any viewer.
As such, this heart-warming musical should immediately be at the top of every must-see list for London theatregoers and visitors alike.
The starting point may not seem that promising. This is hardly the first musical based on "a remarkable true story" and its roots deep in the tragedy of September 11, 2001 seem an odd topic for a Broadway musical.
However, co-creators Irene Sankoff and David Hein, having heard an offbeat 9/11 story, realised that they could hit the theatrical jackpot both artistically and financially.
Come from Away tells the story of what happened to 38 planeloads containing 7,000 people left stranded in mid-air when the planes hit the twin towers.
Immediately, American airspace became a no-go area and pilots were instructed to land wherever convenient, desperately trying not to panic their passengers as they did so.
One of the locations that became overwhelmed was Gander, Newfoundland on the east coast of Canada.
Instantly, a quiet town with 9,000 inhabitants found its population almost doubled. This sleepy place suddenly came to attention as its mayor asked the people to pull together and help their tired, frightened new guests.
What ensued is a joyous story of humanity and community, as the locals welcomed and supported their new friends from across oceans.
While the generality of the tale is special, what makes this show truly extraordinary is a series of human interest stories involving both Newfoundlanders and a random mixture of visitors of every race, colour and creed.
Amongst other tales, we learn about a pilot from a plane bound for Dallas who was worried about flying colleagues, a woman whose son worked in the New York Fire Department, a Muslim MasterChef and a stiff-upper-lipped Englishman who befriended a Texan divorcee, respectively and memorably played by Robert Hands and Helen Hobson.
Without wishing to give away an inevitably happy ending, not only did they marry as a result of being almost literally thrown together but the happy couple appeared on stage along with a dozen other individuals on whom characters were based to join in the opening night celebrations.
The local animal lover was in seventh heaven rescuing trapped pets, while the mayor worked himself into the ground promoting and coordinating the project. There are also sad stories to balance what might otherwise seem an overly positive evening, given the nature of the initial tragedy that engendered all of these meetings.
Almost everything about this 100-minute performance is extraordinary. Christopher Ashley's direction shows pinpoint timing, blending comedy with tear-jerking tragedy and beautiful examples of goodwill to perfection. An almost bare wooden stage is utilised cleverly by designer Beowulf Boritt, allowing plenty of space for the performers to strut their stuff, particularly when they are proudly declaring "I am a Newfoundlander".
The performers work perfectly as an ensemble, each taking at the very least two roles, one for the home team and one coming from away.
Clive Carter is inspirational as Mayor Claude, while Rachel Tucker excels particularly as an airline pilot who gets to sing one of the highlights, "Me and the Sky".
The band too are a joy, energetically delivering a series of gorgeous songs, many with a Celtic rock influence that may be paying a nod to the music of Newfoundland, while there are also enough sad melodies and triumphant anthems to keep any musical fan happy.
By the end of the evening and a reprise of "Welcome to the Rock", half of the audience will be in tears, while the other half are so far buried in handkerchiefs that they may be covering up a similar response.
I defy anybody to see this show without responding positively gushingly to all and sundry while probably rushing out to buy the music and, in many cases, booking a repeat visit in the very near future.
Reviewer: Philip Fisher