Communicating Doors
Alan Ayckbourn
Menier Chocolate Factory
–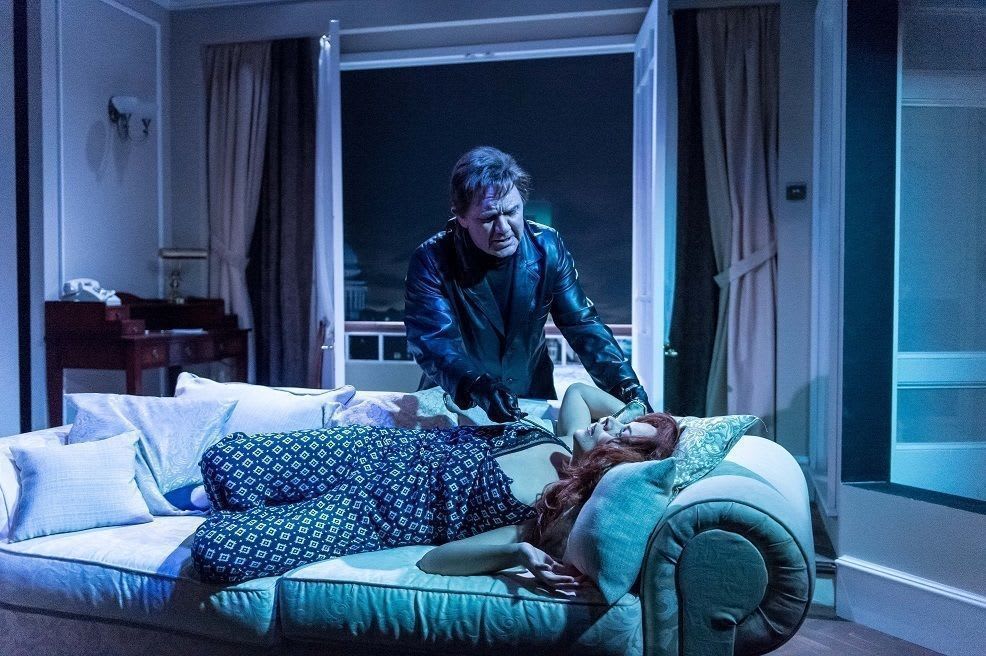 Sir Alan Ayckbourn has always regarded it as a solemn duty to experiment with both form and subject matter, whenever the opportunity presented itself.
When this comes off, it can generate some of the most imaginative theatre that one could hope for.
Sometimes, he can be a little too clever for his own good and that is probably the case with this sci-fi spoof thriller that spends two hours filling clichés prior to a thought-provoking denouement.
It may be a matter of taste, but for this critic the decision of his director Lindsay Posner to ask most of the actors to play their parts as broad caricatures does few favours to the play.
The early moments try to establish the ground rules. The starting point is the arrival in 2020 of Rachel Tucker as Cockney dominatrix Poopay, hired to please Matthew Cottle's dying Reece, an ultra-rich pillar of society with unlikely dark secrets.
On arrival, she has an initial meeting with David Bamber coarsely playing Julian, the old man's business partner and friend of decades.
He seems odd enough even before we discover his predilection for murder, revealed in a novel, if ridiculously unlikely, manner. This sets the tone for an evening during which it is frequently a challenge to suspend disbelief.
In her efforts to escape this standard issue horror killer, the brassy tart, by now brandishing a confession, enters the Communicating Doors of the title and finds herself 20 years back in 2000 face-to-face with the second late Mrs Reece, Imogen Stubbs allowed to act straight as Ruella.
The time travelling takes some explaining as does Ruella's own trip through the doors to meet her literal predecessor, an incredibly ditsy blonde c. 1980.
Subtlety really is not the order of the day in Lindsay Posner's revival so Lucy Briggs-Owen is asked to endow Jessica with all of the character and intelligence (or otherwise) of a Benny Hill beauty on a bad hair day.
These are the ingredients for a long series of scenes in which the women are first disbelieving and then try to save each other from the leering, lumbering baddie.
After far too long, the play takes a few unexpected turns in the final scenes, which show imagination and intelligence that could not have been predicted by anything that had gone before. In doing so, they partially, redeem what could otherwise have seemed like a long and unrewarding 2½ hours.
Reviewer: Philip Fisher