…como el musguito en la piedra, ay si, si, si (Like moss on a stone)
Pina Bausch
Tanztheater Wuppertal Pina Bausch
Sadler's Wells
–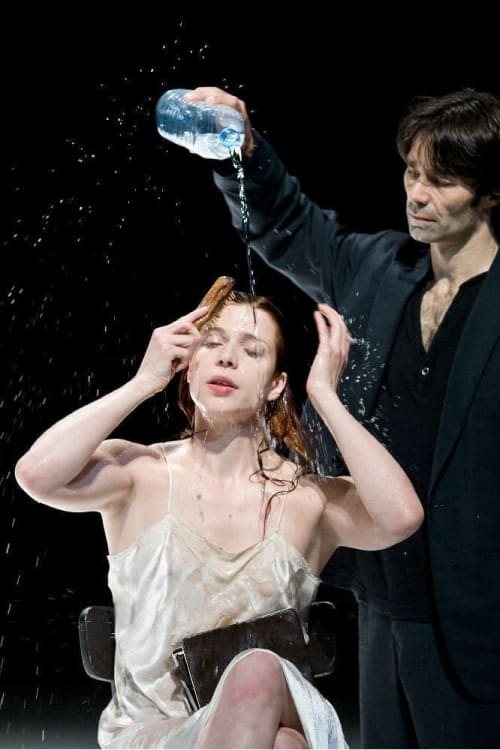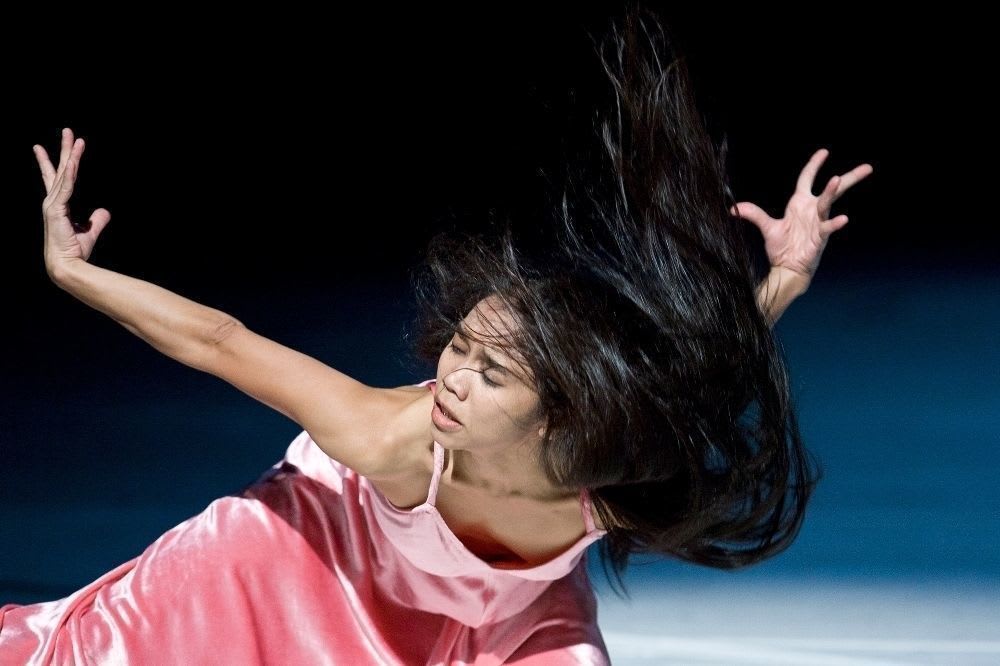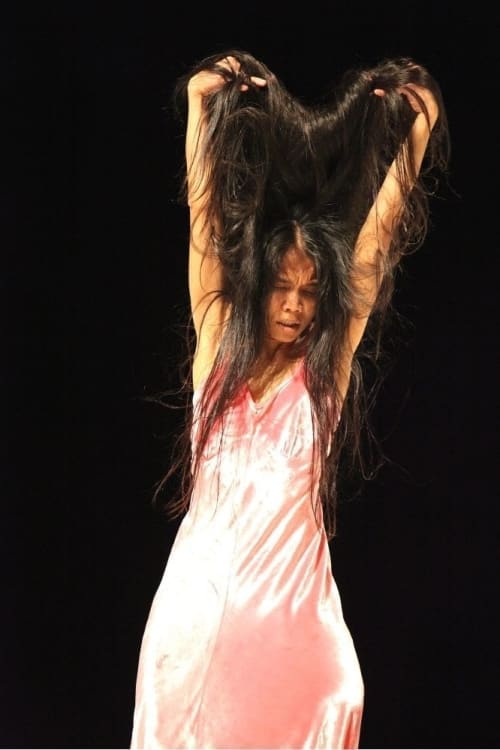 Another Pina Bausch dance theatre piece, another standing ovation, though ...como el musguito en la piedra, ay si si si..., is less dense, more dance than theatre. A smaller cast, sixteen dancers only, the younger members of the company have their say. In Pina's collaborative way of working they all have a say, though she has the final word, and the word here is love.
...como el musguito en la piedra, ay si si si...—'love (the omitted word)… spreads like moss on a stone…ah yes, yes, yes'—is a line taken from one of the songs in the production's medley of Spanish songs, Violeta Parra's song "Volver a los 17"—"To be seventeen again".
Love in all its forms, a pick and mix of the banal, comic, tragic, obscure, and silly repetitive everyday playful nonsense, a perspective of people in their myriad views, volatile desires, and misunderstood appetites.
And, as always, there are metaphors—a tethered woman, photography by the blind, the Pisces constellation, and a woman with a tree on her back…
The opening is bleak—a bare stage, white floor, black back canvas, a woman in white kneeling on all fours like a Paula Rego dog woman, face obscured by cascading hair, yelps and barks when two men in black carry her away.
But, ...como el musguito en la piedra, ay si si si... inspired by Chile and its music is even lighter than Nur Du (1996) set in carefree LA. It is the last work Pina Bausch created, premiering a couple of weeks before her untimely death in 2009, and it is a letting go.
A letting go (stones falling from shoulders), a giving in to love, to living in the moment: one dancer actually says, "living in the moment, I like it". A letting go of the anguished past, but not a forgetting—cracks open up and close. Ice floes reappear in the free flowing river of life. Peter Pabst has carved out Doris Salcedo-like Shibboleth fissures across Sadler's Wells stage floor.
Men in black sneak kisses from butterfly women in Marion Cito's gorgeous silkscreen-printed gowns, their flowing frond skirts speaking of the air and the sea (one girl takes a fish for a walk on a lead), complementing their long flowing silky hair, their crowning glory fetish.
Women tease and flirt… 'Of course, I'm feminine'… A slap can be a prelude to a kiss. As the song goes, 'I love you all over again'. A woman hangs on a man's neck, but the men are compliant, attentive, and drink smoothes the way.
Corks fly and pheromones are in the air. Fernando Suels Mendoza, the charming comedian in the ensemble, waits for tall Anna Wehsarg's circling arm to descend so he can leap and kiss it, again and again.
Completely bewitched by a parade of beautiful Rita Hayworth Gilda women, 'bienvenida' he welcomes, 'linda', he sighs, 'guapa, guapa', he can barely contain himself, he likes them all, the little one, the one in green, and the one in red.
Love never runs smooth, there are partings, forced partings, which remind us of Chile's dark past, but love wins. Laid-back togetherness is better. Plaited together, sitting on the floor in each other's laps, the ensemble tenderly stroke and groom the hair of the one in front. Nine smiling women and six men lie in separate rows and do a synchronized happy hand jive routine.
Relaxed bodies, not without some body anxieties—tape measures and eating disorders to achieve that body beautiful—a woman refuses food, but gobbles it under a table, another calmly applies her make-up as she is having water poured over her head. Water boarding flashes through the mind, but no this is not Pinter's One for the Road, not a totalitarian dictatorship any more.
The wind blows across the sea, a grey back projection of leafy shadows and waves, and Dominique Mercy again gives a moving solo, his limbs blown by the breeze of memory.
Pensive solos and a free form patchwork structure makes this 160-minute piece, the shortest so far, seem long, and there is much repetition, but the vitality of the performers, their delight is life-affirming.
Life is what matters, not the constant picking at the scabs of the past. Seek out the love that strengthens, and don't be too serious about it. Silliness can take the sting away. A man fills a woman's glass up and tilts her to drink it himself, draining from her life-giving cup…
Reviewer: Vera Liber