Company
Music and lyrics by Stephen Sondheim, book by George Furth
Elliott & Harper Productions
Gielgud Theatre
–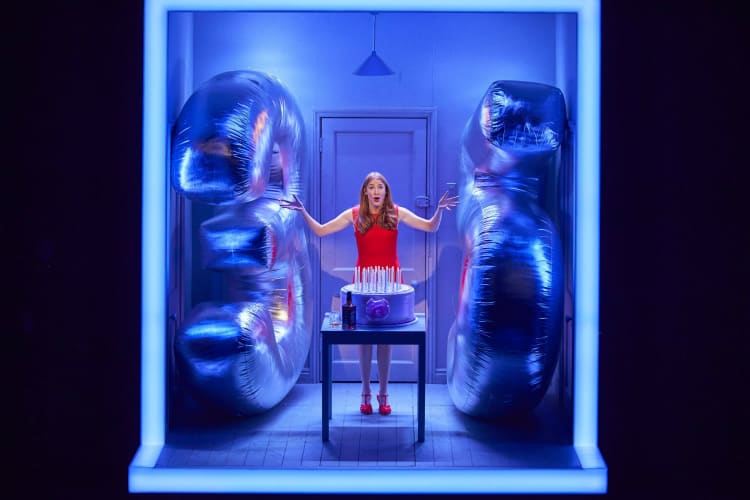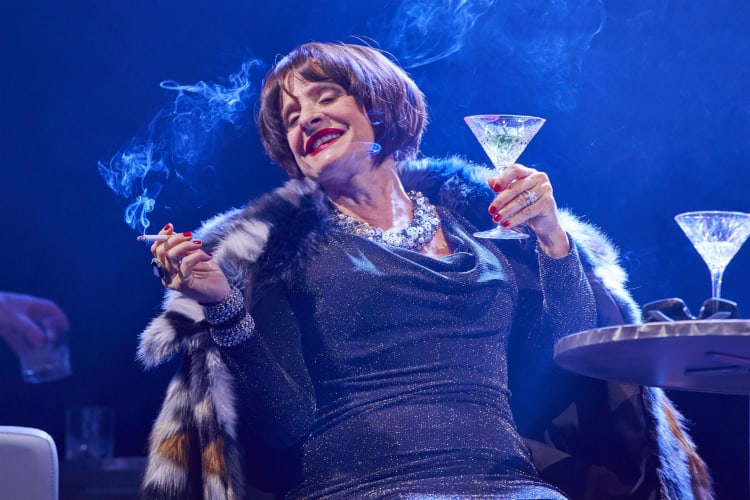 Stephen Sondheim's classic musical comedy is now only a couple of years shy of celebrating its half-century but is still fresh enough to speak to viewers today.
In part, that may be because Marianne Elliott's latest, relatively elaborate revival, re-scripted by the man himself, has changed male Bobby to female Bobbie. In doing so, the director has introduced a feminine perspective, while giving Rosalie Craig a heaven-sent opportunity to shine in a spectacular scarlet party frock.
Miss Elliott's approach, aided by designer Bunny Christie, tracks Bobbie and her circle in small, often claustrophobic boxes.
These are clearly intended to symbolise the lives of a lady celebrating her 35th birthday as a singleton with no long-term significant others and a bunch of friends who are all in relationships, none of which runs as smoothly as romantic comedies might lead one to expect.
In a long series of short scenes, Sondheim, utilising a book by the late George Furth, reminds viewers about the ups and downs of getting into and out of relationships, let alone trying to remain in one for any length of time.
Sondheim has always had a knack with a witty line, not to mention the ability to deliver a great deal of underlying humour, some of which may seem very painful to those who have experienced a selection of the mishaps that befall this random group of articulate New Yorkers.
Everyone will have their favourites but the impending marriage of Jonathan Bailey, who excels as neurotic Jamie, and Alex Gaumond playing long-suffering Paul is a gem, combining hilarity and angst in almost equal measure, much to the bemused amusement of our woman on the ground.
Elsewhere, there are couples that find divorce more palatable than marriage, enabling them to become closer, unlikely as that sounds; the world-weary who hate each other but cannot be bothered to take action; not to mention the difficulties faced by the delusional i.e. characters played by Mel Giedroyc and Gavin Spokes, who are respectively on a diet and the wagon until their spouse's backs are turned.
In 2½ delightful hours, Sondheim shines a telling light on contemporary life in a charming production that benefits from Liam Steel's choreography and the gender-bending updating, which is so carefully manage that newcomers would not dream that the original protagonist was a man.
Since this is a musical, the biggest takeaway for most visitors will be the opportunity to hum a series of standards. Everyone will have their own favourite but on this occasion, the title song is a great warm-up to such hits as "Another Hundred People", "Side by Side by Side" and bringing the house down, Broadway superstar Patty LuPone's rendering of "The Ladies who Lunch".
Many of those who are not the biggest fans of musicals struggle because the books and lyrics are lame. When it comes to Stephen Sondheim, not only is the music unforgettable but shows like Company are also highly intelligent and good enough to compete with some of the best straight plays currently playing in town.
As such, this is a highly enjoyable experience and should prove to be a great success for tyro producers Elliott and Harper Productions, not to mention Rosalie Craig who combines top-quality acting and singing in an unforgettable performance.
Reviewer: Philip Fisher