Company
Music and Lyrics by Stephen Sondheim, Book by George Furth
Ethel Barrymore Theatre, New York
(2007)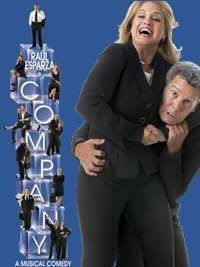 British director John Doyle wowed New York audiences with his distinctive reading of Sweeney Todd last year and has been invited back to Broadway with another Sondheim.
Company is a sophisticated musical comedy about the pitfalls of life for thirtysomethings in contemporary New York. It relies on anecdotes and songs but George Furth's book has little discernible plot, beyond the observation of Raúl Esparza's Bob as he reaches his 35th birthday, still a bachelor but ready to settle down if the right lady comes along.
The handsome professional certainly seems to have enough women to choose from. They come in all ages shapes and sizes but are typically slinkily attractive and, except for Elizabeth Stanley's confessedly "dumb" air stewardess April, super-intelligent.
Like the men, they also have added talents. The Doyle trademark is to employ performers who can sing, act and play multiple musical instruments to a high standard. As a result, many cast members are making their Broadway debuts and several show more than enough ability to become regulars.
The stage looks like a night club rather than a home, with its black walls complementing the black costumes; musical instruments; and stylish modern furniture. As a centrepiece there is a Steinway piano but almost everything else moves.
Following the title song and an introduction to a large group of characters, the show takes time to catch fire. We learn that Bob is simultaneously dating a saxophone trio with diverse characters and that while his married friends swear by the estate of matrimony, they swear at it a great deal more.
The turnaround comes when Marta, the youngest prospect of all, sings the wonderfully catchy Another Hundred People, a portrait of New York and its citizens that also looks at the problems of the dating game and a search for a permanent relationship. This marks out Angel Desai, who also plays a mean violin, as a name to note for the future.
Straight after this comes the play's funniest sequence as Amy and Paul reach their wedding day. The prospective bride, played very humorously by Heather Laws, gets cold feet at the thought of her Catholic-Jewish union and it is only thanks to Bob's intervention that the show ever gets on the road and the song Getting Married Today doesn't become inappropriate.
After the interval, Bob eventually gets to understand himself better and Esparza demonstrates why he has been chosen to lead a Broadway cast. He sings with a slightly rasping voice while giving a relaxed performance as a man who both enjoys the single life and sees that time is running out.
Company does not have the same level of drama as Sweeney Todd but there are some memorable songs such as Side by Side and many funny comic lines. It is also a technical joy to watch the incredibly versatile cast members juggling their different skills with such ease.
Reviewer: Philip Fisher