Company
Music and lyrics by Stephen Sondheim, book by George Furth
Union Theatre, Southwark
(2009)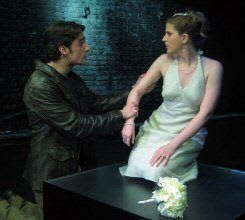 Company had its first Broadway production in 1970, a period when the average bridegroom was aged a youthful 24; it stands to reason then that 30-something Robert and his friends should be so troubled with his marital status and that, as a piece of theatre, Company was something of a commentary on New York life at the time.
However, we now live in a society in which the number of unmarried adults has risen and the number who have chosen to marry has fallen, thereby producing the lowest marriage rates since they were first calculated in 1862 so, as the show approaches its big 4-0, does it have a contemporary relevance?
Well, frankly, not really. No matter that - dated though it may be - Michael Strassen's striking Company all but banishes such concerns for an entertaining and thought-provoking couple of hours. With this production we can forget the rather sanitising approach taken by Mr Nunn, and enjoy Sondheim's insight, wit and lyrics complete with incisive, uncomfortable edges.
Strassen's directorial skill is evident - the pacing is almost faultless and he is not afraid of difficult silences or of taking the roof off the building with the sheer energy and volume of the soaring ensemble pieces under the musical direction of Michael England (assistant MD, Christopher Mundy).
The staging is also undertaken by Strassen and, with the exception of the sporadic questionable choice (and the movement to "Some is Waiting" is pretty ghastly!), it is slick and fitting and makes excellent use of the space and its limitations.
The minimalist all-black set designed by Neil Lamont serves the piece well, though all the costumes being on the cream and beige-to-brown spectrum makes for a dull visual. This is compounded by lighting that failed to reach the periphery leaving those in the 14-strong cast positioned on the sidelines almost lost in gloom in a number of scenes.
Lincoln Stone is an outstanding Robert. He is vocally strong and with the emotional intensity dial set at maximum I felt pushed into to my seat as if by some explosive force. When Robert is at his more vulnerable, Stone appears to well-up too easily, but he is apt and precise in his well-considered reactions so his characterisation is sensitive and engaging.
Another stand-out performance is delivered by Lucy Williamson as Joanne. She plays the night-club scene brilliantly and "The Ladies Who Lunch" is dazzlingly contemptuous in her skilled hands.
Jane Quinn's memorable voice is a rich addition to the ensemble as Jenny and the operatic commentary to Amy's "Getting Married Today", but here Strassen does lose an opportunity to use Quinn's talent to the full. The humour of this patter song is augmented by a surreal visitor sur les pointes - and I won't ruin it by saying more than that - but then the cast also enter as chorus and it ends up looking and sounding messy. The overall effect is that the ending of this notoriously difficult but very funny song is masked, inviting you to come to your own ungenerous (and probably undeserved) conclusion about Amy.
They say that you can tell a lot about a man by looking at the women he dates and 'Bobby's girls' (Katherine Eames, Samantha Giffard and Marisa Leigh Boynton) make a great job of "You Could Drive a Person Crazy". Similarly the husbands make a better job of the big group numbers than the subtler ones and "Have I Got a Girl for You" has a gratifyingly acerbic sting.
This is unpasteurised Sondheim and I'm all for it!
"Company" runs until Saturday 13th June with performances on Tuesday to Saturday at 7.30pm and matinees on Saturday and Sunday at 3pm
Reviewer: Sandra Giorgetti