Complicit
Joe Sutton
Old Vic
(2009)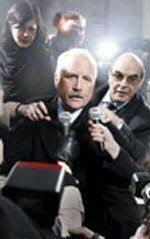 Kevin Spacey has had a sparkling run at the Old Vic but the case is still not proven when it comes to his selection of new writing.
That is still so following the delayed opening of this three-hander about the intricate relationship between journalism and politics against a background of the War on Terror.
Oddly, despite the intimacy given by playing in the round, Complicit has the character of an experimental play of the kind seen at the Royal Court Theatre Upstairs rather than a crowd-pleaser for a large West End venue.
Starting with a montage of sounds from 9/11, the drama centres on a journalist named Ben played by Jaws star, Richard Dreyfuss. He runs far too many simultaneous agendas but his main focus is an appearance before the 21st Century successor to McCarthy's House Un-American Activities Committee.
Now, Communists have given way to Terrorists from a little further East but the techniques are similar with the name of a "source" demanded in return for freedom. Certainly, they seem to have almost nothing in common with a normal civilised court. We only know of the court's activities by hearsay, as the hearings are held in camera with everyone excluded, including the defendant's attorney, Roger.
David Suchet has been well drilled by Mr Spacey in a role that the director must surely have considered playing himself, so reminiscent is the performance in vocal and bodily language of his own, apparently not so inimitable, style.
These two have to convey the dramas that surround a selectively principled, ageing man at risk of spending the rest of his days incarcerated for espionage because he wrote articles and a book indicting his Government for its human rights record but also contrarily advocating torture as a means to a political end.
While a part of Ben would like to be martyred, neither Elizabeth McGovern as his wife Judy, a generation younger and far more directed, nor Roger can countenance this. The eventual solution is unsatisfactory in dramatic terms though it does make Ben far more human than had seemed likely in the early encounters.
The first half of the 100 minutes is packed with supposedly naturalistic speech packed with repetition and hesitation that doesn't ring true.
After the interval as the levels of tension rise, sentences get finished and drama is injected as we wonder about the outcome of the invisible courtroom drama. It also gives Richard Dreyfuss one excellent confessional speech that brings out many of the issues that his character has struggled with up to that point.
The true purpose of Joe Sutton's play is to ask some deep philosophical questions about the morality of the War on Terror. It attempts to do so by allowing its protagonist Ben to delve into his own conscience but also more blatantly, as he is interviewed on multiple screens by an Andrew Marr figure.
Complicit has its heart in the right place but does not hit enough of its targets, despite the employment of an all-star cast. This lack results from a failure to make the husband and wife fully-drawn, believable characters, leaving David Suchet as the actor who shines.
Reviewer: Philip Fisher