Comus – A Masque in Honour of Chastity
John Milton, additional material Patrick Barlow
Sam Wanamaker Playhouse at Shakespeare's Globe
–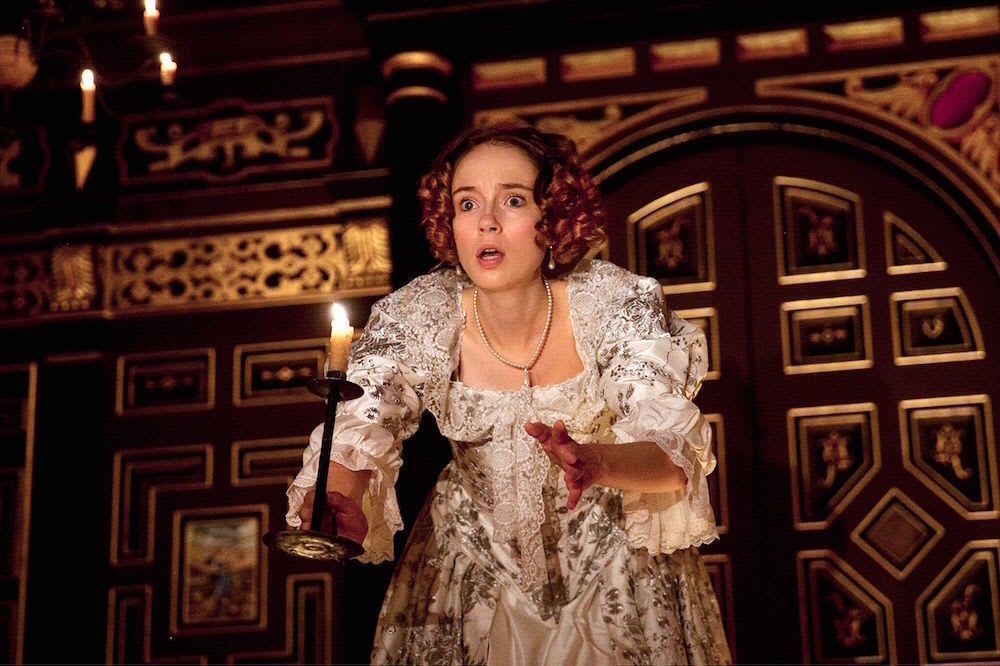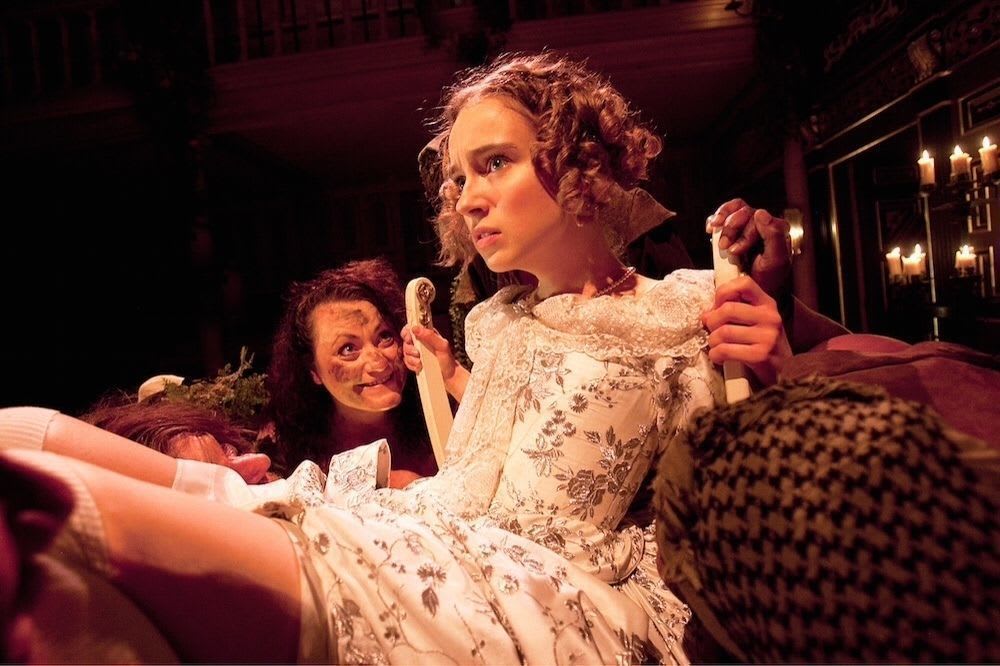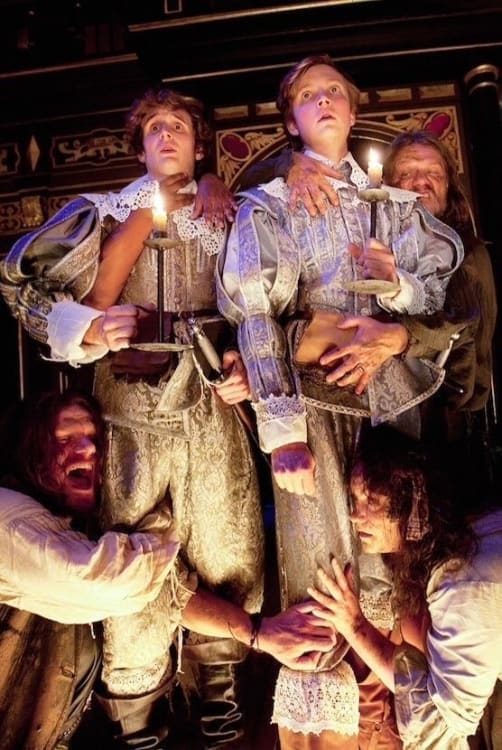 Hands up how many of you have read John Milton's Comus – pay attention at the back – not many of you, thought so. If only we'd seen Lucy Bailey's production, my callow fellow A-level students and I – but so many years later it reaps rewards.
And no, you don't need to have read it, but it helps, if only to hear its Shakespearian and Spenserian echoes, its poetic classical allusions. Bailey has done a tremendous job – with the help of an amusing framing device from National Theatre of Brent's Patrick Barlow - in making it accessible. In clever agile play on slippery words they bring Milton's moralising poetry to unexpected comic animation.
Young Milton, only twenty-six, wrote A Maske Presented At Ludlow Castle (notice, no Comus taking precedence here; this came later in 1738) on commission in 1634 for John Egerton Earl of Bridgewater (Andrew Bridgmont), recently appointed the Lord President of Wales - raised eyebrows speak volumes here, and the Lord President's chair in the stalls has an unpleasant surprise in store for him.
The intention of this allegorical tale, in which virtue overcomes the God of Revelry Comus, son of Bacchus and Circe, and his licentious ways, was to restore the Egerton family name - it falls on the marriageable-aged daughter Alice to do that - after the scandal of a brother-in-law executed for sodomy and having his wife raped by servants.
Their three children, Alice (15), John (11) and Thomas (9), performed in the masque: here's where the whole conceit of Comus comes to joyful life. Bailey and Barlow have them rehearsing the production, with the boys somewhat older, its musical composer, Henry Lawes, and family retainers amongst the cast.
With all its gaucheries and ready-made props, an am-dram production – in which the strong-willed young lady initially flatly declines to take part – magically becomes the real thing, Milton's Masque, as Lady Alice (Emma Curtis) gets lost in the tangled wood, her brothers nowhere to be seen. Easy prey to the wiles of Comus – stable boy Daniel (Danny Lee Wynter), whom she fancies, perhaps…
With his Monstrous Rout retinue of four (maid, housekeeper, stableman, sheep farmer) the Lord of Misrule casts a spell on the Lady, who finds herself held fast in his palace in the "sticky chair" (Barlow), "smeared with gums of glutinous heat" (Milton). Looks very like an upholstered gynecological chair from where I'm sitting. Poor girl.
The Attendant Spirit (the composer Lawes) summons forth Sabrina (Natasha Magigi), goddess nymph of the River Severn, to release her. William Dudley's design has a river run underneath the stage and out the Pit door – it's all a tight fit if you sit near the front. The Attendant Spirit, Lawes's long puritan black robes exchanged for identical ones in shades of ivory, in a hugely comical execution by Philip Cumbus, descends self-consciously from a trapdoor on high.
The Lady wins her steadfast struggle to uphold her virtue, for a woman then that was chastity, but, modern miss that she is, Alice refuses when the play is done to pay obeisance to her father or to any man, making a fervent feminist speech (Barlow) to end the play, which shocks them all.
Via virtuoso irreverence Bailey delivers an entertainment without dishonouring Milton's verse. The candlelit intimate Playhouse makes for an ideal venue, even though the performances are fit to burst its sides. The hall is festooned with many images of vine-bedecked goatish Pan; the period music, a subtle mix of new (Paul James), Lawes original, Dowland and more, is enchanting; Liam Steel's choreography, constrained by the space, is determinedly vulgar and seaside pier saucy.
As always the tempter has the best lines, but I'd say Cumbus's composer Lawes and Attendant Spirit disguised as shepherd Thyrsis nearly steal the show with sotto voce comic asides and sly diffidences if it weren't for Emma Curtis, not long out of drama school, so good in a role that could be a teensy bit bland. Her two brothers, Rob Callender and Theo Cowan, are well cast as the naïve fresh-faced sons of privilege, assailed from all sides by suppressed desires in the shape of the many groping hands of the Rout.
The moral, that virtue can withstand anything – tell that to our politicians – but not without a struggle, is sugared o'er with audience friendly feats, a dangerously fine line to walk in taking on Milton's revered verse (Comus inspired Wordsworth, Samuel Palmer and William Blake, to name a few), but Bailey pulls it off. One hour forty minutes with no interval goes down a treat.
Reviewer: Vera Liber