The Conspirators
Vaclav Havel, translated by Tomas Rychetsky and Carol Rocamora
Orange Tree, Richmond
(2011)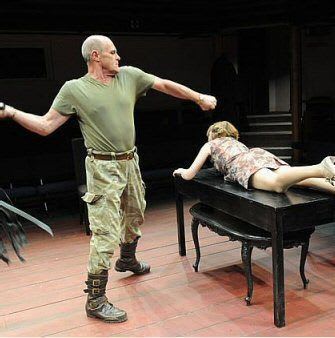 A lot happened to Vaclav Havel in the forty years between the writing of The Conspirators and its belated British premiere at the Orange Tree Theatre.
He has been banned, imprisoned, hailed as a hero and become President, while his country has divided in two.
Throughout those times, good and bad, Sam Walters and the Orange Tree have been amongst Havel's staunchest supporters.
Walters does his best to enliven this political comedy, which too often gets lost in its own complications, while becoming overly involved in political theorising and repetitive strains of comedy.
The drama is played out in an unnamed and unstable country that is still recovering from a revolution. Immediately, viewers today will inevitably think of Libya and Syria, though global politics being what they are, anyone reading this review a week after it was written will probably have two different countries in the midst of change at the forefront of their minds.
For around 2½ hours, a large group of the great and unprincipled good play political power games, alliances forming and dissolving by the minute as they jockey for position in the upcoming putsch, the whole spiced up by some pretty kinky sexual practices.
Many of the plans are incited by the power behind the throne, Lucy Tregear's sexy schemer Helga. She seduces every vaguely powerful man and during the course of the evening is instrumental in around half a dozen of them at least briefly becoming the next candidate for Prime Minister.
The strongest personality is the sinister police chief Moher played with relish by David Rintoul. He loves nothing better than a good night in the torture chamber and really knows how to crack a whip!
Everyone else involved is a weakling with aspirations to power but not the least chance of achieving it.
The comedy seems fresh at the start and there are some fascinating insights into how governments might be formed under conditions of stress. However, the formula gets used rather too often with only minimal variation, although there is an inevitable but nevertheless witty pay-off to the evening.
The Conspirators is welcome for a chance to get into the mind of one of the great men of the last century but does not see him at his best. Credit must however be paid to the efforts of Sam Walters, who injects far more wit into the play than can have been included in the original script.
Reviewer: Philip Fisher