The Constant Wife
W Somerset Maugham
Salisbury Playhouse
(2011)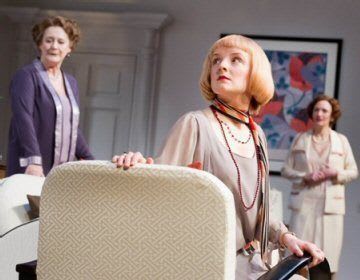 A triumph on Broadway - a flop in the West End! Those, surprising as it now seems, were the early contrasting fortunes of Somerset Maugham's 1920s comedy of sexual behaviour The Constant Wife, now brilliantly revived in Phillip Wilson's excellent revival at Salisbury Playhouse.
A glance at the national newspapers of the day may explain the inexplicable: perhaps we were preoccupied with real life scandals of our own, or possibly there was an "Ashes" series in progress at Lords or the Oval How else could Ethel Barrymore flourish at the Ohio while Fay Compton floundered at the Strand?
At all events there is no floundering here as a sparkling company, led by the excellent Maggie Steed in the role of matriarch Mrs Culver, take us purposefully through the cynical machinations of duplicitous husband and wife John and Constance Middleton, both superbly played by David Michaels and Susie Trayling.
I was about to say that Trayling has the worst and the best of the encounter - except that in the second half Michaels produces one of the finest exhibitions of stage apoplexy I have ever witnessed.
Until then one almost felt the role could have been given to a rising juvenile. He certainly spends much time hovering between clinic and drawing room,
The drawing room is, thanks to designer Colin Falconer, as splendid a piece of 20s deco as you could expect to see - with a solid looking proscenium arch to help it along and, in the process, to seat us all comfortably in the theatre of the times - Maugham's times, of course.
Certainly, Susie Trayling presents for us a powerful lady. How else could this production succeed, as it unquestionably does? Full marks, too to director Wilson who fashions this dated work with such skill that, but for the furnishings and some of the language, it might have been written yesterday.
And there is not a player who puts a finger out of place, ensuring that the full house - and that surely must be "houses" - may wallow in the stylishness of it all.
Maggie Steed banished all thoughts of her numerous small screen enterprises as she steps into the world of a bygone age. Sophie Roberts shines as the irritated sister Martha with a performance of depth from Saskia Butler as Marie-Louise that is not predicted in her earlier scenes.
Simon Thorpe, too, is such a nicely plodding Bernard, patently incapable of the deeds he subsequently demonstrates for us.
And the performance of James Clarkson as Bentley is one plucked right out of the old school!
The production continues until Saturday 5th March.
Reviewer: Kevin Catchpole