Constellations
Nick Payne
Royal Court Theatre Upstairs
–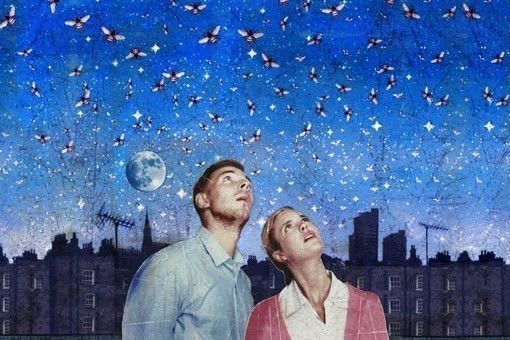 Although it lasts barely more than an hour, Constellations is a strangely satisfying and meaningful play.
In the early scenes, it feels more like an intellectual parlour game as a man and a woman work their way around a square stage reliving the same brief scenes of pre-mating three or four times in succession, like an artist's sketches for a much more substantial final work.
Each variation shows a different tone and, as a result, outcome. However, for those of us in an audience surrounding the playing space, it all appears rather pretentious—more an acting exercise than a play.
Gradually we gather that the text is (repeatedly) following the arc of a relationship between two thirtysomethings, Marianne and Roland according to a series of artificial, self-imposed rules.
Starting at first meeting and progressing through a couple of years, we eventually get a deep understanding of the two characters thanks to observing a playwright's Attempts at Their Lives, to pluralise Martin Crimp.
Their allocated vocations are hardly coincidental. Roland works as a beekeeper while Marianne (or Mary) is a cosmologist whose speciality is in exploring multiverse (sic) theory. This is the idea that there are an infinite number of universes and therefore everything possible has happened and will happen again somewhere, some time.
Nick Payne then plays with these ideas in an assortment of ways. Tom Scutt's set consists of a black square with honeycomb motif while hanging above are numerous white balloons, each presumably symbolising a planet or even universe.
The relationship is typically calm, neutral and stormy in succession, with behaviours and lines sometimes between man and woman swapped for effect.
Intriguingly, perhaps every eighth scene is much darker both in terms of lighting and mood so that a separate theme develops out of time, another physicist's concept that is eventually pulled apart.
Eventually, the evening is expertly drawn together so that without noticing viewers who were originally nonplussed and then amused find themselves affected in a very different fashion by a really subtle and insightful piece of writing.
Michael Longhurst directs with great detail applied to characterisation and gets tremendous performances from two actors currently making a big splash on film.
Rafe Spall and, in the more demanding role, Sally Hawkins prove that they can act brilliantly in front of live audiences as well. Indeed, Miss Hawkins might just find herself up for consideration when awards season rolls around.
Reviewer: Philip Fisher