Contact
Direction and choreography Philippe Decouflé, original music Nosfell and Pierre Le Bourgeois
Philippe Decouflé Company DCA
Sadler's Wells
–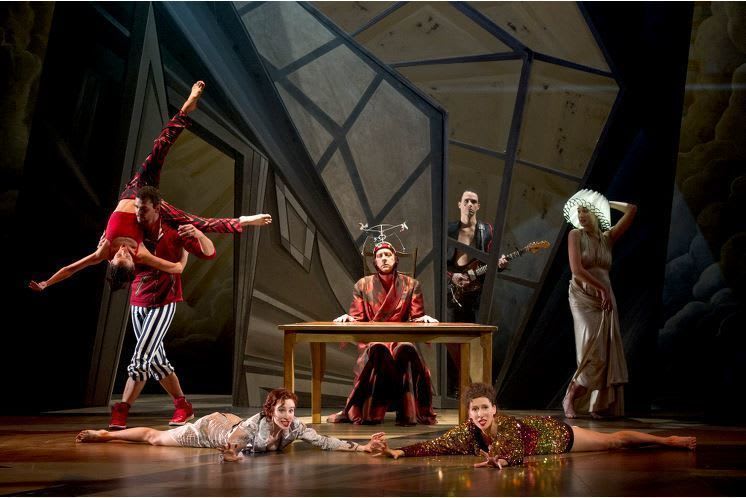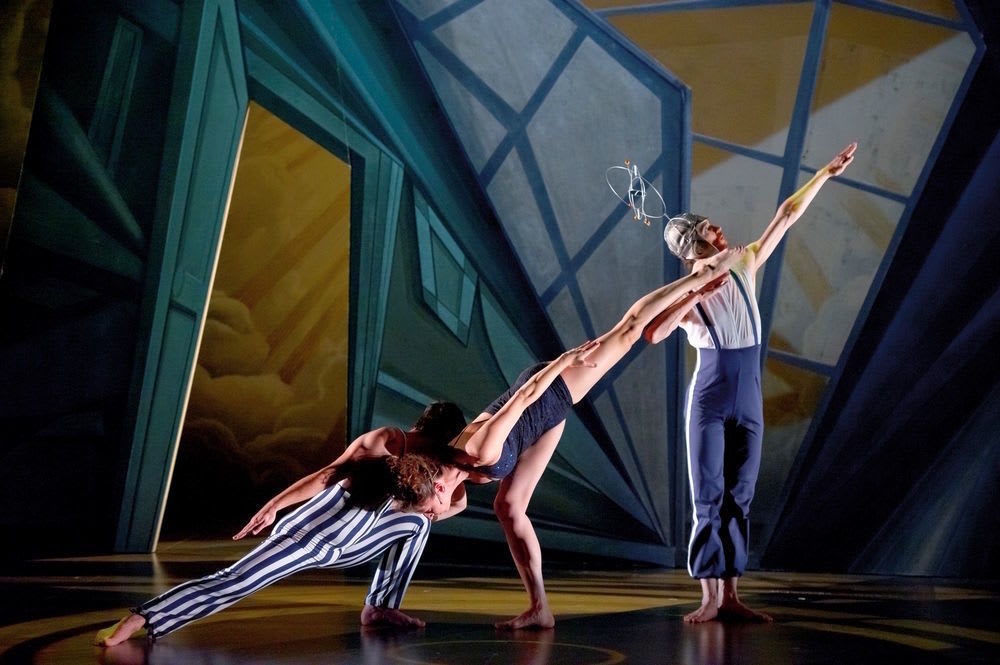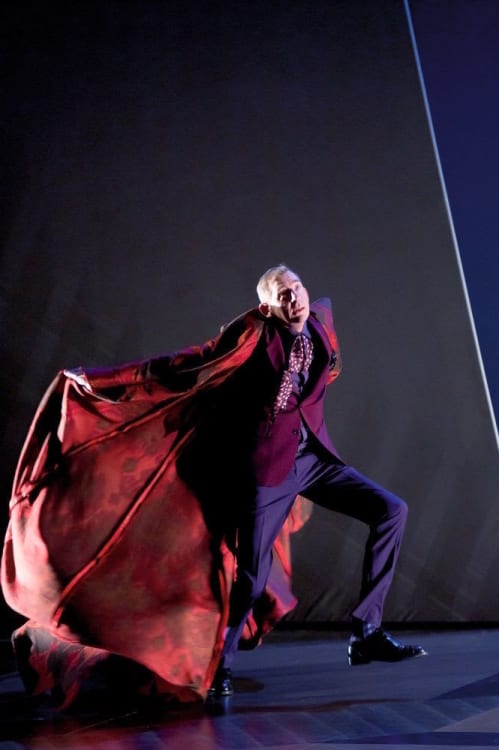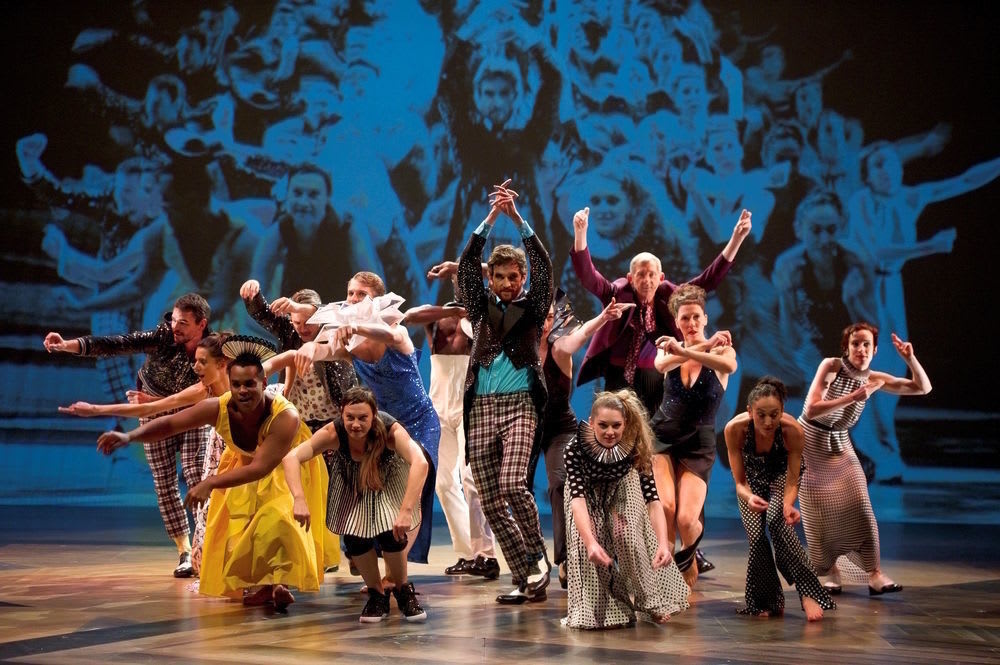 Mephistopheles leads a multi-talented motley band of sixteen – musicians, singers, dancers, actors, circus acrobats and illusionists, cross-dressing cabaret and Golden Age Hollywood hoofers. Lights, camera, action…
And primes us on how to behave. Laugh, sigh, show surprise, applaud, and if we must take a phone call, then do it on stage. The French family next to me is already in heaven.
As are some of the cast—clouds on legs, angels on bungee ropes, and on skates, but that comes later. As does hell for Faust, in sci-fi headdress and floor-length red coat a comical scientist in a dream world that makes little sense, though the girl with two heads gives new meaning to tête-à-tête.
Philippe Decouflé's latest show, Contact, is very loosely based on Faust, but at the same time does Kontakthof homage to the late Pina Bausch, one of his muses. Being who he is, it is all very droll and tongue-in-cheek, Pina's tropes magnified to the point of silliness and Faust reduced to burlesque.
Trained in mime, circus and dance, Decouflé founded his dance company DCA in 1983: three decades in the business, he has accrued lots of references and skills, and throws them all into the melting pot, into his 'opera from another world', a postmodern musical about musicals he says.
He spills his brains with the assistance of a large creative crew which includes Jean Rabasse (set design very avant-garde), Laurence Chalou (costumes likewise), Patrice Bescombes (lighting) and Olivier Simola's integral video design and Rorschach back projections, kaleidoscopic visuals adding the magic of old-style lantern shows and Busby Berkeley pretty patterns to a madcap world.
A fragmentary world where everything collides in a hallucinatory whirl: Jacques Tati (the gawky lanky Christophe Salengro, with the company since 1986, playing Faust) with Cirque du Soleil, Murnau with Marx Brothers, Fred Astaire with Merce Cunningham, theatre of the absurd with Oskar Schlemmer's Triadisches Ballett (an exhibit at the Whitechapel Adventures of the Black Square show this spring).
Who or what isn't his muse in this hotchpotch psychedelic hour and three quarters with no interval of entertaining Gallic humour and exuberance… Visual comedy combining with music from Nosfell and Pierre Le Bourgeois played live on stage Contact is more of a free-for-all gig set than a tightly constructed musical.
Attention split and splintered, an overload of impressions and images becomes exhausting in the end. Don't they know when to stop? "She's absolutely mad", someone says—it's all absolutely mad, in the best possible way of course. The inmates have taken over the asylum.
Faust is deconstructed, God analyzed, eccentricity celebrated, street culture brought late to the mix, Contact is a bit of a kasha, a potage of blended memories, a computer gone haywire, creativity run riot.
"…when I look at it it's not at all what I thought I would do, I never do what I expect—I have ideas, I make drawings, but after that the result is completely different."

"I think for this show maybe as the choreographer I created 15, 20 minutes […] I give them my ideas and direct them but all the creation comes from the dancers."
There you have it, a collaborative show, too many cooks perhaps, too much of a good thing. Maybe one shouldn't quibble about its grande bouffe qualities: cast and crew are a delight, if only the auteur knew when to shout cut.
Credits—curtain call—are taken behind picture frames as if on screen—and the ecstatic young audience, new to this company's work I suspect, won't let them leave the stage.
Reviewer: Vera Liber