Contemporary Dance 2.0
Choreography and score (mainly) by Hofesh Shechter
Hofesh Shechter Company I / Shechter II
The Lyric, Theatre Royal Plymouth
–

Listing details and ticket info...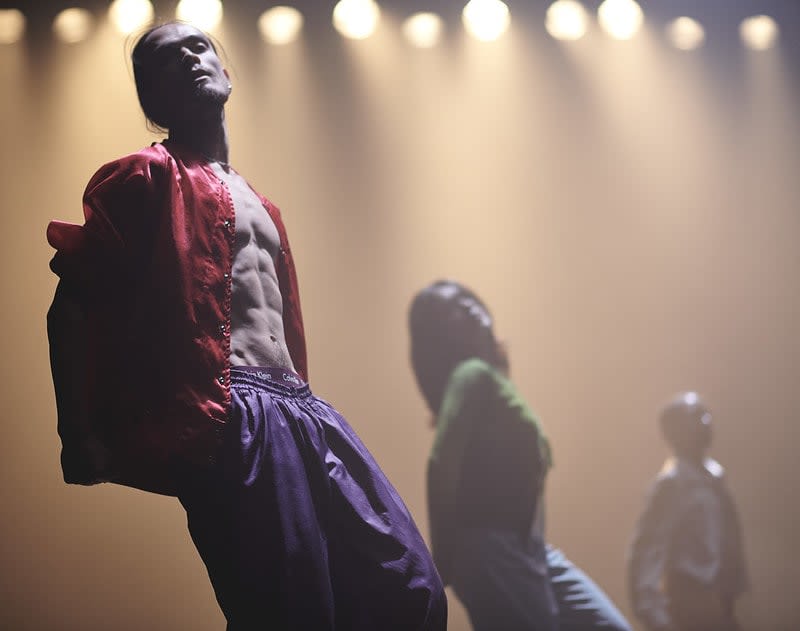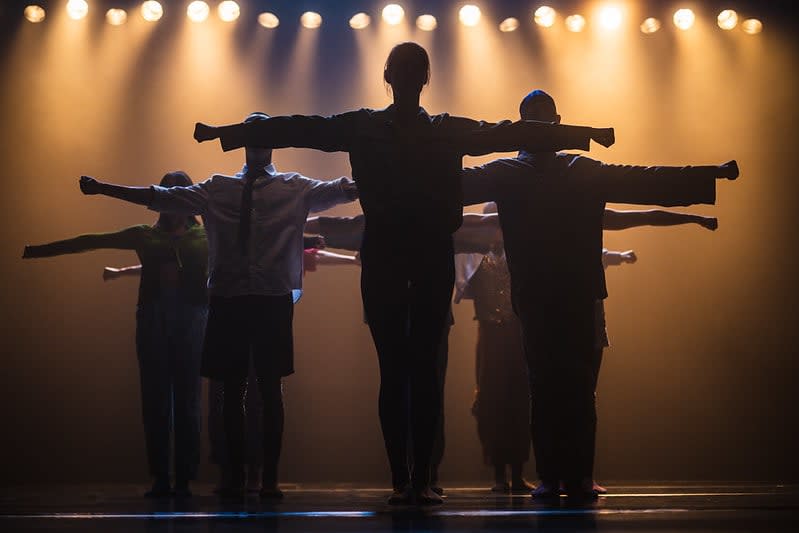 Stunning.
Hofesh Shechter's iconic percussive soundscape dominates (with a little assistance from Frank Sinatra, J S Bach and others) with moody lighting by Tom Visser emphasising an explosion of raw power, jagged movement and immersive intensity as seven 'apprentices' hit the ground running, shimmying and swaying.
The classic sound system is abandoned for big subwoofers, boosters up in the circle as Shechter's score starts out seemingly muffled in the pulsating Part I "Pop" where the septet thrusts and undulates as a chaotic mass or well-ordered cohesive group in and out of the haze and gloom in a cacophony of repetitive motifs, clustering and parting with trance-y solo, high kicks and precise synchronicity.
Part II—"with feelings"—picks up the volume with strings over the drums adding a Latin flavour as cha cha and merengue segue with layering and imperceptible changes into traditional ballet, postures and breakouts melding into Part III 'Mother' with a wry glance back to Shechter's acclaimed classic Political Mother. Tableaux of standing and kneeling, ensemble and solo pieces echo the visceral intensity of its original, merging into an arrangement evoking the Middle East and kalamatianos fading back to jerky repetition as the underpinning obscenity chant becomes more distinct against white noise and then overwhelming.
Part IV is a playful take on contemporary dance with exaggerated moves, funky solos, athletic pas de deux and vignettes of abandonment and rejection; breaths become part of the throbbing, haptic soundscape while dancers appear and disappear in the clever miasma and fades to black.
Posted as "The End", Part V is a dynamic take on"My Way" beautifully executed by this next generation of exceptional emerging artists whose bows are as individual as Osnat Kelner's costuming indicates.
A straight-through run of just under an hour flashes by and leaves the hugely appreciative audience wanting more. Tremendous.
Developed for dancers aged between 18 and 25, Shechter II was launched in 2018 and won the Prix de la Critique for Best Performers at Theatre de la Ville, Paris, where all 29 performances of Show sold out.
Reviewer: Karen Bussell