Contemporary English Plays
Edited by Aleks Sierz
Methuen Drama
Released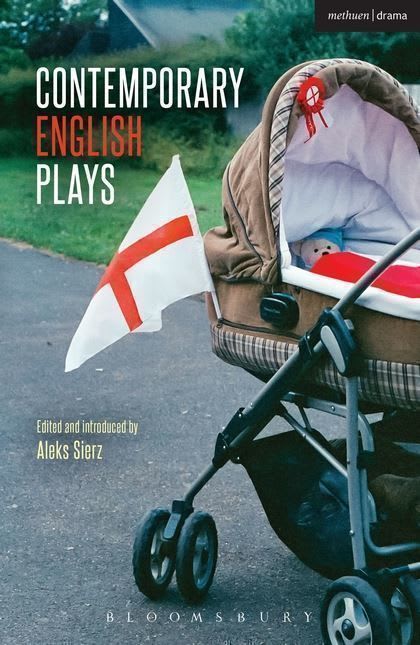 Methuen Drama's latest venture is a quartet of collections featuring recently written plays from England, Scotland, Ireland and Wales.
The English offering is edited by Aleks Sierz, probably the pre-eminent expert on the subject. He also provides a typically robust and incisive introduction identifying his own view of the response that playwrights have made to the question of English identity.
He has chosen five contemporary plays by young writers all of which have strongly political themes.
Eden's Empire by James Graham
The opening play is a gem by one of Britain's most impressive younger writers. James Graham's skill lies in making history and politics seem contemporary and important, as he demonstrated in this piece and also the later and much higher profile This House.

Eden's Empire follows the career of Anthony Eden, one of the country's least feted Prime Ministers. It was his misfortune to live for far too long in the shadow of the great wartime hero Winston Churchill, who only reluctantly handed over the role of prime minister as an octogenarian.
The first act offers a good grounding in post-war politics and Eden's place in them. It also enough biographical history to make this reserved Englishman seem like a real human being. However, it is in the second act where the drama ramps up as his reputation founders.
If Eden is remembered at all today it is for what became known as The Suez crisis. Graham portrays the events with the skill of a journalist but the artistry of a playwright, allowing us to watch in horror as Eden continually digs himself further and further into trouble.
It can only be a matter of time before this piece is revived on stage but, before that, here is an opportunity to relish a really superb piece of writing.
Alaska by D C Moore
Where Eden's Empire looks at England on a grand scale, Alaska focuses on multiculturalism and its seemingly inevitable sparring partner, racism, through the eyes of a handful of individuals.
The central figure is Frank, a young man who, having dropped out of university, finds himself working in a menial job at the local cinema.
This social outcast makes life more difficult for himself through his extreme views on those from other races. In particular, the other side of the coin is presented through his lively, female Muslim work colleague Mamtar.
An assured piece of writing from a young playwright tries to present all opinions even-handedly, although eventually Frank veers towards mental instability, thus explaining away his eccentric behaviour, if not that of his peer group.
Shades by Alia Bano
Shades is that relative rarity, a play written by a young Asian woman portraying the difficulties of secularisation in the Muslim community.
Sabrina is an events organiser who shares a flat with a gay Asian man and his white partner. Already, this is a racial and sexual preference mix that is a recipe for disaster.
At an Asian speed dating event, Sabrina meets a very strait-laced, traditional Muslim accountant and, inexplicably falls for him.
The agonies that this causes to all parties are shown with great realism but also humour and restraint.
A Day at the Racists by Anders Lustgarten
Like D C Moore, Anders Lustgarten chose to investigate the seamier side of society through drama. In his case, it is a head-on collision between the BNP and the rest of society.
Its central figures are Pete Case, a disappointed ex-trade unionist and Mark, his son. Reduced to doing odd jobs for a black friend Clint, Pete is up for protest but has no obvious party that will help him to make his case (no particular pun intended though the playwright may have).
He meets Gina, a mixed race Caucasian/Asian BNP parliamentary candidate and falls both for her and the party.
The consequences are terrible, particularly since Pete's granddaughter is also mixed race.
Anders Lustgarten has a way with political polemic and some of the speeches could almost make the most liberal of readers/viewers consider whether they have misjudged the British National Party.

A Day at the Racists may also make some consider the policies and intentions of that new kid on the anti-immigration block, UKIP.
The Westbridge by Rachel De-lahay
The Westbridge has many of the characteristics of a contemporary soap opera but is much better written. Every relationship in a community based on Battersea seems to derive from mixed racial origins. This creates confusion, angst and eventually rioting after the road goes around that an underage Asian girl was gang raped by black men, or so the story goes.
This is also a multiple love story across racial barriers. The central family is that of Saghir, a shopkeeper with Pakistani origins whose white wife had left him four years before the play starts.
His son has settled for an arranged marriage with a beautiful wife imported from Pakistan who speaks little or no English. In doing so, he forsakes a white wannabe fashion model. She shares a flat with his sister and her wide boy black boyfriend.
The last major character, Andre is something of a stereotype. A 16-year-old black youngster who is disaffected with society, mixing with a bad crowd, never going to school and, it turns out, acting as the catalyst for terrifying events.
The Westbridge is a lively, exciting play that depicts London life today in the raw.
Reviewer: Philip Fisher