Contemporary Scottish Plays
Edited by Trish Reid
Methuen Drama
Released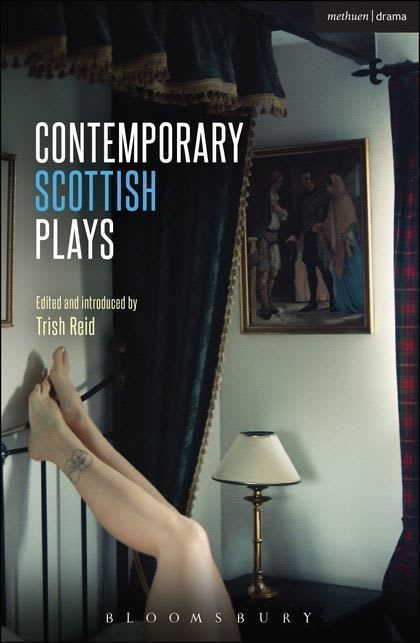 The Methuen Contemporary Plays Scottish collection consists of five plays selected and introduced by Trish Reid.
Scottish identity and experiments in theatrical form appear to be the two main connecting factors.
Caledonia by Alistair Beaton
By far the best play in the book is the first, Caledonia by Alistair Beaton, first performed during the Edinburgh International Festival of 2010.
This is a massively ambitious historical work with songs that focuses in on Scotland's brief attempt at colonial expansion.
Based on a true story, it follows the late 17th century exploits of William Paterson, a Scot who founded the Bank of England and in doing so got the taste for financial speculation with other people's money.
His idea, which would have sounded like a stroke of genius to anyone who had not heard of the South Sea Bubble, consisted of persuading his fellow countrymen to invest in a settlement in Panama where the Atlantic and Pacific almost meet.
If all went well, the far-off Scottish territory would control world trade and return everyone's investment many times over.
Sadly, in a sign of things to come, King William of Orange and his cronies put paid to Paterson's plans and the rest, as they say, is history.
Alistair Beaton has written a vastly entertaining play that makes history fun, using satire and a number of eccentric characters to make some very serious points about life in the 1690s but also today, during a period when Scotland is once again considering the advantages of independence from the United Kingdom, which it last enjoyed as far back as 1707.
Bullet Catch by Rob Drummond
Depending on your viewpoint, Bullet Catch is either an upmarket magic show dressed up as a play or a deep exploration of certain aspects of human behaviour.
In it, Drummond stars with the help of a random audience member to assist with a number of illusions. The most elaborate of these involves the performer literally catching a bullet, fired from a gun, between his teeth.
The performance is dressed up as a historical reconstruction of a real event from just over a century ago during which the trick went badly wrong with fatal results.
The main social and artistic points revolve around the underlying reason why Henderson, the magician in 1912, should have died. Was it murder, suicide or a dreadful accident?
At the same time, Drummond attempts to shed light on the interaction between performance and passive observation of it.
The Artist Man and the Mother Woman by Morna Pearson
Morna Pearson's claustrophobic play is written in a kind of vernacular not too far from Irvine Welsh territory, though set further north.
It tells the story of 40-year-old Geoffrey Buncher and his cloying mother Edie.
Buncher might be an art teacher at the local school but until you discover his age, the natural assumption is that this is an overly protected schoolboy approaching his teen years.
The artist man waits on mother hand and foot and, in return, she gives him her brand of love.
During the course of the play, Geoffrey attempts to strike out and find a girlfriend but unsurprisingly, no one in their right mind would seek to have a relationship with him until the appearance of Clara.
This dark, mysterious play says much about the human condition, assuming that you take a very pessimistic view of life.
Narrative by Anthony Neilson
Much of the text of this existential drama follows a series of eccentric people with the same names as the actors portraying them as they go about their not very natural routines.
Only in the later scenes does some meaning begin to emerge, although even that can be difficult to take as one struggles to discover the purpose behind this highly experimental play.
Rantin by Kieran Hurley
Kieran Hurley and a team of collaborators, Julia Taudevin, Gav Prentice and Drew Wright, have put together an evening that puts together songs, short stories and little bits of poetry into what the writer describes as a ceilidh-play.
Somehow, a piece that should not work on the page proves to be moving and at times entrancing.
In tiny speeches and catechisms, Hurley and Co create tiny portraits of a highly varied sample of Scottish humanity today, from a drunkard to a rich American, with young hooligans thrown in to brighten up the mix.
In doing so, they build up a wider picture of contemporary society north of the border.
Reviewer: Philip Fisher