Contractions
Mike Bartlett
Deafinitely Theatre and New Diorama Theatre
New Diorama Theatre
–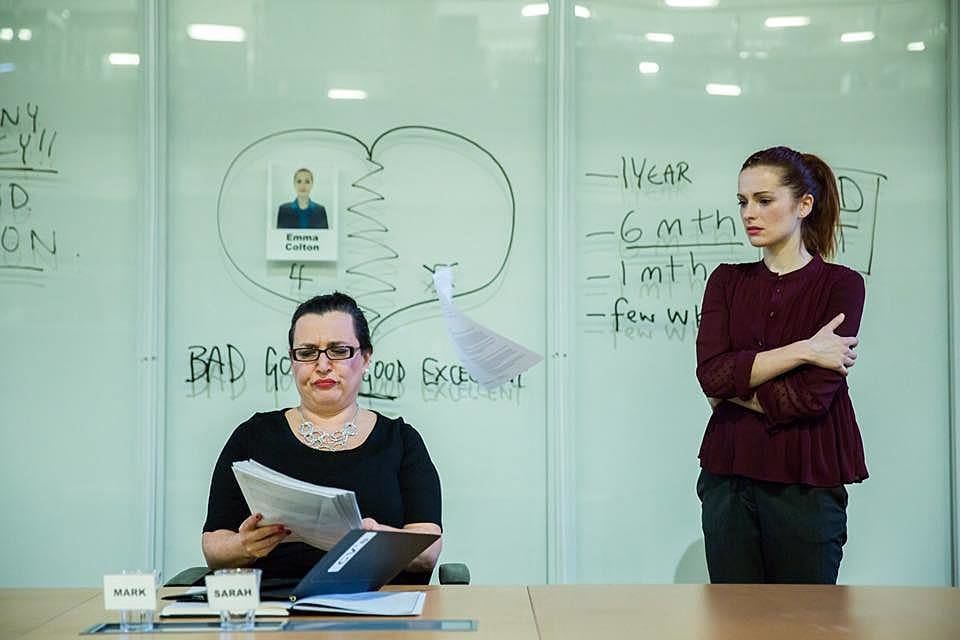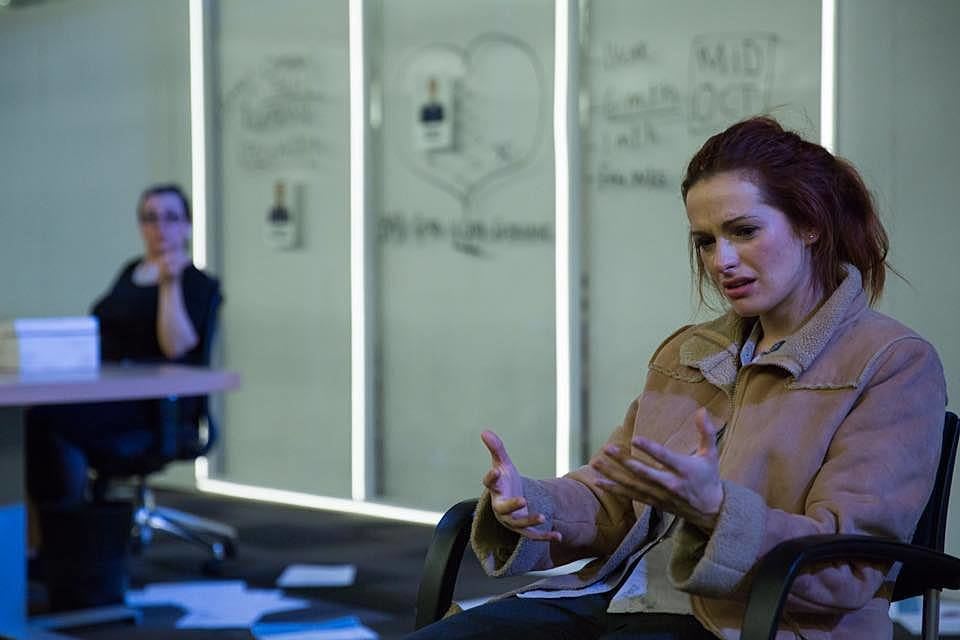 Mike Bartlett's black comedy about corporate control was first seen at the Royal Court Theatre back in 2008. This 2017 production directed by Paula Garfield wasn't its first revival but it is one with a very big difference for it is performed in British Sign Language. It was also a site-specific staging on a disused trading floor with the offices above clearly visible above Paul Burgess's set.
Employee Emma is called for interview by the management's Human Resources officer to question her understanding of her contract of employment after a possible breach of it has been reported to them.
You could call this a satire, except that it is a long way from being funny for its picture of the exercise of corporate power is more nightmare than comedy.
The key contract point concerns relationships between members of staff. Any romantic liaison is forbidden and Emma (Abigail Poulton) has been to a restaurant and had a candlelit dinner with another member of staff called Darren.
That is all there was to it, except that the manager (Fifi Garfield) sees candles as romantic. The management's interest perhaps affects Emma and Darren for they do indeed see more of each other and in a succession of meetings over subsequent weeks and months we see company attitudes and the risk of losing employment condition their behaviour and control their lives. This becomes a Big Brother nightmare.
While both performers speak through British Sign Language, only Emma delivers her side of their conversations vocally, though it is relatively easy to surmise what is said through Fifi Garfield's emphatic performance and some of the other visual devices she uses. That adds an extra effort in understanding that matches the difficulty Emma has in seeing what she has done wrong, especially after trying to follow all company instructions. It also helps to draw the audience into this escalating drama as Abigail Poulton shows Emma's disintegration.
The pompous assurance of the manager adds a touch of caricature but without that this could prove too painful and the grandiose gesture with which she signals "Enter!" perfectly sets out their relationship with Emma seated a little further away from the manager's desk at each successive encounter. Though the presentation is stylised, the situation is all too convincing, even in its macabre conclusion, as a parallel of company behaviour in real life.
Seventy minutes will be well spent watching Contractions and be an excellent introduction to Deafinitely Theatre if you don't already know this deaf-led company.
Reviewer: Howard Loxton