Conversation with Marilyn
Kim and Nathalie Haley
Bloomin' Heck Productions
The King's Arms , Salford
–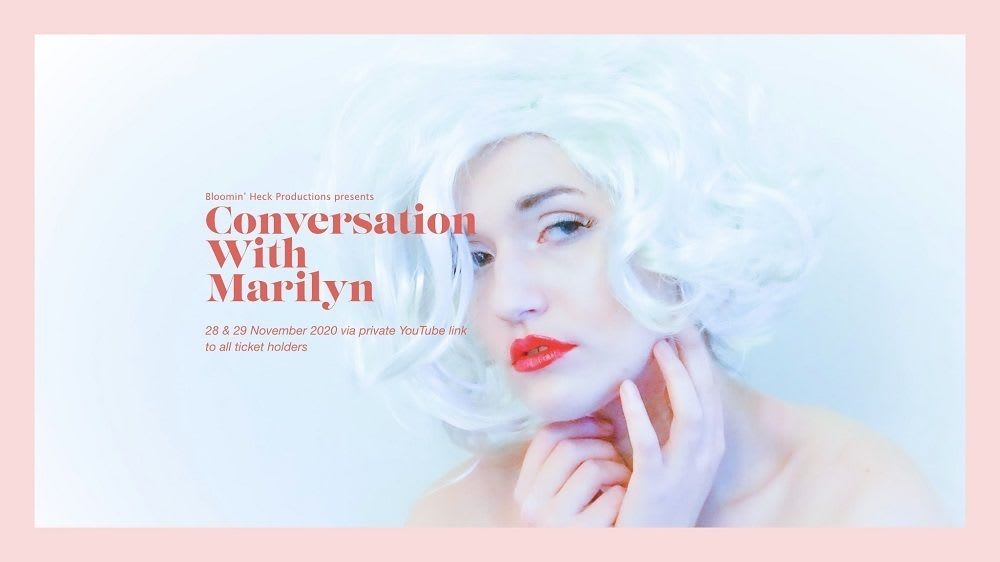 Conversation with Marilyn, by Kim and Nathalie Haley, is yet another GM Fringe play forced online by the current lockdown. A difference is that Bloomin' Heck Productions has filmed the performance in the Kings Arms where it was to have been staged making this as close to an authentic live theatre experience as one can expect under the circumstances. The occasional echo serves as a sombre reminder that the theatre in which the play was recorded stands empty.
Kiddo (co-author Nathalie Haley) struggles with both her mental health and her acting career. She wonders whether analysing the life and career of the late Marilyn Monroe will provide insights to help solve her own problems.
Although the script offers the perceptive observation that Monroe's embracing 'method' acting was disastrous as it required her to strip away her carefully constructed artificial persona and reveal her insecurities; the analytical aspects are the least satisfying parts of Conversation with Marilyn. The brevity of the play necessitates a reductive approach concentrating on how Monroe's absent father and her need for affection drove her to form unsatisfactory relationships with older men. The names of the characters are symbolic; Matt Rigby's 'Poppa' representing the men in Monroe's life who served as father figures while Haley's immature, needy character is named 'Kiddo'. The concluding scenes become a rush of famous names and there is no sense that Kiddo achieves a cathartic release through her explorations.
As events are taking place in Kiddo's confused subconscious, the production, self-directed by the cast and writers, sets an artificial, even dreamlike atmosphere. Monroe, to whom Kiddo relates, is portrayed in a convincingly realistic manner while the male characters, enacted by Matt Rigby, are two-dimensional and used as background to the story, popping on stage when needed and quickly being dropped.
As Kiddo spends most of the play commenting upon Monroe's life rather than drawing parallels with her own, Conversation with Marilyn works best as a biographical tribute to an iconic figure which does not shy away from the complexities of the subject. The story is told using direct quotes from Monroe and her lovers. Nathalie Haley switches, with apparent ease, from a Lancashire accent to Monroe's breathless little-girl tones.
The play is, appropriately for such a glamorous subject, a stylish production with Nathalie Haley adopting many of Monroe's trademarks. Scarlet lips, blond hair and the white dress from The Seven-Year Itch are all gleefully utilised. Rather than just providing variety and texture, songs from Monroe's films are used to great effect to illustrate plot points. Haley vamps through a sexy I Wanna Be Loved By You but a broken version of I'm Through With Love represents Monroe in decline, knocking back booze and pills.
The high ambitions Bloomin' Heck Productions set for their first play are not completely achieved. Conversation with Marilyn, however, tackles the complexities in the life of a cinema superstar and Nathalie Haley's moving performance, which shifts from empathy to exasperation, helps to understand Monroe's many contradictions and appreciate her vulnerabilities. It draws out the humanity of an iconic figure whose influence remains strong.
Reviewer: David Cunningham