The Convict's Opera
Stephen Jeffreys
Out of Joint / Sydney Theatre Company
Library Theatre, Manchester
(2009)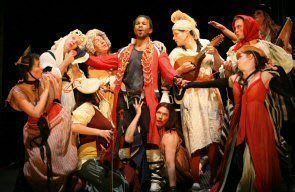 Stephen Jeffreys has adapted John Gay's popular eighteenth-century musical play set in the London criminal underworld The Beggar's Opera for Max Stafford-Clark and Out of Joint.
This adaptation is set not in London but on a prison ship of the early nineteenth century which is transporting criminals halfway around the world to Australia, and the criminals are putting on their own production of Gay's piece. It therefore keeps jumping between scenes from Gay's story as they rehearse them and the stories of the people who are performing it, showing parallels between their characters and situations.
The production uses Gay's original songs, but also includes some other traditional songs and quite a lot of modern pop songs, ranging from the opening with the Rod Stewart hit 'Sailing' to 'Five Hundred Miles' by The Proclaimers, 'Stand By Me' by Ben E King, 'You're So Vain' by Carly Simon, 'I Fought the Law', made famous by The Clash, Ian Dury's 'I Wanna Be Straight' and many more.
This mixture of song styles could jar, but musical director Felix Cross, whose Up Against The Wall is currently running at the Octagon in Bolton, has cleverly arranged the music so that they all fit seamlessly together, combining some beautiful a capella singing with songs accompanied by actors playing a wide variety of instruments. There were quite a few occasions when a well-known first line got a laugh of recognition from at least part of the audience.
The concept is not exactly original. Timberlake Wertenbaker's wonderful Our Country's Good, written for the same company and director just ten years ago was about the inmates of a prison colony in Australia putting on a play; obviously anticipating this connection, this play makes a joke about a dissatisfied actor leaving the production and setting up a rival company to put on The Recruiting Officer, the play that features in Wertenbaker's script. Although set in modern day, Alan Ayckbourn's A Chorus of Disapproval was based around rehearsals for an amateur production of The Beggar's Opera, showing parallels between the problems of the characters and the actors.
Although the play doesn't say or do anything new, it is certainly entertaining and extremely well-performed. Catherine Russell is absolutely superb as Mrs Peachum, with some good support from Brian Protheroe as her husband. Juan Jackson is an intense, smouldering Macheath with an incredible voice and seems to be wearing less each time he appears on stage. Ali McGregor also has a wonderful operatic voice and is perfect as Polly Peachum. Karina Fernandez really gets chance to shine in the second half as Diana Trapes, Peter Cousins as the Irish 'political' Eddie and Lockit is the scariest woman you could ever hope not to meet and there are also great performances from Glenn Butcher, Amelia Cormack and Thomas Eyre.
This isn't an original idea and there aren't any serious points made that haven't been made better elsewhere, but it is funny, well-performed, slickly directed by Stafford-Clark and has some great music throughout and even a bit of audience participation, and so provides a very entertaining and enjoyable night at the theatre.
To 7 February 2009
This production was reviewed at Salisbury by Kevin Catchpole
Reviewer: David Chadderton