Cool Hand Luke
Donn Pearce, adapted by Emma Reeves
Novel Theatre
Aldwych Theatre
(2011)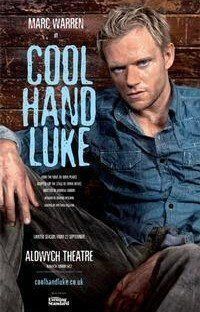 Everybody loves a rogue, especially one with muscles and a wicked smile. That is the appeal of Cool Hand Luke, a man who in less sympathetic hands would be seen as a Godless petty criminal with few redeeming characteristics.
The producers, Novel Theatre, have previously worked with novels written to entertain teenaged girls, building a devoted fan base with Little Women, Anne of Green Gables and Carrie's War. Though still an adaptation of a novel, Cool Hand Luke is therefore a real departure for adapter Emma Reeves and director Andrew Loudon.
The programme attempts to set the rebel without a cause into a heroic line that starts with Prometheus and progresses through Robin Hood and Galileo to Ché Guevara.
Even though Paul Newman in the 1967 movie and Hustle's Marc Warren, who gives a strong performance combining comedy with an underlying toughness on stage, imbue the free spirit with lashings of charm, those comparisons might be a little overblown.
In a story narrated by his pal Dragline (Lee Boardman), accompanied by sweet gospel singing with spiritual overtones from a quartet led by Sandra Marvin's Mary, Luke starts out as a war hero but back in Civvy Street he soon goes off the rails and gets arrested for abusing parking meters.
From the start of his incarceration, trouble is heralded by a silent smile and utter fearlessness. The evening then charts the downward spiral of a life that could almost be seen as classically tragic were the protagonist's actions not wilful, eventually suicidally so.
Nothing fazes Luke, who has the guts to win bets, literally in a dizzying comic scene featuring fifty eggs and the strongest of stomachs.
This kind of cockiness will always rile authority and, though it takes longer than one might expect, it does. Richard Brake's lanky Boss Godfrey particularly resents being made a fool of in a series of audaciously stupid escapes reminiscent of Colditz tales. This sadist at times resembles one of those cartoon villains that repeatedly fall for the same tricks and eventually gets bitter and murderously mean.
Based on a semi-autobiographical 1965 novel about prisoners on a Florida chain gang, Cool Hand Luke needs to be red in tooth and claw and, if there is a major criticism of this production (other than some of the accents), it is a tendency towards unwarranted gentility with the violence stylised and ladled out with the lightest of touches.
However, what this team is keener to do is turn the story into a modern myth, making Luke a sub-Messianic hero who at the end dies in church with arms symbolically outstretched. Before that, the key message is that war and the degradation that it instils sucks, however much it is glorified.
Cool Hand Luke may not be Spartacus or Rosa Parks, to name two other rebels cited, but he is a sassy bad boy who the producers must hope will get the ladies flooding into the Aldwych to see Marc Warren's muscles in the rippling flesh.
"Cool Hand Luke" plays to7th January, 2012
Visit our sponsor 1st 4 London Theatre to book tickets for Cool Hand Luke
Reviewer: Philip Fisher