Coppélia

Birmingham Royal Ballet
London Coliseum
–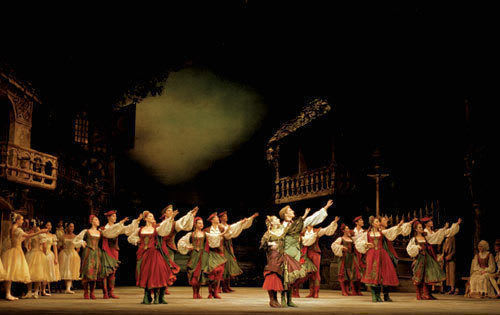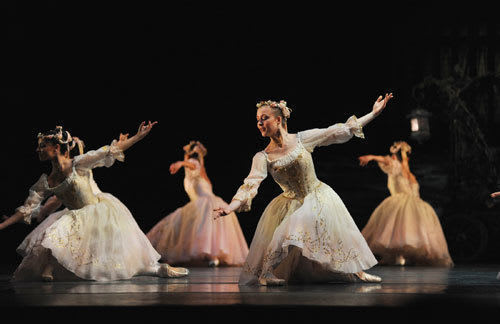 A comic, sentimental, Romantic, three-act story ballet with not a trace of the macabre with which one associates ETA Hoffmann, on whose 1816 short story, Der Sandmann, it is based, Coppélia has undergone many transformations since first created in 1870. Three reincarnations by Peter Wright alone follow Saint-Léon, Petipa and Cecchetti. His 1995 version, a festive feel-good production, shows off Birmingham Royal Ballet's dancers at their ebullient try-hard best.
Delibes's foot-tapping music, lots of ensemble dancing, waltzes, czardas and mazurkas, pretty costumes and set (Peter Farmer), funny mime, mistaken identity, and a love story that ends happily with enough divertissements to please the most jaded of balletomanes, there's no room for Freudian analysis (Freud did write an essay in 1919, Das Unheimliche / The Uncanny, about Hoffmann's Sandmann).
In short a popular entertainment for the whole family. In a pretty Central European village, where little goes unnoticed, Swanilda and Franz (Nao Sakuma and Chi Cao) are in love, but his roving eye spies a pretty girl reading a book on Dr Coppélius's balcony. When Coppélius ventures out, Franz seizes his chance and climbs a ladder to seek the silent beauty.
Jealous Swanilda and her friends (Maureya Lebowitz stands out) are also intrigued by this motionless paragon, and find their way in with a key dotty Dr. Coppélius (marvellous acting from Michael O'Hare) has dropped. But when they enter the toymaker's mysterious abode, Swanilda discovers that the taciturn one is a mechanical doll. Dr. Coppélius returns, the girls flee, but feisty Swanilda hides behind in a curtained recess.
Franz is caught sneaking in by Dr. Coppélius, who drugs him with sleeping potion in order to transfer his spirit and soul into his automaton Coppélia. The magic spell seems to work when the doll comes to life—from stiff marionette moves to graceful gestures. Of course, it is Swanilda, who causes mayhem winding up all his other creations, and escapes from the strange little man, rescuing Franz as she does so. This middle act is the one that gives the ballerina the opportunity to shine and playact, which Nao Sakuma does with pert charm and sparkle.
The final act is a joyous declaration of love, wedding bells, and party pieces. A new town bell is inaugurated, gifts are bestowed on the betrothed couple, who show off their dance moves, and on Dr. Coppélius, too, to placate him. A pretty masque follows: cherubs look down as Father Time introduces the Festival of the Bell. Wedding day divertissements, dances representing The Hours, Dawn, Prayer (Jenna Roberts is perfect), Work, A Call to Arms, Betrothal and Peace.
A sugary confection, supernatural spices withheld, the darker side damped down, but what a cornucopia of dance—the whole classical batterie—Coppélia is brought to life by a company in good health and humour.
Reviewer: Vera Liber