Coppélia
Choreography by Roland Petit
The Moscow Stanislavsky Ballet
London Coliseum
–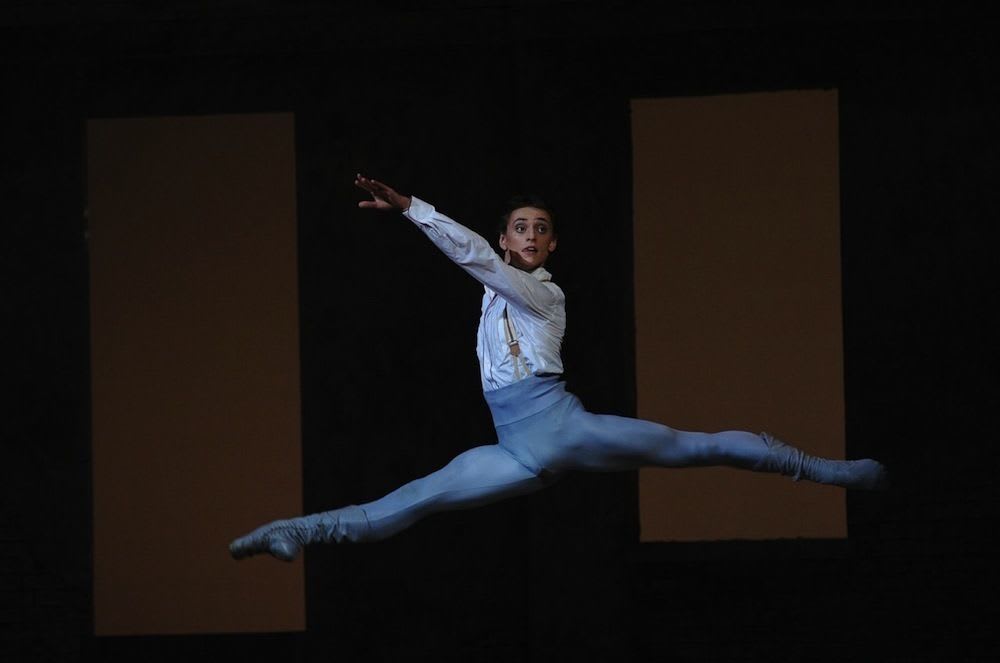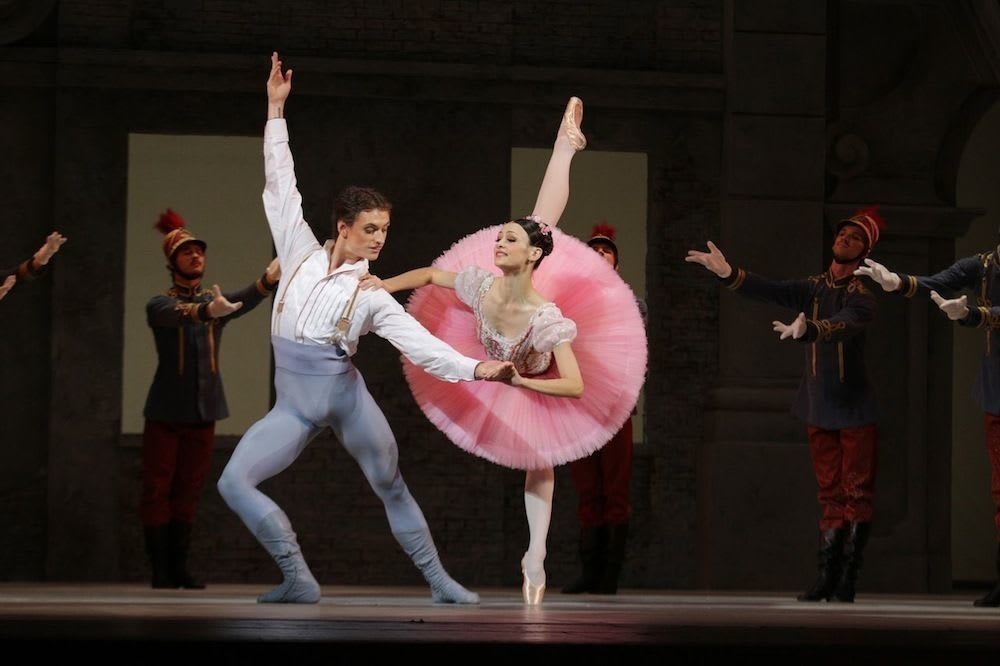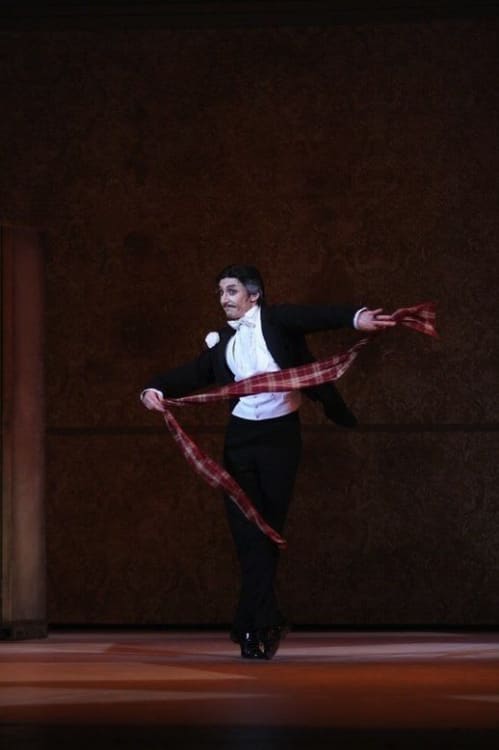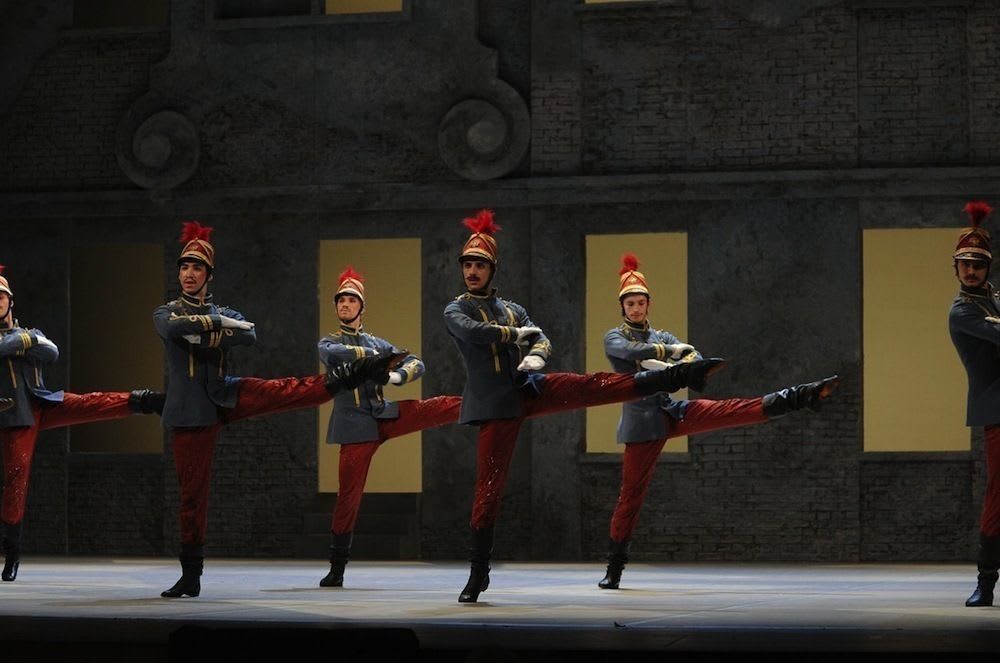 Moscow Stanislavsky Ballet's first visit to the Coliseum London, and they bring only one production, Roland Petit's blithe 1975 Coppélia, to show off its young company for only six shows with three casts, but the attention is all on delicately beautiful bad boy Sergei Polunin, ex-Royal Ballet Principal.
Well, he's a good boy in Coppélia, a bit of a lad—the curtain opens on him smoking—slightly naughty, flirtatious, chasing girls, but he delivers the goods with a smile, hardly breaking sweat, flying through the air with self-possessed ease.
Updating the choreography by a century, Petit makes it witty, sexy and a bit burlesque. Full of kisses, leg tremblings, fluttering hearts and knowing looks, it's a French operetta (Léo Delibes composed these, too) minus the vocals, soldier toy boys in cockade hats, saucy high-kicking girls in candy floss pink, all of them marionettes in one way or another.
So why not a perfect puppet doll (blow-up doll) for lonely Dr Coppelius to dance with… Sadly she comes apart in his hands in the end, his magical skills comic rather than sinister. His cabinet of tricks—dancing limbs, shaking heads, and drawers with a mind of their own—is an existential joke, a nod to how dances and dancers are formed, embraceable dolls all.
Wily Petit gave the most charismatic role to Dr Coppelius, which he originally played himself. Anton Domashev's delightfully delicious frock-coated Coppelius, looking a bit like Anton Walbrook or Charlie Chaplin as Monsieur Verdoux, has more character than Frantz and Swanilda put together, who just have to look pretty and dance beautifully, which Polunin and dark-haired long-limbed feather-light doll Kristina Shapran manage immaculately in their solos and duets.
His eye distracted by a sophisticated Zizi Jeanmaire model dressed in black with a seductive fan in an upstairs window, Frantz can't see the beauty in front of him. He climbs in, is drugged by Coppelius, but Swanilda finds the key Coppelius has dropped, and she and her six girlfriends gain access to his home, where the town doll turning into Coppelius's doll teases Coppelius and rescues Frantz.
Much fun is had: Coppelius does a wonderful dance with his soft doll attached to his feet and her long bendy arms round his neck; the soldier boys dance a precision drill—the second from the left is outstanding; and the girls flounce, all suitable for a family audience.
The set by Ezio Frigerio is an uncluttered grand garrison town square with two floors of windows in the first act, and Coppelius's study with two strategic screens and a table in the second. Plenty of space for light-hearted dancing, and in the pit the English National Ballet Orchestra under conductor Anton Grishanin masquerades as a fairground band with aplomb.
Moscow's second ballet company, since 2011 under the Artistic Directorship of former principal dancer Igor Zelensky, the Stanislavsky and Nemirovich-Danchenko Moscow Academic Musical Theatre—to give it its full title—is casting its repertoire net wider these days, taking on MacMillan, Kylian, Duato and Neumeier as well as the classical story ballets, favouring acting and comedic as well as dancing skills according to its promotional material, which Roland Petit's Coppélia has in plenty.
Traffic between Moscow's two companies is common: only a few days ago its General Director, Vladimir Urin, replaced the Bolshoi's ousted General Director Anatoly Iksanov. In fact, the acid-scarred Sergei Filin had himself come to the Bolshoi from running the Stanislavsky Ballet 2008 to 2011.
I hope we see more of Polunin, and the Stanislavsky Ballet, in London, especially his recent Rudolf in Kenneth MacMillan's Mayerling, which was ecstatically received in Moscow.
Reviewer: Vera Liber