Coram Boy
Jamila Gavin, adapted by Helen Edmundson
Royal National Theatre, Olivier Theatre
(2005)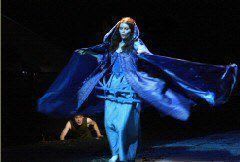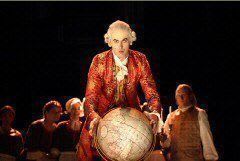 This is the one. If you go to the theatre several hundred times a year, you can become a little jaded. Even so, when that elusive, really special play turns up, the shivers still shoot up and down the spine. Then, like the 12 year-old who has never visited a theatre in his or her life before, you can be gripped by the same unbearable tension that marks the best drama.
The all-female creative team behind this project has a really good pedigree. Writer Jamila Gavin won the 2001 Whitbread Award for Best Children's novel for Coram Boy.
This historical novel set in the mid-18th century is adapted by Helen Edmundson who is best known for her work with Shared Experience for whom she has adapted several novels including War and Peace and Anna Karenina.
They are joined by director Melly Still whose background includes work on adaptations of Salman Rushdie's Midnight's Children, The Jungle Book and also Tales from Ovid.
Coram Boy is deemed to be suitable for those aged 12 upwards although slightly younger children might also enjoy themselves, provided that they can overcome one of two of the scarier scenes. This should come with a little bit of a health warning, since there is a graphically reconstructed hanging and too many dead babies for comfort.
The first act centres on the life of 14 year-old Alexander Ashbrook played by one of this year's most successful stage actresses, Anna Madeley. Fresh from her twin Donmar successes in The Cosmonaut's Last Message ..... and The Philanthropist, the young star does a tremendous job of portraying a swaggering chorister on the cusp of losing his pure, high-pitched voice forever, showing off yet another of the actress's talents.
Alex is the star pupil at Gloucester Cathedral and has the good fortune to be a son of the richest man in the county. However, he is also good natured and protects poor, bullied Thomas, played by Abby Ford, another boy whose life is given over to music. Unlike Alex, though, he does not have the ambitions or the ability to become a famous composer.
Everything goes swimmingly until the pair turn up at the Ashbrook family estate. There Alex fights with his father over his future and then, after initial reluctance, falls head over heels in love with Justine Mitchell's Melissa.
She is a 15 year-old who has fallen on straitened times following the death of her father. The upshot is that Alex runs off seeking fame and fortune, leaving Melissa literally holding the baby.
This ties in with another plot strand, in which we see the low life of the day. These are represented by the excellent Paul Ritter as the epitome of evil Otis Gardiner and his sidekick Miss Lynch (Ruth Gemmell).
This pair, more hindered than helped by Otis' backward son Meshak (Jack Tarlton), have a nice business going in taking up illegitimate babies from distraught mothers. They have the ostensible desire to do a good deed by taking the infants to Thomas Coram's Foundling Hospital where they will enjoy a good life. In fact, they slaughter the innocent and pocket the cash - shades of Burke and Hare.
In the second half, the super-talented Miss Madeley regresses absolutely convincingly to become eight year-old Aaron, a joyful scamp of a Coram Boy. The early scenes after the interval as (s)he rushes around with Akiya Henry as his best friend Toby are delightful.
Soon, the boys have the opportunity to sing for the famous composer of the Messiah, George Frideric Handel. This allows the large (in theatrical terms) orchestra and chorus to get into their stride, fronted by young Aaron.
As Toby is billeted with an evil pederast and white slave trader, his friend is apprenticed to a disciple of Handel. From there, it is only a small step towards a family reconciliation for the newly returned Alexander and a chance for Aaron to meet his parents. As one might expect in a moral tale for older children and teenagers, by the end the baddies have also got their just deserts.
For three hours the audience is entirely taken up by this delightful drama. If there is a minor criticism it is that Miss Gavin has a tendency to become overly sentimental. However, this rarely gets in the way of a cracking plot beautifully realised on stage.
The production has an operatic feel but also elements of physical theatre familiar to those who enjoy the work of Shared Experience. At its best, in a simply designed scene at sea, one can almost imagine the breathless panic of those who are close to drowning. There is a compliment to the co-designers, the director and Ti Green.
This is a wonderful example of the National Theatre at its very best. Probably no other theatre in Great Britain would be capable of putting on a work on this scale with a large cast, orchestra and chorus.
It is delightful to be able to report that once again, following The History Boys and His Dark Materials last year the National has what will surely prove to be a runaway success. That will please the management as hits help to fund experimentation, much needed for a healthy future for the National and more generally for the country's theatre.
Rivka Jacobson reviewed the 2006 revival
Reviewer: Philip Fisher