The Cordelia Dream
Marina Carr
Royal Shakespeare Company
Wilton's Music Hall
(2008)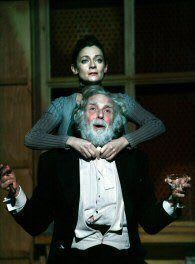 The second play in the RSC's season of contemporary commissions is a quirky, intense two-hander from Irish playwright Marina Carr.
The performance under review suffered a little from David Hargreaves' battles with a series of props, particularly a misbehaving corkscrew that left him bleeding and distracted throughout the first half of the two hours.
This section observed a meeting between an unnamed father and daughter, far more Goneril or Regan than Cordelia, who have in common both an errant musical gift and a mutual hatred of exceptional strength.
Hargreaves and Michelle Gomez fire vitriol at each other for no better reason than that each seems to feel that the other has been the cause of their disappearing muse.
The insults are so barbed that it seems impossible that the pair could ever be reconciled but the tone changes completely after the interval. Then, five years later an unlikely reconciliation is brokered at least in a limited fashion. Now, the "Cordelia Dream" that the daughter talked of earlier is far more apparent.
First, our latter-day Lear has clearly gone off his head, though suffering alone in his isolated wooden cabin rather than in company on the old King's blasted heath.
His companion has to be Kent, the Fool, Poor Tom and his youngest daughter rolled into one, which is not an easy task with a man who has lost his wits.
The conclusion follows a couple of surprise revelations and builds to a final requiem, played live by a talented string trio, that seemingly offers the old man hope of redemption.
The first half of the evening seemed to suffer from the misfortune of its leading actor but, even so, does not feel fully realised.
David Hargreaves depiction of a modern Lear descending into madness before emerging wiser at the end is far more engrossing and moving, featuring fine acting and something of a fresh take on this father/daughter aspect of the play with which every audience member must be familiar.
Reviewer: Philip Fisher