Coriolanus
William Shakespeare
Stratford Festival Theatre, Ontario and Ex Machina
Stratford Festival Theatre, Ontario
From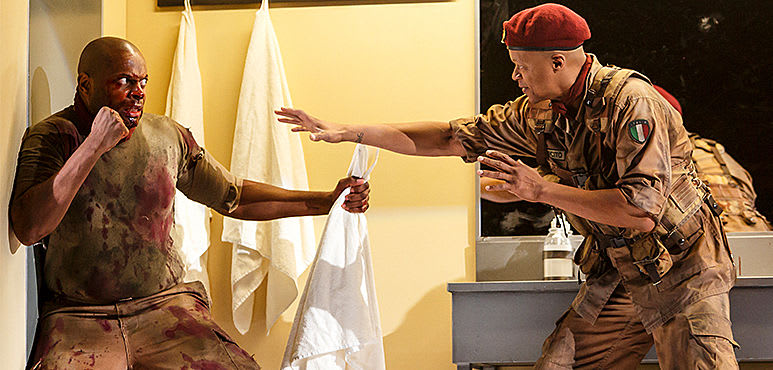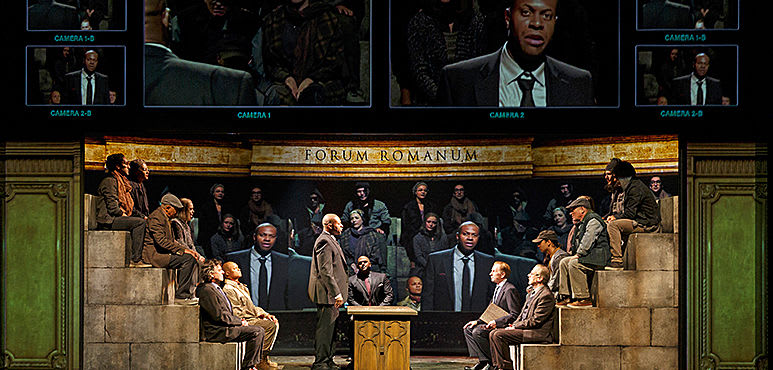 The joy of any production by Robert Lepage and Ex Machina lies in the Canadian auteur's ability to confound expectations. That is certainly the case with this novel, modern-day interpretation of Shakespeare's wordy, heavily political Roman play.
Before the titles, the scene has been already set for a fascinating 2½ hours, as first a disembodied head provides a prologue, before the scene is set via a radio talk show debate.
Lepage always pays great attention to the visual impact of his productions and this is no exception.
Using short, filmic scenes with titles in between, the action is developed using sliding screens to create a widescreen effect and swift transitions.
There are so many clever touches that it would take up too much space to mention them all, but depicting a battle scene through the use of a close-up camera on toy soldiers competes with a dartboard in the tribunes' office, which takes on unanticipated symbolic significance.
By setting this 2018 production in the present day, the performance also achieves an immediacy that has often passed this play by in recent stagings.
In the 21st century, it can be hard to imagine someone who is so far from being a populist seeking power but André Sills as bold, angry Caius Martius, ennobled as Coriolanus after a battle against his mortal enemy Aufidius, played by Graham Abbey, cocks a snook at the people.
The populace might have been more sympathetic had a scheming duo of twin tribunes, portrayed by Stephen Ouimette and Tom Rooney, not disloyally sown seeds of discontent.
When they get the upper hand, the warrior prowls around like a caged big cat but, even then, gives second-best to his browbeating mother, Lucy Peacock taking the role of bloodthirsty Volumnia.
In an insightful interpretation, there are hints that the titular figure's instability might be a result of PTSD, surely a first but quite probably not a last for Shakespeare.
Behind the scenes, many of our hero's strings are pulled by Volumnia, as outspoken as the warrior's shy, nervous wife Alexis Gordon's Virgilia is quiet, at least until pushed beyond endurance.
The novelty rarely lets up, for example allowing Tom McCamus playing the pacifying Menenius to become an alcoholic TV pundit, acting in the best interests of his man both in front of and behind the cameras.
This must also be the first hot-tempered Coriolanus who has ever left Rome not only in high dudgeon but a sports car, the modernity soon matched by an exchange of texts between soldiers, complete with emoji.
The second half of the play is prefaced by a seemingly unlikely alliance between the warring generals, ending their disagreement first verbally and then during a beautifully choreographed bout of wrestling.
As a brief summary should amply demonstrate, Robert Lepage has created a characteristic new take on Coriolanus that is both accessible and compelling and features strong acting throughout, headlined by the efforts of André Sills and Lucy Peacock.
If you are unable to catch the free stream, which ends on 21 May, the production is available to rent or buy and there is plenty more top-quality Shakespeare to enjoy via the Stratford Festival web site.
Reviewer: Philip Fisher