Coriolanus
William Shakespeare
Shakespeare's Globe
(2006)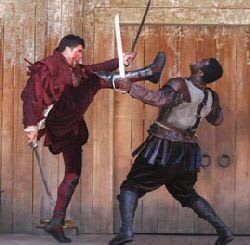 The Rylance era is over and all eyes turned eagerly to the start of Dominic Dromgoole's period as Artistic Director of Shakespeare's Globe. He got the first test right by ordering up a gloriously balmy evening for his first opening night.
He is a brave man, eschewing the obvious, say Hamlet and Romeo and Juliet, and has gone for two relatively unknown and difficult plays to announce himself. First, Coriolanus, the tale of a Roman whose rise and fall happen in the blink of a God's eye, or a slightly lengthier three hours to mortals in Bankside, then Titus Andronicus, of which more anon.
Jonathan Cake plays the man who starts as Caius Martius, a true larger than life and very bloody warrior whose physical strength and hot-headed nature make him a prime candidate for honours. However, such a man was never likely to make a good politician.
Thus when a pair of schemers like the tribunes played by Andrew Vincent and John Dougall oppose him, they soon achieve what his enemies the Volscians (whose name makes them sound rather like refugees from Dr Who), led by Mo Sesay's Tullus Aufidius, cannot and get the citizens baying for his blood.
Coriolanus is a proud man but like a footballer leaving Celtic for Rangers, he gives up his birthright and support, and clad in black like a bad knight, joins his enemy and plots to take Rome.
This is where Shakespeare really comes into his own. When our hero's greatest ally and fan club, the estimable Robin Soans' funny philosopher Menenius, fails to talk him around, the writer sends a sad trio of women and a boy to try their luck. Led by Coriolanus's formidable mother Volumnia, played with appropriate fortitude by Margot Leicester, he turns and returns to die a soldier's death among his own people.
So, what did Dominic Dromgoole make of it and, inevitably, how did it compare with his predecessor?
The costumes are Jacobean and, as a consequence, far less lavish and colourful than we have become used to. The acting style is interesting with humour given every opportunity, especially when Robin Soans is on stage.
There is also a modern sensibility that we may need to get used to on this oldest of stages and it might not be to everyone's taste. The reactions and relationships are sometimes far from Roman or Jacobean and this can make contemporary viewers more empathetic.
A more serious problem, especially in side-on seats, is audibility. Many lines disappeared before reaching the audience and some of the actors will need to work on their diction.
Where Dromgoole scores most highly is in bringing the action to the people and especially those in the Pit. The stage has been built out with two gangplanks running well into the audience and actors regularly appear and manoeuvre amongst the groundlings. Best of all, the final scene involves the hardly insubstantial Jonathan Cake in a stage dive worthy of a punk rock star.
One of the responsibilities of Shakespeare's Globe is to entertain visitors who know nothing of the Bard and give a feel for what theatregoing might have been like in Elizabethan and Jacobean times. With his emphasis on humour and desire to involve his audience, the new holder of the crown has clearly kept this at the forefront of his mind.
The conclusion at this stage has to be "case not proven". The new man has probably done himself no favours with his choice of play but his production contains enough innovation to perk up interest without setting the world alight. Roll on Titus Andronicus!
Reviewer: Philip Fisher