Corrido de la Sangre
Peder Bjurman, The Tiger Lillies
HOME Manchester, The Tiger Lillies
HOME Manchester
–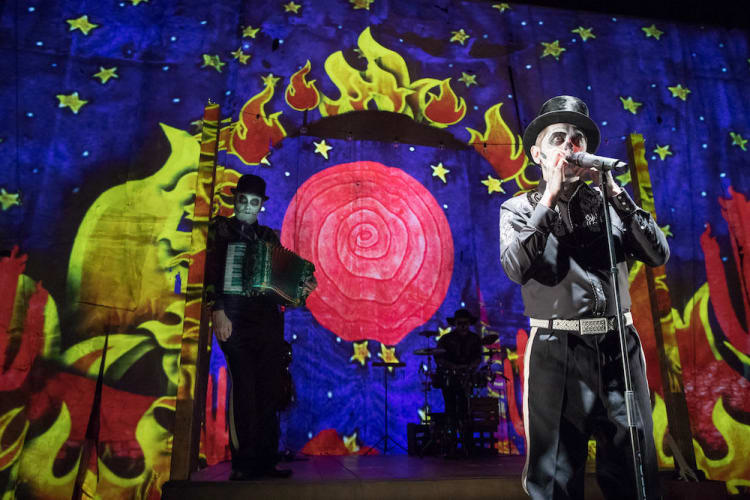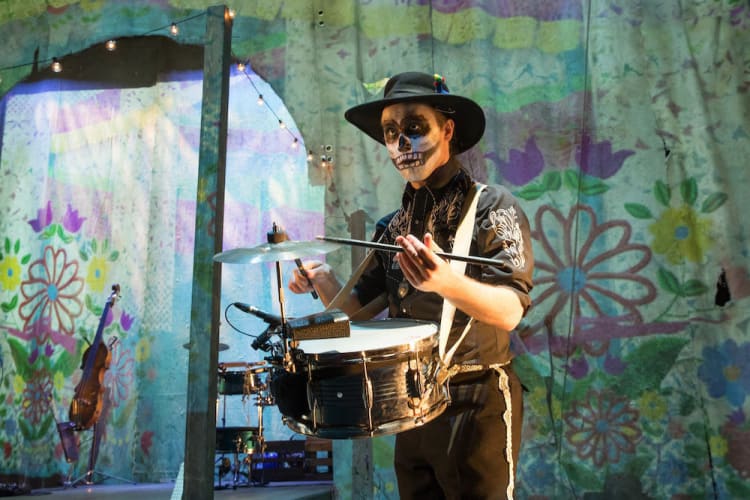 After a one-off concert in December to promote their A Cold Night in Soho album, The Tiger Lillies are back at HOME Manchester with a new show, also a forthcoming album, but put together into a slick and visually impressive stage production.
Working with writer Pedar Bjurman and director Mark Holthusen, songwriter Martin Jacques has created a collection of new songs that tell the story of a group of musicians on the Mexican border who were murdered by a drug lord and return from the grave to play every year on the Day of the Dead. Then they go back and tell the story of how this happened.
Jacques is a young orphan who is given an accordion so he will always be able to earn a living. He joins with a couple of other musicians and is invited to play for the local drug lord, Don Hector, in his home, variously described as a "palace" and a "castle". The Doctor warns him that if he goes in he will never come out, but he goes anyway. There, he is besotted with Maria, to whom Don Hector is engaged.
Various events, realistic and magical, occur while he is there involving drugs and murder—at one point he is asked to write a corrido that will bring together the warring drug lords but it has the opposite effect—ending with the theft of some merchandise from the Don and eventually, as we knew from the start, the deaths of the musicians.
However, it turns out that the storyteller is not the hero of his own story—for the person who is, the ending is a happy one.
The songs are linked with a small amount of spoken narration from the musicians, mostly from Jacques in the same clear, strong falsetto in which he always sings, and also from a recorded female voice in Spanish with English surtitles.
These titles are part of an elaborate visual presentation that uses projections onto a fraying front cloth with an archway cut out and a further cloth behind, which can be used to completely change how the stage looks in a moment. The visual style comes from Mexico, as do the puppets that illustrate the story being told through song in the projected films.
It all unites beautifully with a plot that isn't exactly tightly focussed and is allowed to meander around but provides just enough binding to hold everything together.
The songs are great as always, ranging in tone from hauntingly beautiful to mischievously jolly and upbeat, with a few lyrical shocks for the delicate and unwary. You can't escape the more cringe-inducing imagery in the songs as Jacques savours every word with immaculate diction, projected with a powerful falsetto, accompanying himself on accordion, piano and an amazing bit of a guitar that he refers to as a "home-made ukulele".
Accompanying him as usual are Adrian Stout on bass, guitar, saw, Theremin and anything else he can get his hands on—you won't often see an extended Jew's harp solo in the middle of a music gig—plus Jonas Golland brings in the beat with a collection of percussion instruments and hittable surfaces.
It's a very well put-together production with lots of new songs for Tiger Lillies fans and plenty to interest and fascinate the uninitiated.
Reviewer: David Chadderton