Cosy
Kaite O'Reilly
The Llanarth Group / Wales Millennium Centre / Unlimited
Weston Studio, Wales Millennium Centre
–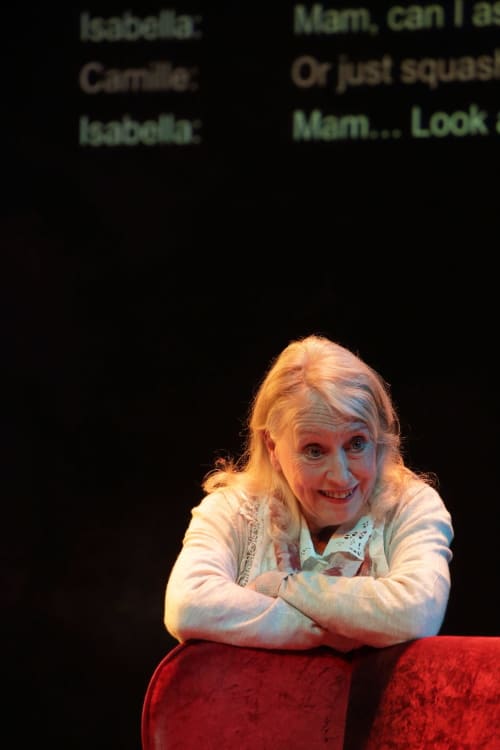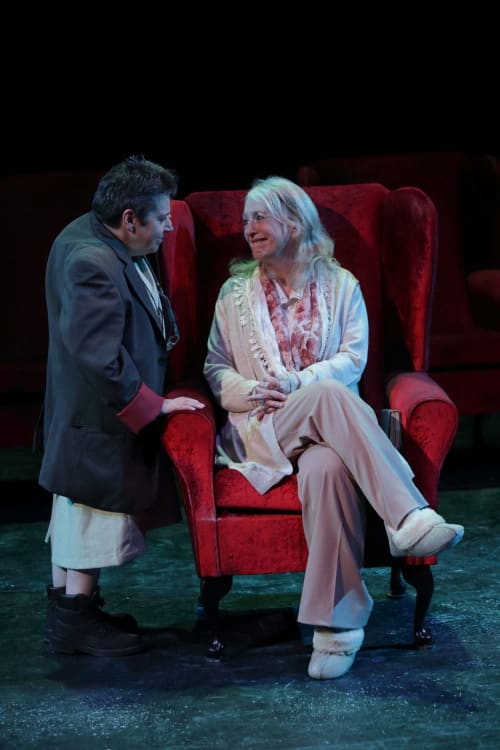 Cosy is a play about death.
Kaite O'Reilly's latest offering has, at its centre, an elderly lady who may or may not be suicidal (as defined by the psychiatric professional whom she refuses to see any longer), but who is most definitely seeking to make an exit plan. The title refers to the kind of death to which she aspires.
In this endeavour, she gathers her family together in order to make them aware of her aim and to reach some kind of agreement. Needless to say, opinions differ.
Rose, played with serene assurance by Sharon Morgan, claims to be 82, but is apparently only 76—already wishing her life away. In relatively good health, she lives with her eldest daughter, Ed—Ri Richards—who is her apparently stoical primary carer.
There is also another presence: Maureen, played by Sara Beer. O'Reilly and director Philip Zarilli tease us into thinking that she may be imaginary, but the character is refreshingly real, with her own take on the situation; as she wheels her portable drip around the stage, she notes that her long-term health and disability issues mean that she lives in constant fear of being involuntarily subject to euthanasia.
The action begins as Rose's middle daughter, Camille—Ruth Lloyd—returns for a rare visit to the family home. A hard-nosed interior designer, she has half an eye on turning the property into a saleable commodity—but O'Reilly is too subtle a writer to make this the character's priority.
Camille brings Isabella—Bethan Rose Young—the teenage daughter she has deliberately raised without a father. Isabella is highly intelligent but, unlike her mother, naive and idealistic.
The final piece of the jigsaw is Gloria, played by Llinos Daniel (who also composed the folk-tinged, ethereal music which accompanies the scene changes). She is hippy-ish, with a colourful past in terms of relationships, and it transpires that she has issues of her own to deal with.
The action unfolds on a set (designed by Simon Banham), which consists largely of a collection of red armchairs—initially draped with cloth, to suggest a space which has already been vacated, but gradually uncovered as the house fills with life. Much play is made of them being moved around the space, although the significance of this remains obscure (deckchairs on the Titanic, perhaps?)
In act one of Cosy, we become acquainted with the characters and their complex relationships. It becomes clear that Rose was always a borderline neglectful mother, haunted by her husband's protracted death many years earlier. She takes Ed for granted, seemingly unaware of her daughter's deep unhappiness. The sisters bicker amusingly, Isabella brings reason and optimism to bear and Maureen is always ready with a profane quip.
Act two begins with methods of suicide being calmly outlined, and progresses with all of the arguments over euthanasia being rehearsed. It becomes clear that Rose's planning is not at an advanced stage; her resolve, however, is firm.
During the second act, something occurs which, although a comic highlight, stretches credulity somewhat. Nevertheless, the gently poetic dialogue and characterisations are otherwise believable throughout, Richards especially convincing as a woman who has long since given up hope.
Cosy is perhaps hobbled by the fact that its central character seems somewhat cold and thus hard to identify with; but then, this serves to keep sentimentality at bay. It is a play which wears its deep seriousness lightly; a tale of empowerment which leaves one deep in contemplation.
Cosy is published in a collection of O'Reilly's plays, Atypical Plays for Atypical Actors (Oberon Books), and will tour later in the year.
Reviewer: Othniel Smith