Crazy Gary's Mobile Disco
Gary Owen
Waking Exploits
Chapter, Cardiff
–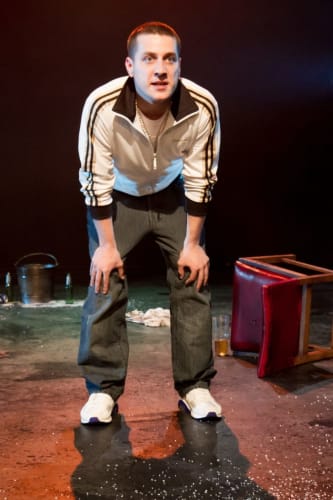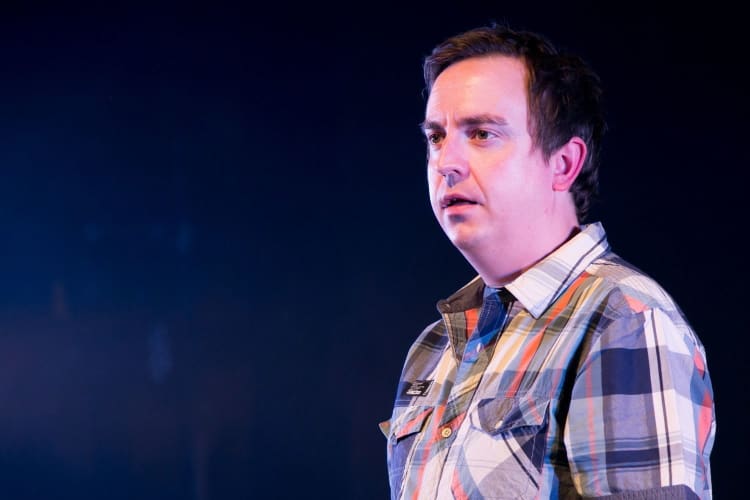 Crazy Gary's Mobile Disco was the first of Gary Owen's plays to receive a production, back in 2001, and is the foundation upon which his not inconsiderable reputation has been built. Cardiff-based Waking Exploits is to be applauded, then, for becoming the first company to revive it in his home nation.
Waking Exploits is making a name for itself for bringing provocative recent works to the stages of Wales, having previously given us productions of Dennis Kelly's Love and Money, Simon Stephens's Pornography and Caryl Churchill's Serious Money. Owen's play is firmly in this tradition, interweaving stories whose elements are rooted in both small-town Welshness and universal human dysfunction.
Alison Neighbour's decor perfectly sets up the atmosphere of menace. The stage is strewn with smashed glass, beer-bottles and discarded chairs. Mirrors hang in large shards from the ceiling. As we wait for the action to begin, the lyrics of popular songs of the 1970s are projected onto them, situating us in a hellish karaoke bar. Later these screens will show us video images amusingly and horrifyingly reflective of the action being relived by the drama's variously disturbed anti-heroes.
The monologue is the easiest theatrical form for the writer to attempt, and probably the hardest for a director to handle in an inventive manner. Owen's text consists, essentially, of three lengthy speeches. During each one, director Matt Ball cleverly chooses to allow those actors not in the spotlight to interact with the protagonist of the moment, either verbally or physically, thus upping the ante on a visual level.
The first character to whom we are introduced is Gary—an unreconstructed former school bully who delights in causing mayhem. Jordan Bernarde revels in his gleefully casual psychopathy, to the extent that we are delighted when he appears to meet his match in a femme fatale.
Ostensibly the most sympathetic male on display is the gentle but deluded would-be lounge-singer Matthew, played by Gwydion Rhys, whose impassioned but imperfect renditions of Billy Joel and The Righteous Brothers provide the evening's only real light relief. His tale, though, like the others, is one of psychological disintegration, sexual disappointment and horrific violence.
Their stories are linked, in a vaguely contrived manner, via Sion Pritchard's terminally exasperated Russell, whose attempt to extricate himself from an unhappy relationship results in climactic unpleasantness.
Owen's writing is vivid and compelling, naturalistic without being prosaic. The performances are note-perfect, each character instantly recognisable. Chris Young's subtly psychotic sound design maintains the unsettling mood throughout.
Following the Cardiff run, the play goes on a brief Welsh tour. This entertainment is highly recommended for those who relish worrisomeness.
Reviewer: Othniel Smith