Crazy for You
Music and lyrics by George and Ira Gershwin, book by Ken Ludwig (a co-conception with Mike Ockrent)
Novello Theatre
(2011)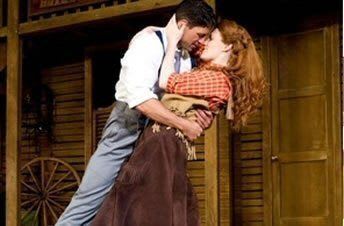 Crazy For You left Regent's Park's Open Air Theatre with a bevy if 5* reviews and a lot of friends. Now, Timothy Sheader has re-imagined his production for a traditional West End proscenium arch theatre and the show still has a lot going for it.
While there is much to laugh at and some great songs, the evening's real strength lies in Susan Stroman's sensational choreography, re-worked for this production by Stephen Mear, realised by a keen and very energetic cast who seem to have rehearsed their socks off to achieve near perfection.
They are led by Broadway export Sean Palmer playing romantic lead Bobby Child. This fresh-faced innocent is heir to banking millions but just wants to put on his tap shoes and dance in Zangler's Follies, a 1940s extravaganza led by a cheerless Hungarian.
Poor Bobby is caught between a rock, Harriet Thorpe as his unsympathetic mother, and a hard place, Kim Medcalf wittily playing fiancée Irene.
Business pressures from Mum lead him to cowboy country in Nevada and the sweetest cowgirl around, Clare Foster's tomboyish Polly.
The path of true love is interrupted by romantic artistic failures in a closed down theatre but also bad disguises. This provides enough confusion to stretch the entertainment out to 2¾ hours.
While a stream of great dance numbers will live in the memory, Crazy For You has much more to offer.
The two leads get a lot of solo singing and acting opportunities as they plough their unsteady furrow to lifelong happiness. Inevitably," I Got Rhythm" is the pick, repeated so often that every audience member will have it spinning around their heads on leaving the Novello.
There is also much comedy in the Gershwins' music and lyrics as well as some of the corniest, old jokes in any book, which still amuse despite the familiarity.
The lively "Entrance to Nevada" and" Stiff Upper Lip", delivered by a couple of British travel writers are each great for both the song and dance, while Bobby's solo version of "Nice Work if You Can Get It" will also stick in the memory for the same duality of reasons.
Crazy For You is a feelgood musical that might be just the thing for these recessionary times. The only concern that might face the producers is whether they can achieve West End longevity without the attractions of a couple of TV or film stars to boost the publicity.
John Thaxter reviewed the original production at the Open Air Theatre
Visit our sponsor 1st 4 London Theatre to book tickets for Crazy for You
Reviewer: Philip Fisher