Creditors
August Strindberg, in a version by David Greig
Donmar Warehouse
(2008)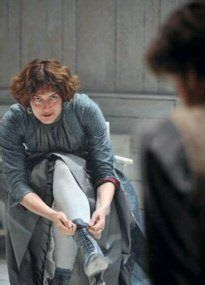 The opening scene of this relatively little-known Strindberg sees the blinds over three windows opened to let in light. This symbolic action sets up a triptych of dialogues featuring three deeply damaged individuals for whom love is a raison d'être as well as a cause of torture.
The trio are mutually dependent both psychologically and sexually and, in only 90 minutes, their lives come full circle reaching a truly dramatic ending.
Unsurprisingly, Alan Rickman is an actors' director and gets fine performances from each of the three performers. They are helped by a gripping modern translation from a Donmar favourite, the prolific Scottish playwright David Greig. The action takes place in a sparse, all-white hotel room designed by Ben Stones and immaculately lit by Howard Harrison.
The weakest personality is Tom Burke's Adolph, an emotionally and physically crippled young artist whose affliction has left him supported on crutches. He is a successful artist married to a beautiful, older woman, an autobiographical novelist. In the first act, we witness his encounter with a man who seems part therapist and part demon.
Owen Teale plays Gustav, whose teasing tone eggs the younger man on to actions that will have drastic consequences. First, he has persuaded him that he has no talent with oils and as a result, tries to become a sculptor.
More dangerously, Gustav also tells his protégé that the warm, passionate woman to whom he is married still loves her mysterious first husband, along with every young man in this Swedish seaside town.
The second act sees an encounter between Adolph and his returning wife Tekla, played by a very passionate Anna Chancellor. She is every man's dream, sexy and loving but not in the eyes of an insecure husband whose opinion has been poisoned by the fearsome visitor.
The final act brings together Tekla and Gustav and neatly, if somewhat predictably brings together the acts of this unorthodox ménage a trois.
All three actors excel, Burke making his character helplessly follow his mentor's wishes, Teale as Gustav domineering with his deep voice but covering his own hurt and Miss Chancellor erotic as a carefree pleasure seeker way ahead of her time.
The Donmar should have yet another hit on its hands but nowadays, that is almost a given.
Reviewer: Philip Fisher