Crimes in Egypt
Feargus Woods Dunlop
New Old Friends
Merlin Theatre
–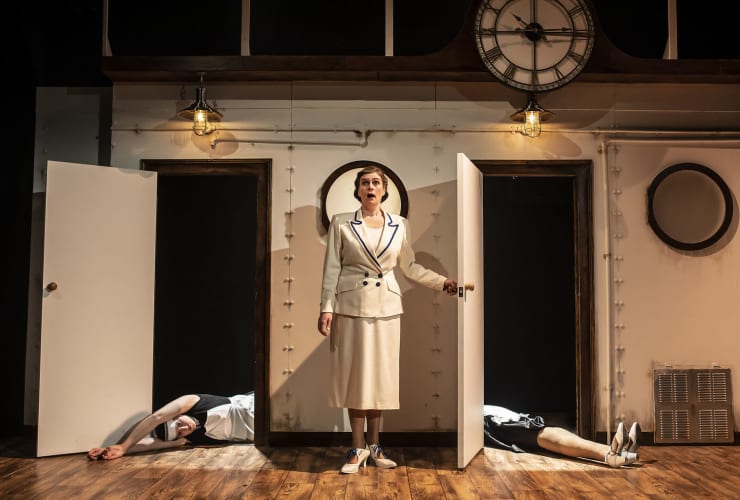 It is a difficult feat to write up anything these days, let alone a review, without mentioning the last 18 months. No stone was unturned by the COVID-19 pandemic. It seeped its way into every possible thing imaginable—and so it continues to wreak havoc.
So, when Somerset-based theatre company New Old Friends premièred its a new show Crimes, Camera, Action at a packed out Main Stage at the Theatre Royal Bath and eight days later begin a countrywide tour of Crimes in Egypt, most seems incredibly normal—and so it felt.
We're ready to feel normal again. We're ready to embrace the silly and strange; to experience the wonderful and witty; to endure the charming and cunning nature that the stage offers—and these folks know how to deliver this in bucket loads. (Yes, that was three successive paragraphs ending in a "—and...".)
Crimes in Egypt, one of more than half a dozen in the Crimes… series produced by New Old Friends, is yet another Christie-inspired play without the oversaturated, stale taste. This production has plenty of seasoning. The theatre company, headed by the husband-and-wife team of Feargus Woods Dunlop and Heather Westwell, know their way around the genre. The pair has accrued a fair deal of tricks across the series.
Here, a Hercule Poirot-inspired sleuth Artemis Arinae demonstrates her "little grey cells" as she heads on a sun-packed cruise down the River Nile. What could go wrong?
The four actors—Ben Thornton, Frances Keyton, Oliver Malam and Kirsty Cox—take on a host of characters in true New Old Friends fashion. The hot potato is constantly passed to one another and the meta-in-jokes might tick the box for corny and cliché, but they land—time after time. It is testament to the sharpness of the writing and demonstrably evident it is written purely with the audience's entertainment in mind, something occasionally lost in some productions. The mystery never takes itself too seriously. Why should it? There's plenty of that on offer if you browse around.
With more costume changes than New York fashion week, more door openings than a Halloween evening and with accents aplenty, the stamina-inducing actors' display of sometimes three characters all at once is organised chaos—and the audience is happy to play along.
Local theatre is back... and it's wholeheartedly chucklesome. The Crimes… saga is one to always catch when in town.
Reviewer: Jacob Newbury