Crongton Knights
Alex Wheatle, adapted by Emteaz Hussain
Pilot Theatre
The Lowry, Salford
–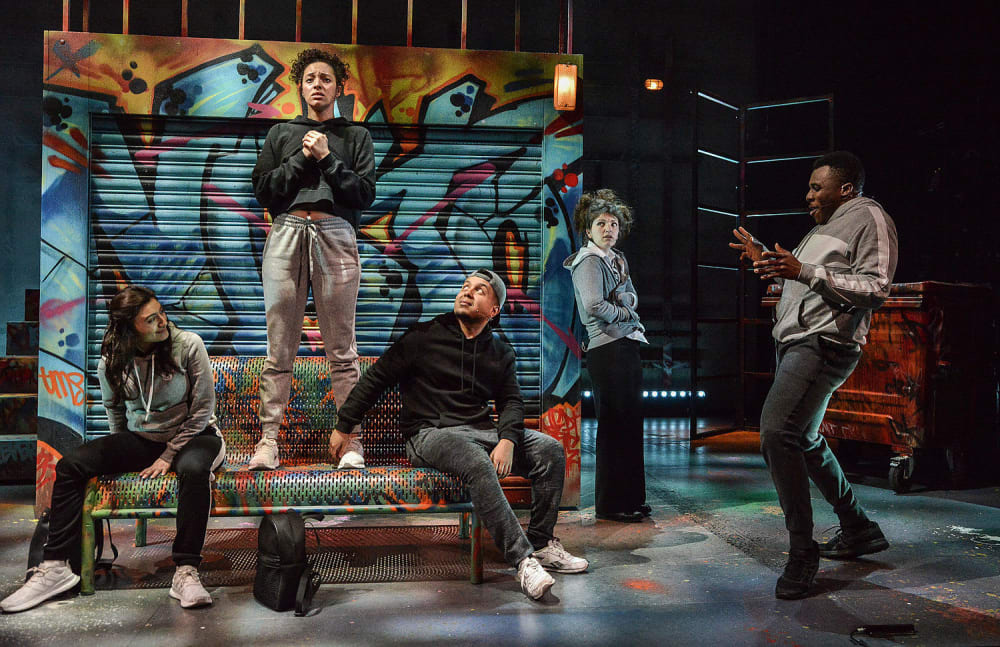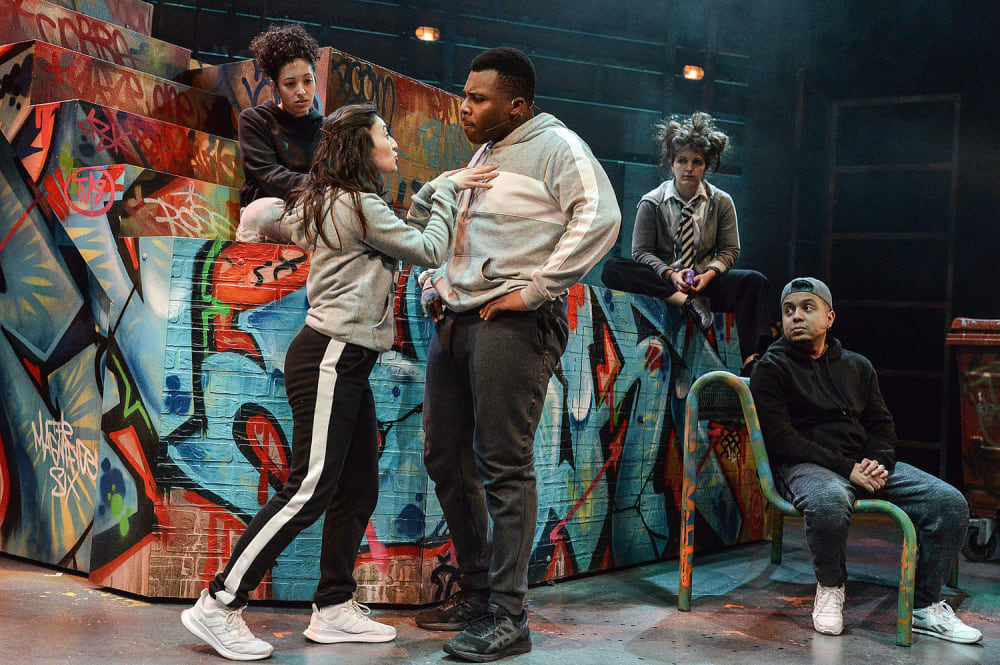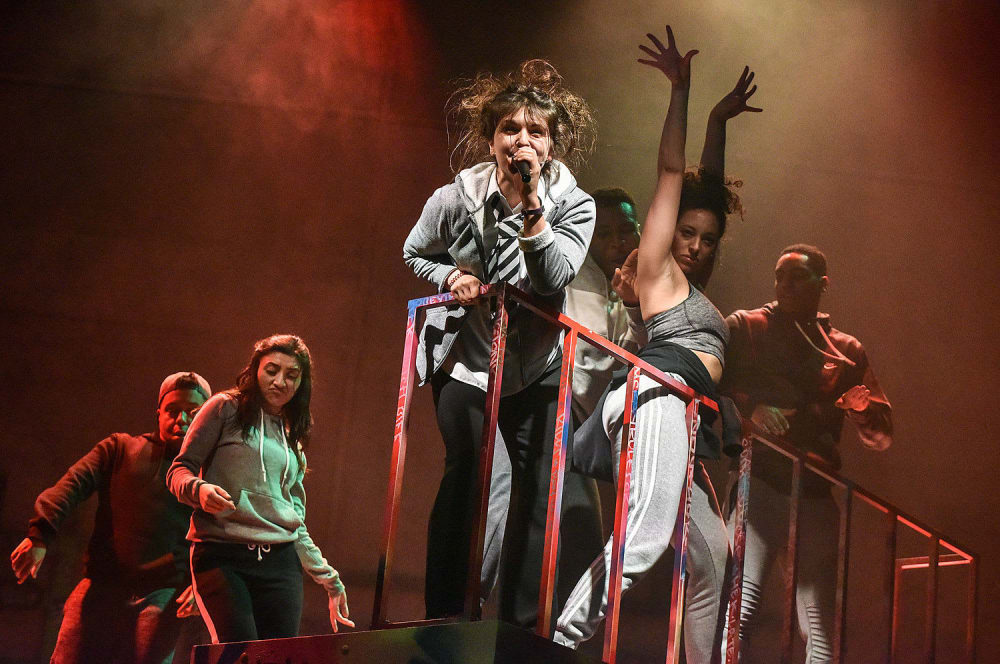 After last year's tour of Noughts and Crosses (to be revived later this year), Pilot Theatre returns to The Lowry with another newly commissioned adaptation of a 'young adult' novel, this time of the second book in Alex Wheatle's trilogy set in the fictional inner-city region of Crongton and inspired by the author's time working in the youth service in South London (he was also gaoled for his involvement in the 1981 Brixton Riots). This time, however, the same directorial team of Esther Richardson and Corey Campbell has almost produced a musical in just four weeks' rehearsal.
"The Magnificent Six", as they bill themselves in the opening number, is a group of teenage friends on an inner-city estate of skeletal metal struts and graffiti-daubed concrete steps in Simon Kenny's cleverly adaptable design. They stay clear of the gang culture on the estate, but it affects them nonetheless: Bit has a secret that he wants to hide from Venetia and McKay's brother Nesta is in hiding after someone from a rival gang ended up in hospital because of him.
The six become knights on a quest when Venetia asks for help in recovering her phone from an older boyfriend as it has some intimate photos of her on it that he is threatening to distribute if she doesn't stay with him. However, this will involve entering rival gang territory of Notre Dame; and to get there, they have to cross North Crongton, where it is all kicking off tonight with rioting and looting.
Everything seems to be going according to plan before act I is over, so something is obviously going to go wrong, and it does: they end up stranded in enemy territory miles from home with no phones, all the buses have been cancelled due to the riots and they don't have enough money for a taxi. And then, of course, they start to turn on one another, playing the blame game when they should be sticking together to survive.
It's a group adventure story for young people with familiar tropes and character types of the genre from Enid Blyton and Arthur Ransome onwards. However they are drawn as believable characters and we get enough information about their parents, while none appears on stage a great deal, to give each of the young people a credible family background that affects and to some extent explains how they behave.
I said it is 'almost' a musical, but that isn't anything to do with the quality of the songs by Conrad Murray, just the number of them, but it's still quite an achievement. There is a variety of musical styles, but all the numbers are performed using beatboxing rather than traditional instruments, which is extremely effective. This doesn't mean that it is all hip-hop music though; there are some tender songs with lovely harmonies too, for example Venetia's "I Can't Believe In Magic".
The adaptation can feel slightly uneven in act I, but the onward progress of the adventure and the pace of the direction keep everything moving nicely along. Act II, however, frequently becomes quite static with some heavy-handed moral messages as they take it in turns to give lengthy apologies to one another, so by the end I felt it had really started to drag.
Sometimes there is excessive use of gestures and muttered, semi-improvised dialogue between the lines, but overall this hard-working cast are impressive. Aimee Powell is perfectly believable as Venetia, the one that the boys all chase but whose confidence dented by her recent experience. Zak Douglas also impresses as her friend Bit, who rallies the others together to help her.
Khai Shaw is the cocky one, Jonah, who fancies Nigar Yeva's Saira but who doesn't prove to be as brave when the fight actually arrives. Olisa Odele is budding young chef McKay whose mother is dead and who feels ignored by his father and his brother, Nesta. Kate Donnachie is Bushkid, the kid that the others all laugh at until she does something to warrant inclusion in their gang.
Nesta, although he doesn't appear often, is played very convincingly by Dale Mathurin, who also plays, with Simi Egbejumi-David (also great as rival gang leader Festus), every other character in the show, male and female, including parents, other gang members and people just passing through the story.
The story is good, there is some great music performed in a way I've not seen before on this scale in a production and which I'd like to see again and there are good performances, but at two hours twenty (including interval) it feels much too long, especially in act II which I think would benefit from some cutting to get across more of the tension the characters must be feeling to the audience.
Reviewer: David Chadderton