Crossings
Deirdre Kinahan
Pentabus Theatre
Lustleigh Village Hall, South Devon
–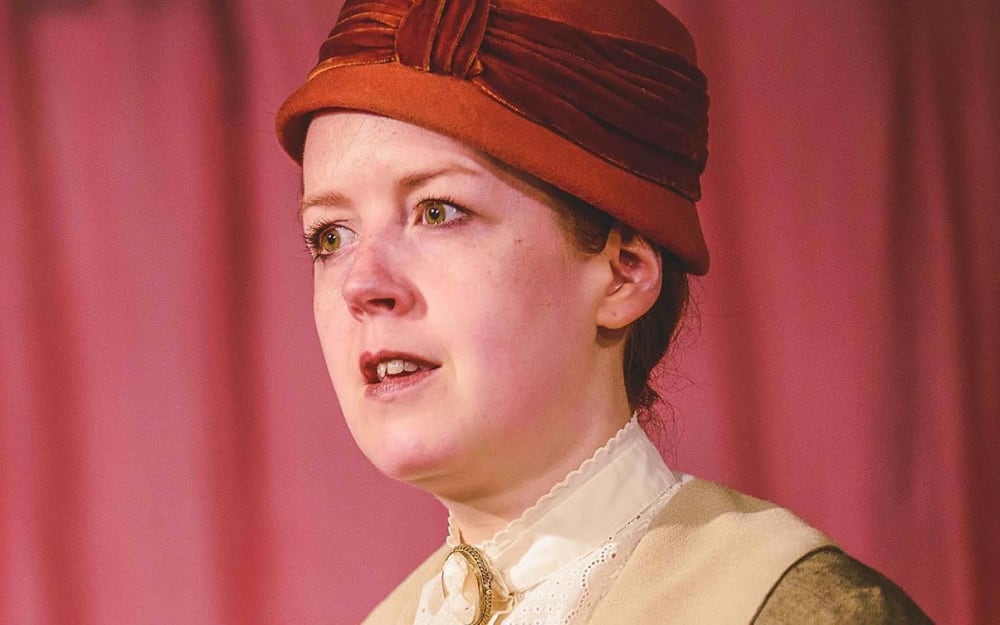 Under the direction of Sophie Motley, Pentabus Theatre toured this production widely in 2018, including a stop at Lustleigh Village Hall on Dartmoor, where it was filmed.
Belying some other recent online theatrical transfers, using just a single camera the company has presented an effective video that captures all the action and maintains audibility throughout. That owes much to the skills of performers Victoria Brazier and Will O'Connell.
Although it only lasts for 75 minutes, this is very much a play of two halves.
Before the interval, we witness a strange meeting at Badgersbridge Village Hall just after the end of the Great War, between prim and proper Margaret, a Midlands local, and Grace Doherty, an Irish eccentric with a good line in wartime songs, playing the piano herself.
Grace is fulfilling the terms of a pact that she made with Margaret's brother, William, bringing news of his death following a random explosion behind his army's own lines.
The situation is not as it seems, since Grace may be togged out like a woman, complete with a blonde wig, but must have started the war both behaving and dressed in a more masculine fashion.
Will O'Connell taking this role proves himself adept on the piano, eventually thawing out frosty, defensive Margaret, who has literally never seen the like.
Soon enough, he draws her out, learning that, having operated as a successful businesswoman during the War, she was unceremoniously dumped when the owner's nephew returned then offered the limited consolation of marriage to his cousin, at this point a shell of a man destroyed mentally and physically by his army experiences.
Having explained his close relationship with William, as members of the Balmorals, an informal entertainment unit cheering up the troops, Grace offers Margaret an opportunity to join his planned touring theatre company.
Following the interval and a bit of a singsong to which audience members are invited to make a contribution, the second half brings us up to date.
The action takes place in the kitchen of Margaret and Grace's unseen daughter, an 82-year-old gallivanting off to Barcelona in an attempt to avoid meeting a carer whom her son wishes to impose.
Instead, young Sean, an eccentric cut off his grandfather Grace's old block, proves himself to be not so much neurotic as totally manic, which seems odd in a university lecturer, albeit one who has built his career in Luxembourg and is about to be divorced.
Left to his own devices with a calm carer from Sarajevo named Mirjana, he moves quickly into interrogation mode, needling her as he asks more and more questions, during a very slow passage.
The evening picks up as parallels between the first and second acts are drawn, as mother of two Mirjana not only shares a dance with her host but opens up about a difficult history.
Crossings draws too heavily on dual performances by Will O'Connell, who takes campness to an extreme, and the piece could be cut. However, it contains the seeds of a thoughtful work exploring the damage that war can wreak on those involved and the way in which history repeats itself.
Reviewer: Philip Fisher