Crouch, Touch, Pause, Engage
Robin Soans
National Theatre Wales, Out Of Joint, Arcola Theatre
Sherman Cymru
–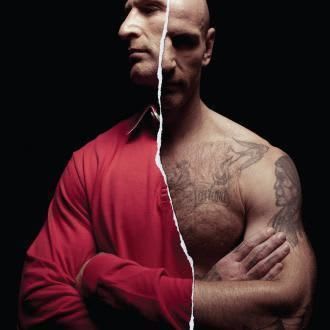 You may not be aware of this, but the sport of rugby union is fairly popular in South Wales. There is also a macho ethic which pervades the area. Thus, when former Wales captain Gareth "Alfie" Thomas announced, in 2009, that he was gay, there was a media furore. Although, it inevitably turned out to have been, to some degree, an open secret.
Crouch, Touch, Pause, Engage, written by verbatim theatre specialist Robin Soans, takes Thomas's traumas over his sexuality—or, more accurately, over the feeling that he had to spend much of his life lying about it—as a thematic starting-point. Perhaps, more controversially, the author has chosen to address other issues surrounding Thomas's home town, the supposed suicide hotspot of Bridgend.
The dialogue has been arrived at through interviews and conversations with Thomas, his family and friends and other locals. "This is rugby heartland" says one character, near the beginning of this play. A thesis is advanced that the professionalisation of the game contributed to the loss of social cohesion in the area; and former would-be Prime Minister Neil Kinnock is depicted as providing an incisive analysis of the destructive effects of deindustrialisation.
Thomas's nickname is "Alfie", after a supposed resemblance to a 1980s television sitcom alien—an outsider managing somehow to fit in. His tale of self-discovery, secret encounters, and increasing desperation and paranoia is told in parallel with that of Darcey, a teenager struggling with mental health problems and self-destructive tendencies.
The play's title is derived from the stages involved in setting up a rugby scrum. Legendary director Max Stafford-Clark, who has been responsible for the exposure of much new writing over the past few decades, is a rugger aficionado, and has chosen to exploit this motif throughout the play.
Thus, Angela Davies's set resembles a changing-room, with inspirational buzzwords (Endurance, Courage, Teamwork, Discipline, Sportsmanship, Family) inscribed on the walls. There is a modicum of simulated, metaphorical game-play, choreographed by Scott Graham.
The headline directorial gimmick is that each actor gets a shot at playing Alfie—when they are passed the oval ball and don the symbolic red Wales jersey. While this is clever, with each cast-member acquitting him/herself admirably, and is presumably designed to foreground our common humanity, I found it distracting, unnecessarily pulling focus from Thomas's predicament.
Each performer plays several roles, and shines even whilst not being Alfie: Rhys ap William and Bethan Whitcomb as Gareth's supportive parents, given to speaking, quite naturally, in unison; Patrick Brennan as the no-nonsense Kinnock; Lauren Roberts as the troubled but unexpectedly talented Darcey; Katie-Elin Salt as her friend who has her own sad tale to tell; and Daniel Hawksford as Thomas's salt-of-the-earth pal Compo.
Both story arcs are compelling. Alfie takes us via several crisis points (a previous attempt at exposing his double life, a life-threatening injury, a near-suicide attempt) to his cleverly handled coming out—whilst near the peak of his career—and his subsequent role as a figurehead. Darcey's tale, though less stellar, is equally heart-warming.
A full house in the Sherman's main auditorium on press night was loudly appreciative throughout (to the extent that much dialogue went unheard due to audience laughter), and the cast received a standing ovation. One imagines, though, that the piece might be greeted with marginally less enthusiasm when it travels to areas where rugby is less appreciated, or there is a more blasé attitude to homosexuality.
That would be unfortunate, however. Crouch, Touch, Pause, Engage, is an unashamed crowd-pleaser, unfashionably positive and inspirational, executed with great skill and infectious vitality.
Following the Cardiff run, Crouch, Touch, Pause, Engage, tours Wales and England before arriving at London's Arcola Theatre in May.
Reviewer: Othniel Smith