The Crucible
Arthur Miller
Royal Shakespeare Company
Gielgud Theatre
(2006)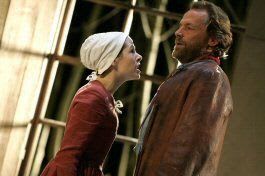 The last year has proved to be spectacularly varied for the works of Arthur Miller in London. 12 months or so ago, the city went mad over Robert Falls' production of Death of a Salesman imported from Chicago via Broadway.
At the beginning of 2006, the long-awaited London opening of his final completed play, Resurrection Blues, with a starry cast and big-name director, Robert Altman, suggested that it may not actually have been completed and proved a bigger disappointment as Salesman had been a delight.
Now, Londoners are being treated to a second dose of Miller magic, this time from the RSC. Like Salesman, the next Royal Court artistic director, Dominic Cooke's gripping representation of the 1692 Salem witchcraft trials and their fall-out is based around an epic performance from the central actor.
Brian Dennehy who played Willy Loman and Iain Glen seem to have little in common beyond the ability to transform themselves into tragic characters. Where the former is large, ageing and ideally cast as a dreaming loser, the bearded Glen has a knack of exuding sexuality.
It is a fair bet that, as with his performances as Judge Brack to Eve Best's Hedda Gabler and more significantly playing the men seducing multiple Nicole Kidmans in The Blue Room, he will have had many female members of the audience in raptures.
Cooke immediately grabs the attention in an opening scene in which half a dozen young women emerge from some woods at the back of Hildegard Bechtler's cleverly designed set hysterically hyperventilating.
Hysteria is the guiding force of the evening as gradually, the teenage girls' fear of witchcraft takes over a town so that their elders but in some cases not betters gradually succumb to a madness that Miller was deliberately paralleling with the activities of Senator Joseph McCarthy and the House Un-American Activities Committee of which the playwright himself became a victim.
The girls are led by Irish actress Elaine Cassidy's Abigail Williams, symbolically wearing a dress that may not be quite scarlet but is close enough to tell its own tale. Her motive is simple, revenge against the man who spurned her, Glen's John Proctor, and also his wife, played by Helen Schlesinge,r who caught the pair together and evicted the young servant. For others, a little petty politicking over a sheep or a cow will ultimately lead to death.
In no time, accusations are flowing around the town like a game of pass the parcel. As one person is accused, they name the next ad infinitum. Soon, everybody believes in the "unnatural causes and abominations" perpetrated by witches on the strength of a few screams and a bit of heavy breathing from a group of adolescent girls and madness ensues.
Even the most honest and decent members of the community, personified by Darlene Johnson as sweet grandmother of 26 Rebecca Nurse, are condemned to death and the only way to save yourself, an opportunity offered to Miller himself, was to name and blame your friends (and even enemies).
The fascination in The Crucible lies in the way in which power shifts and people's views change, all founded on Miller's deep understanding of human nature. It is no surprise that when the judge played by James Laurenson comes to town bringing his firm views, many quail and willingly lie to save their lives if not their souls.
Much more pleasing is the way in which nobility appears in the unlikeliest places, particularly two weak priests. Ian Gelder's greedy Parris is a materialistic man who would rather make a buck than save a soul while Hale, played by Robert Bowman, is an exorcist who really believes in his vocation but to his credit is finally persuaded that the mass executions that he has initiated are morally wrong.
While the whole cast is excellent, Glen gives what might well be an award-winning performance as the farmer who rises above his nature to fight. By the end, he becomes Miller's recreation of that unwitting hero of A Tale of Two Cities, Sydney Carton, a flawed man who uncharacteristically finds the strength to give his life in order to save others.
Dominic Cooke has done a wonderful job with this earth-shattering play and demonstrates a fine knack of building dramatic tension. He has pulled together a creative team that combines high quality acting, simple design and clever, atmospheric lighting to produce an unforgettable evening in which the three-hour duration passes in a trice. It may not be easy to get tickets but it is certainly worth the effort.
Visit our sponsor 1st 4 London Theatre to book tickets for The Crucible.
"The Crucible" is currently booking until 17th June
Philip missed the press night of this production due to illness, so we apologise for its late appearance
Steve Orme reviewed this production at the Royal Shakespeare Theatre, Stratford.
Reviewer: Philip Fisher