Cruising
Alecky Blythe
Recorded Delivery
Bush Theatre
(2006)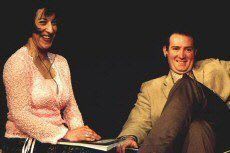 The theatre company's name, Recorded Delivery, gives the game away. This is Verbatim Theatre with a difference. In an effort to obtain a level of authenticity that writer Alecky Blythe believes is beyond the abilities of even the finest actors, the company has introduced a new technique, which is intended to take the portrayal of reality a stage further than usual.
All five actors, playing numerous parts in Cruising, have expensive looking Sennheiser earphones on throughout the play. Rather than broadcasting to the hard of hearing or even listening to Gnarls Barkley or Sandi Thom, they are listening to the original speakers, whose lines that they are delivering, verbatim seconds later.
The theory is great but the practice leaves a great deal to be desired. Whereas with good acting, one immediately suspends disbelief and forgets that the people on stage are not the characters that they portray, the reverse happened on the opening night of Cruising.
Eventually, whether because the actors were fluffing their lines or they were unable to replicate the exact pauses and hesitations of their audio mentors, it was all too easy to become obsessed with the jerky delivery and lose track of what was being said.
The subject-matter of Cruising is geriatric love and sex. This is almost a taboo issue and audiences always seems surprised when they are confronted with the proposition that anybody over, well - probably their own age, would ever think of sex let alone try to practise it.
Alecky Blythe relies on this age blindness for the comic effect of a piece that she has put together from numerous interviews with older people whose libido has not conveniently dissipated.
Her protagonist is Maureen, played like all the characters, by actors thirty or so years younger, in this case Miranda Hart. After Maureen's husband David, the perfect sex machine, died, though she was a septuagenarian, she sought love, or at least a little hanky-panky.
After two months of bliss with a rich old codger on a cruise, she then tried to find similar joy with increasing frustration as the man count passed thirty and then forty failures. This is a fussy woman who seems capable of dissing any man that she meets, either for the sexual inabilities or social problems, her favourite form of opprobrium being "he's a yokel".
By contrast, her friend, Claire Lichie's Margaret, has been lucky enough to have prospective lovers or husbands swarming around her like flies. She is about to tie the knot with the sprightly Geoff played by Ian Dunn.
The play contrasts the experiences of these two female friends and also throws in anecdotal experiences from many other oldies with similar tales to tell. Some can be extremely funny either deliberately or unwittingly, such as the man who lied about his age to a dating agency, reducing it by three years to 87!
While all of the words have been put together from interviews with real people, the first half does not hang together and feels more like a series of anecdotes than a play, although it does allow Jason Barnett to demonstrate what a good and versatile character actor he is.
Once the tale of the two women gets going, both the actors and the storyline become smoother but even so, the material is very slight and after a few laughs at old people's efforts to get their creaky legs over, there is not a lot more to reflect upon.
Reviewer: Philip Fisher