Crunch! a show about apples
Tangram Theatre Company
Devised by the company, based on an original script by Daniel Goldman
Arts Theatre
(2007)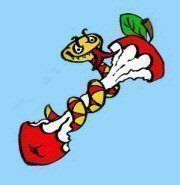 Tangram Theatre Company has a multi-national pedigree and multi-skilled ensemble comprising no household names and perhaps this is why they are able to produce a funny show for children that refreshingly has no Catherine Tate-isms and no references to kids' TV.
Crunch! a show about apples is a delightful piece with music, songs, terrific juggling (with apples, obviously!) and masks, to name only some of the ingredients, which are blended with a big dollop of silliness and much energy. It is aimed at the five plus age group (though I thought this was pushing it and would have said seven plus), but there is also much to enjoy for the adults. I was particularly tickled by Troels Findsen's Peter Lorre-meets-Herbert Lom interludes.
The story begins with Adam and Eve in the fruit naming department of Eden Enterprises. They have been doing the job for some time and share a desk but they operate in something less than perfect harmony - in fact their bickering of the 'you're on my side' type is scarily reminiscent of my own family breakfast table.
Into their daily routine 'God' delivers a very special apple with an orange stalk, but instead of awarding it an appropriate moniker Eve is persuaded to eat it by a mysterious serpentine character. Adam and Eve are fired from their jobs but 'God' is up for a deal: if they can find another of these rare apples they will be reinstated. And so the adventure eventually begins
The mission leads them into all sorts of silly mischief with the obligatory injection of educational material disguised by daft song lyrics and the like. The couple bump into Isaac Newton to discover gravity (and cover Galileo's contribution on the way), have an episode of mistaken identity with William Tell and incorporate a potted history of apples in Greek mythology and fairytales. It is pretty clever stuff even if some elements are rather done to death and the pace drops in several places - it's nothing that a nip and tuck wouldn't sort out.
The cast are all very able. John Hinton and Troels Findsen both turn their hand energetically to playing several parts, whilst Johan Westergren is given a brief respite from playing Adam in order to be all seven dwarfs at once, and Sara Lewerth gets a break from Eve in order to rap as Aphrodite wearing on her head a thing that looks like a piece of soft furnishing from Ikea.
All the right bits are here for a wow of a children's show. That the cast did not pull it off for a small audience largely made up of adults at the press preview is hardly surprising. By all accounts Crunch! was a huge success at the Edinburgh Fringe Festival last year and it does not deserve to fall flat on arrival in London.
May the magical spirit of the Festival follow it on its run south of the border!
At the Arts Theatre, London, until April 14th then at Warehouse Theatre, Croydon, from April 18th to May 6th 2007
Philip Fisher reviewed "Crunch!" at the 2006 Edinburgh Fringe
Reviewer: Sandra Giorgetti