Cymbeline
William Shakespeare
Fiasco Theater
Barrow Street Theatre, New York
–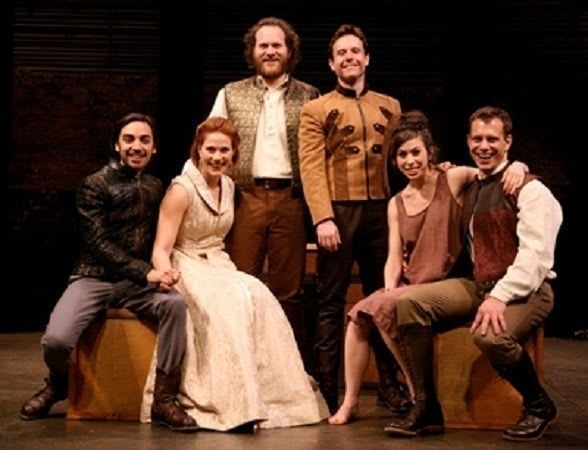 Cymbeline, which is one of the last works in the canon, is often regarded as a prime representative of Shakespeare's problem plays.
Fiasco Theater had decided that the solution to the problem is to play it as light comedy bordering on farce. In fact that is not quite right as they use a multiplicity of acting styles and approaches, some of which seem to owe more to the desires of the actors than directorial decisiveness.
There is though much to like in this young company's work. Using a cast of only six requiring much doubling and more, they sing a capella very well and use this talent as well as a general facility with musical instruments to break up the drama. The actors also generally speak the lines well, which owes much to the tutelage of the RSC's Cicely Berry.
The musical interpolations mean that, at only 2½ hours, though the text is almost all drawn from the original, a fair amount, especially at the start, is cut and replaced with pacy exposition.
The story may not be that well-known since the play is not performed all that often in England, let alone New York City.
The rarely-seen Cymbeline is an ancient British king. Egged on by Emily Young as his sexy, scheming unnamed Queen, he wants his daughter Imogen to marry her intellectually and odoriferously challenged step-brother Cloten (played like the King by Andy Grotelueschen).
Jessie Austrian, the pick of the performers, is Imogen, a princess already in love with and married to banished Posthumus, played by co-director Noah Brody in the manner of an old school tragedian keen to milk every ounce of feeling out of the role.
There are two other strands to the story, both with familiar Shakespearean elements. First, the loyalty of Imogen to Posthumus and vice versa is severely tested by wicked but resourceful Roman, Iachimo, the other co-director Ben Steinfeld rather hamming it up.
Secondly, King Cymbeline has two lost sons who have mysteriously landed up in Wales working as farmers with their glamorous, young "mother", Belaria (more usually a father, Belarius) who has tended them from infancy.
There is also a spell of cross-dressing by the heroine in scenes that are eventually spiced up by her discovery of a headless body, which inevitably leads to mistaken identity, cleverly staged by prop designer, Caite Hevner.
The play ends up in a series of revelations, delivered in cod Poirot style to milk more laughs than Shakespeare can ever have intended, thus losing all the usual poignancy.
Ultimately, this production is rather like an elongated Reduced Shakespeare Company skit on a play that they would never have touched as too obscure. As such, it will have mass appeal but might offend purists looking to enjoy the tragic and romantic elements of the more common interpretations.
Reviewer: Philip Fisher