Cymbeline
Carl Grose, based on William Shakespeare
Kneehigh Theatre in association with the RSC
Bristol Old Vic and touring
(2006)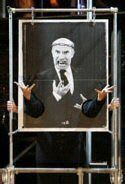 Director Emma Rice admits in the programme that she took on Cymbeline without reading the play and that when she did, she found "the language tough, dense and archaic". It is clear from the start that this is not Shakespeare for the purist. Instead, Kneehigh characteristically treat the audience to a visual spectacle. The eight-strong cast are, on the whole, funny, dynamic and fiery. Hayley Carmichael as Imogen and Robert Luckay as Iachimo perform with a vibrant physicality and in their shared scenes they excel. Rice gives an entertaining study of the Queen as a coked-up nurse who is not averse to using drugs or her sexuality to overwhelm her husband. Craig Johnson's bumbling Cloten is a Gervais-esq fool, getting his head stuck in the railings when trying to woo Imogen. But Johnson gives him just the right degree of self-delusion so as to put you on edge: you know at any moment he will turn nasty and spiteful.
As always, the set is inventive and the music exhilarating. The musicians - Stu Barker, Pete Judge, Dominic Lawton and Alex Vann - ground this adaptation, working the stage alongside the actors. The set is urban, industrial: scaffolded caging acting as palace, brothel, and homeless shelter. The trademark anoraks, (which were accompanied by binoculars for Tristan and Yseult), are here coupled with torches, lighting up faces and sweeping the audience in the battle scenes.
Rice describes the multi-layered themes of the play that she came to love: "High comedy sits next to tragedy, magical realism nestles in beside political intrigue and nature clashes against the urban." I am not a purist when it comes to adaptations, and love the re-working of traditional texts with which Kneehigh has excelled previously, but here I was disappointed that slapstick and farce and relentless one-liners dominate, preventing the humanity of the characters from being fully realised: when Imogen appears at the start of the second act, homeless and hungry and tired, the audience's reaction is simply to laugh, because she gives her name as 'Ian'.
Writer Carl Grose and director Emma Rice ultimately fail to explore the emotional shades of Shakespeare's original. They truncate the poignant moments of the play. Emotional scenes are castrated; spliced with slapstick. Posthumus (played by Grose), sends instruction for his beloved Imogen to be murdered, believing her to have been unfaithful. But even here, his soliloquy is a send-up, playing for laughs as he instructs Imogen to meet him in "Milford Haven" and 'posting' the letter in a little red remote control car that acts as an irritating leitmotif throughout.
Similarly when Pisanio (Kirsty Woodward) gives Imogen the letter to read, what ought to be the opportunity for some real emotion becomes instead yet another cheap joke: "Thy mistress hath played the trumpet in my bed", she reads and then cries, "But I can't even play the trumpet!"
Cymbeline, played by Mike Shepherd, should be the spine to this production. He sits drug-addled and disaffected, barely speaking throughout the first act, allowing himself to be perpetually medicated and seduced by his wife. In this way, the audience's anticipation of the moment when he snaps back into decisive kingship is artfully built. But while he strikes an imposing figure, suddenly animated and dressing for the first time in the second act, Shepherd ultimately fails to deliver anything beyond a cursory exposition of the plot.
The audience certainly responded well to the humour of this piece and it has all of Kneehigh's characteristic busy exhilaration. All in all it was an entertaining piece of theatre. But ultimately, I left feeling that Kneehigh missed an opportunity here: had they explored more of that "tough, dense and archaic" text, they may have delivered a more multi-layered, emotionally engaging performance.
"Cymbeline" runs in Bristol Old Vic until October 21st and tours to Restormel Castle, Cornwall, the Lyric Hammersmith and Birmingham Rep.
This production was reviewed by Steve Orme in Nottinghamshire and by Philip Fisher at the Lyric, Hammersmith
Reviewer: Allison Vale