Cymbeline
Carl Grose, inspired by William Shakespeare
Kneehigh Theatre
Lyric, Hammersmith
(2007)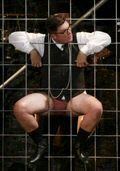 This new venture by Cornish physical theatre experts, Kneehigh, part contemporary social comedy, part rock opera and, eventually, part Shakespeare, has completed a fascinating four days that has travelled between the sublimity of Antony and Cleopatra with Patrick Stewart and Harriet Walter, to the deliberately ridiculous.
The lucky reviewer has seen four different plays that demonstrate the adaptability and durability of the Complete Works of the world's greatest playwright. Not only does Shakespeare write great verse, create memorable characters and offer varied plots but he can be pulled in all directions and still come out on top.
Emma Rice has adapted one of the lesser known and not always appreciated byways of the canon to great effect. It does though, take some time to remember that this entertainment has anything at all to do with the play that inspired it.
The opening set features a large cage on which graffiti artists, wearing those familiar Kneehigh parkas, ply their art while a rather good rock band plays music written by one of their number, Stu Barker. Then panto dame Joan gives a chorus-style exposition about the lives of King Cymbeline and his three children to get us up to speed pretty painlessly.
The story begins with the titular king played by Mike Shepherd forbidding his wilful daughter Imogen (the ever-excellent Hayley Carmichael on loan from Told by an Idiot) from eloping with the man that she loves, Carl Grose as the morbidly named Posthumus.
Cymbeline, a man whom we hardly see, is kept in a crack-addicted dreamworld by his evil second wife, played by the sweet-voiced Amanda Lawrence. She was the force behind the suitor's banishment, as she had earmarked the princess for her own, gross son, Craig Johnson's Cloten.
When the action follows Posthumus to Italy, much fun is introduced by talkative brothel-keeper, Iachimo, played with gusto by Róbert Luckay. He enters a wager that allows him to holiday in England. There he steals Imogen's watch that had been her lover's parting gift. This creates jealousies that leave both of the lovers veering between the murderous and the suicidal.
What Kneehigh specialise in is powerful physical theatre, with cast members all over the auditorium. They also regularly present series of unforgettable images such as the re-created sea trip that Posthumus makes and a searingly bright, unbearably loud war scene as the Romans attack Britain towards the close.
The notorious headless corpse scene makes it into this version and heralds a coincidence-packed dénouement with brothers found and lovers reunited under the tender eye of a newly cleaned up Cymbeline.
This is stirring stuff that works in two modes but doesn't always blend them together seamlessly, or, for longish periods, at all. The story starts out with so many contemporary adjustments that it loses Shakespeare for a time. Emma Rice then returns to the original, especially after the interval when much of the flashy modernity is dispensed with.
For the third time in two days, following Propeller's double bill of The Taming of the Shrew and Twelfth Night at The Old Vic, experimental companies have brought something new and different to Shakespeare. The results are welcome both as art in their own right and as opportunities to reconsider the playwright from new perspectives. They are also all great fun and that is always a good recommendation.
Steve Orme reviewed this production in Nottinghamshire and Allison Vale in Bristol
Reviewer: Philip Fisher