Cyrano of Brixton
Kevin Lee and Dominic Walker
Began Old Theatre Company
The Jack Studio Theatre
–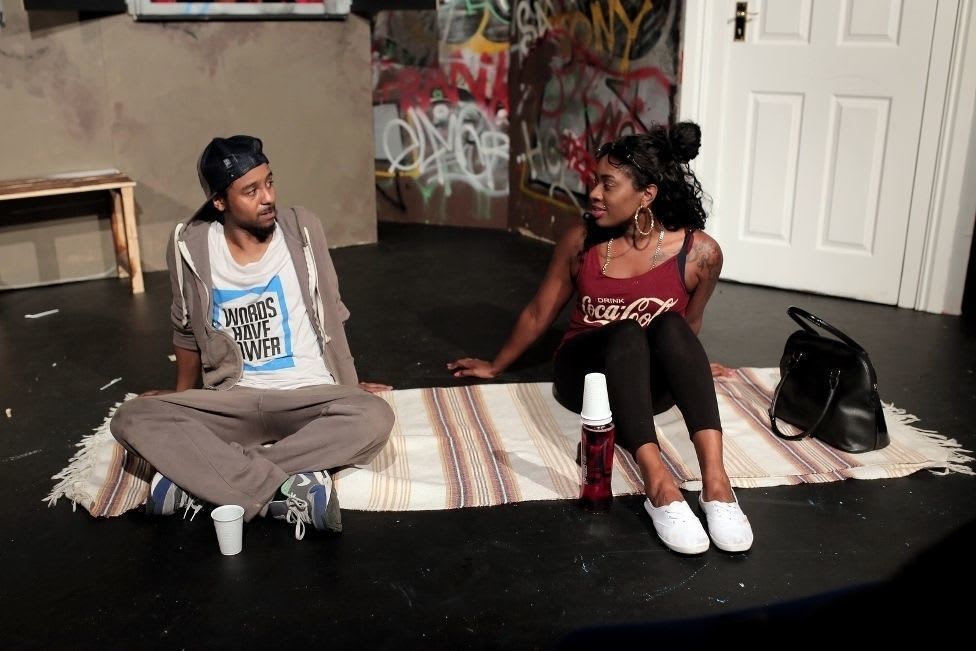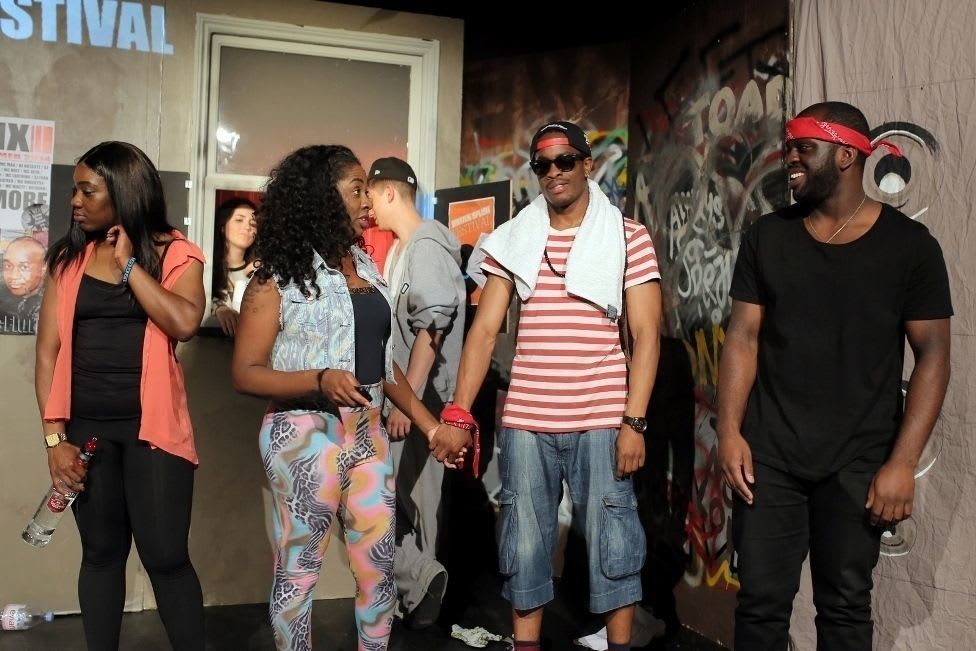 Cyrano of Brixton is a re-working of Rostand's nineteenth century play, fictionalising the life of Cyrano de Bergerac.
The French playwright makes of the soldier, poet and swordsman, a romantic hero whose undeclared love for the beautiful and intelligent Roxanne finds him protecting the shy and tongue-tied subaltern, Christian, for whom she has fallen.
As in the original, for the sake of her happiness this South East London Cyrano not only withholds his suit but also uses his eloquence to help Christian requite Roxy's affections by giving him the clever and adoring words she wants to hear Christian speak.
Brixton's youthful hero has the uber-long nose by which we have come to recognise Cyrano.
It is this facial carbuncle which demolishes Cyrano's self-confidence and, he believes, his chances of ever having the woman he loves so deeply and this tragedy is just as apparent in this new setting.
In fact contemporary society's image-obsessed youth gives Rostand's juxtaposition of inner and outer beauty a ring of truth as strong as ever it was.
In the place of heartfelt love letters written for his rival, the good-looking Christian, this Cyrano courts Roxy with tweets, texts and songs. In the place of the rapturous poetry given to the hero by Rostand, this lad raps.
Other parallels are also nicely drawn. The battle for Arras is replaced by gang confrontation and a Brixton music festival substitutes for the theatre.
As for the iconic balcony scene where Cyrano, concealed by darkness, speaks his love for Roxy in the persona of her would-be lover, this takes place at Roxy's university halls with our hero calling up to her window.
Whilst this setting serves to reinforce the intelligent streak of Roxy's character—the bright girl from the estate who overcomes her upbringing to get to uni—and makes sense of her need to be wooed by words, this does make for a younger cast of characters, and perhaps the story loses some depth due to their lack of maturity.
Writer Kevin Lee has certainly got a lot of things right in his adaptation; the scene outside Harlesden Community Centre anticipating the gang fight is especially comic with the boys trying to look tough but hankering after cake from the party inside.
The writing is split between Lee and Dominic Walker, the latter writing the poetry. They have captured the south east London argot and the values of the young characters—"Let's have a sit down meal not a drive thu" Cyrano says to Roxy—but the distribution of articulate language and well-expressed sentences is unbalanced.
Cyrano's particular style and language distinguishes his character as being different from others, so the voice of Bret, Donna and the others should also be consistent for their position and character, which I felt it often wasn't. Roxy should come across as a more fluent speaker than Donna, not just less dim.
Some of the dialogue sounds as if it had been improvised. Perhaps it had been; apparently several members of the cast were unused to being on stage. Director Michael Anthony Bond's programme note hints at last-minute cast changes.
If that is the case, then he has done well, and conceivably with more time he could lead his ensemble to a more polished outcome.
Channette Carleo is a sweet Roxy, though she seems on shaky ground with the delivery of some of her lines.
Gerel Falconer as Cyrano gives the strongest performance of the evening. He is the most obviously natural at delivering someone else's words and he handles the poetry well too. A more certain Roxy would have done his death scene more justice. That scratch should make us smart a little.
Reviewer: Sandra Giorgetti