d'avant
Choreography Sidi Larbi Cherkaoui, Luc Dunberry, Damien Jalet, Juan Kruz Díaz de Garaio Esnaola (musical director)
Sasha Waltz & Guests
Queen Elizabeth Hall Southbank
–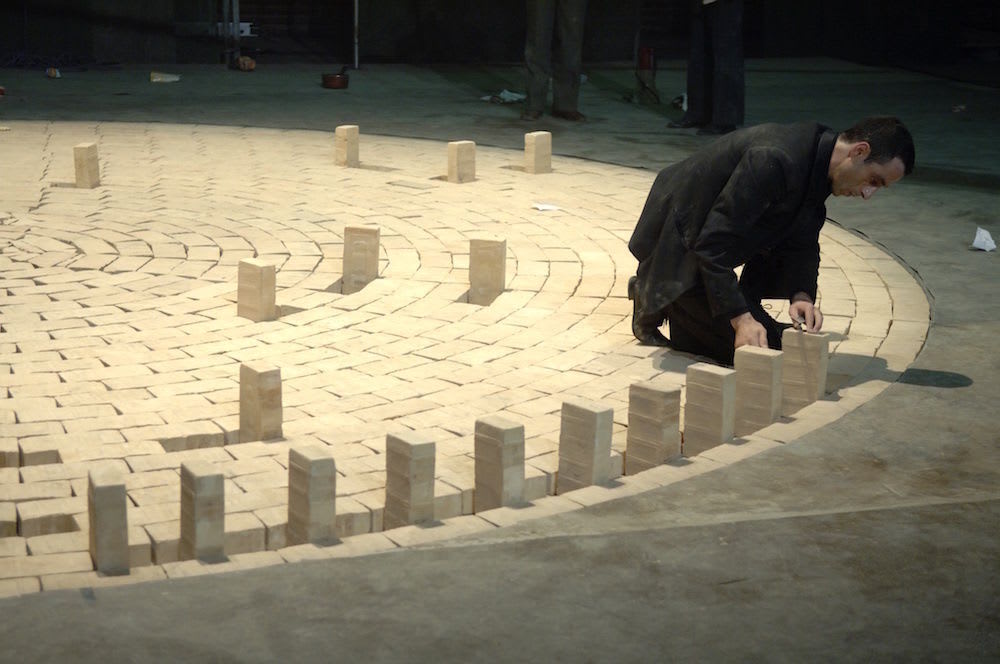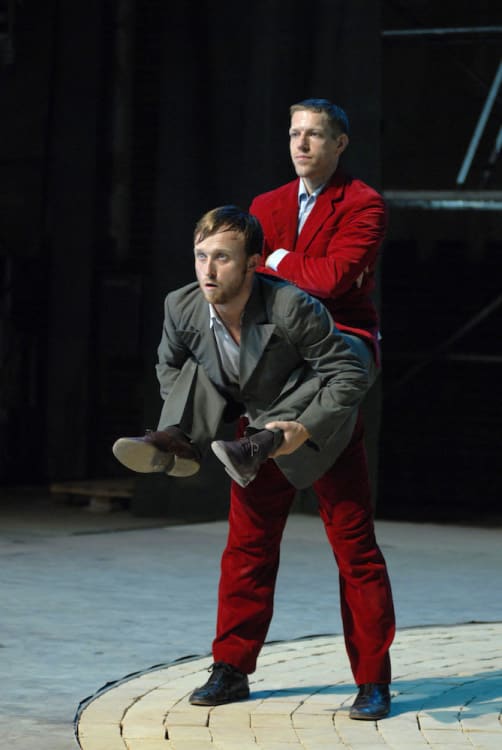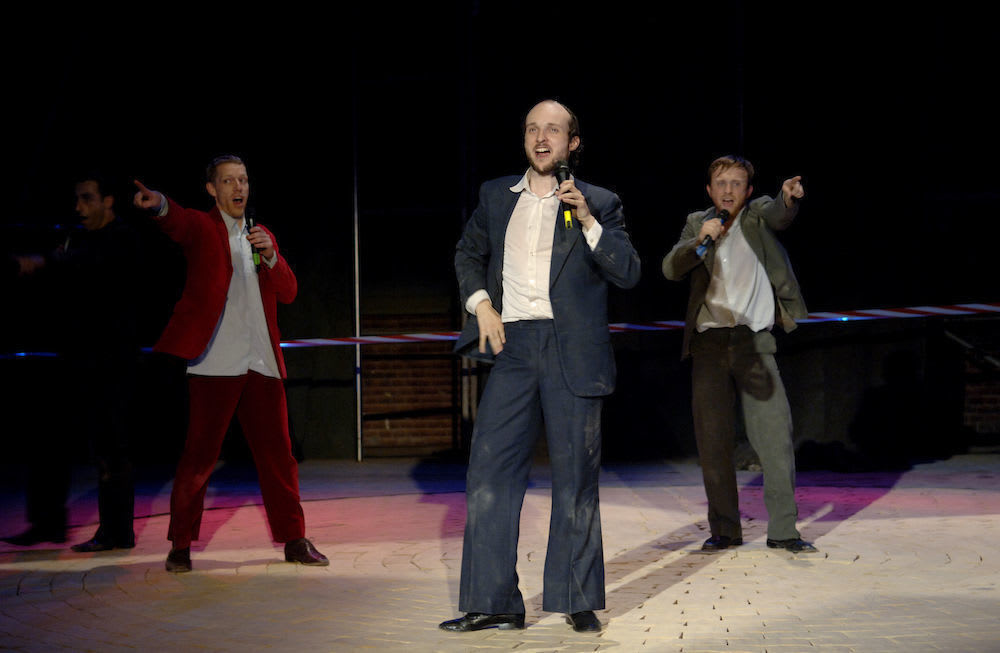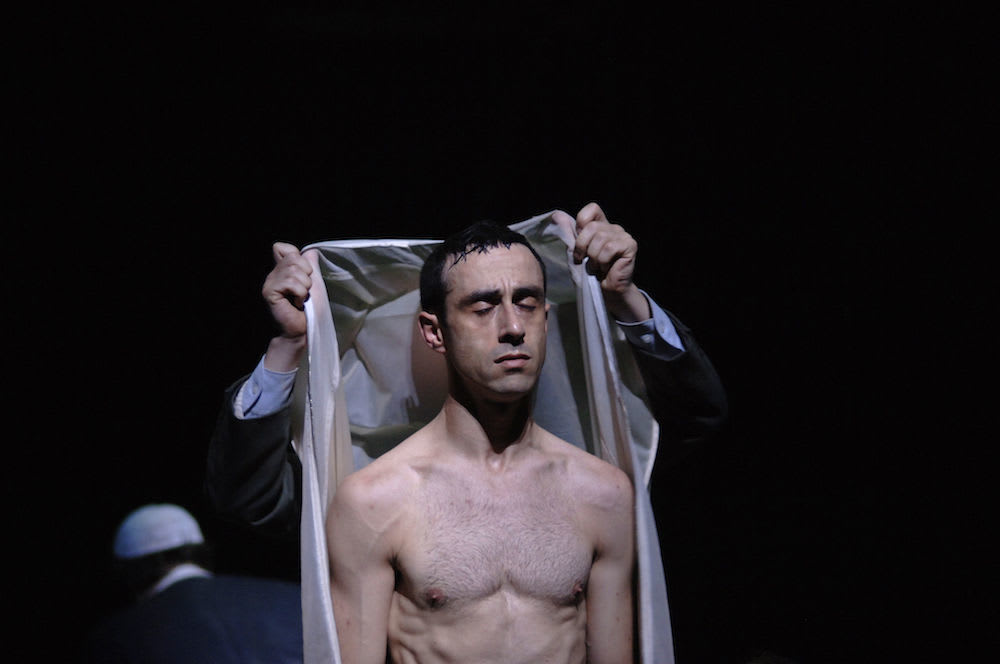 Creating remarkable stage pictures, a boy band from across the centuries, from before, d'avant, spin, dangle, dance, fight, protest, bond, play tricks, throw bottles, are shown red cards, as they move and sing, unaccompanied, medieval plainsong.
Not an easy combination. A quartet of mature men, different body types, constructs picture blocks from plastic bodies and hot air.
Over ninety at times puzzling (all becomes clear the further one enters the four men's world) minutes a kaleidoscope of images creates a fractured narrative that is solemn, witty, daft, playful and unexpected.
On a building site—scaffolding, ropes, dustsheets, bricks and pulleys—a man spins like a weathervane. Arms outstretched, eyes rolling, skullcap on his head, is he a surveyor or a mystic in prayer? What is he doing? Sidi Larbi Cherkaoui grabs attention with the minimalist of means.
Response comes from on high—from the three tiers of the rickety building. Three men descend and remove the pole holding Cherkaoui's arms in cruciform. He crumples to his penitent knees.
Tap dances and, after some horseplay, is hoisted like an effigy up the building wall. It's a cathedral and they are the masons, right, singing and building the glory of god and man? Probably. The clock chimes as he swings above counting the hours on his fingers. Clowning to the end?
Men, boys, children, the ages melt away—in every sense—into a universality of physical banter, platonic friendships, vivid human imagination. Charlie Chaplins and Buster Keatons they shin down fireman poles and slides made of fabric.
Interchangeable red suit and grey suit, torso and legs, jacket and trousers, funny dextrous physical pranks and perfect timing, and the chants continue. Imagine the breath required.
A circular arena of bricks is dismantled. Is this the Roman Coliseum or Stonehenge? Brick dominoes fall. Bodies—hands of a clock—measure the radius.
An arena for a Take That boy band, for protest marches, for football violence, for religious parades, for differences of opinion.
Brick columns rise under their feet as in a tight bunch they step neatly from tottering pillar to crumbling post, such delicate footwork doing good service in their four-man swopping partners tango.
Ordinary men with their tea flasks and torches metamorphose in the shake of a hand into extraordinary pilgrim, priest, bride, widow, and corpse interred in the bricks dug up to make his grave.
Did Juan Kruz Díaz de Garaio Esnaola, zipped into a shroud, draw the short straw, or is his breathing capacity the best out of the four?
A man pisses in the wind—well what do you expect from builders and football hooligans... but no, it's a fountain, in which another man performs his ablutions before he sinks on to his knees and chants.
An undermining of what we think we see, a satire on human folly done with deceptively simple dance theatre imagery, and haunting medieval song harmony a link to the past and the human heart.
It brings to mind Ali Smith's award-winning novel How to Be Both, pulling together threads from the present day and the Renaissance—which half comes first is a matter for the individual reader. We are part of the process.
d'avant, which premièred in 2002 at the Berlin Schaubühne am Lehniner Platz, came 'out of Juan Kruz Díaz de Garaio Esnaola's desire to bring singing and movement to the same level of theatrical discourse.'
When all four men met, 'they discovered a shared enthusiasm for the vocal music of the Middle Ages', recognizing 'in each other's works a common thread: the natural voice and how it flows over into movement and becomes theatrical.'
All have training in voice and dance. So, 'four dancing singers' or 'four singing dancers' it had to be. All four became co-creators.
Their credentials may not be known to you all: 'Damien Jalet has collaborated with choreographers Wim Vandekeybus and Akram Khan and the visual artists Antony Gormley and Jim Hodges.'
'Juan Kruz Díaz de Garaio Esnaola trained in early music in Spain and Amsterdam. Following his training as a countertenor, he moved towards dance and has worked with DV8's Lloyd Newson before joining Sasha Waltz and Guests.'
'Luc Dunberry studied theatre, music and dance in Canada and has been a member of Sasha Waltz and Guests since 1996.'
Sidi Larbi Cherkaoui needs no introduction: Sadler's Wells associate artist, newly appointed artistic director of the Royal Ballet of Flanders, artistic director of his own company, Eastman.
Together they feed off each other, parts of an intricate clock mechanism, each cog triggering its neighbour.
Reviewer: Vera Liber