Daisy Pulls It Off
Denise Deegan
Go People and Glass Half Full Productions
Park Theatre
–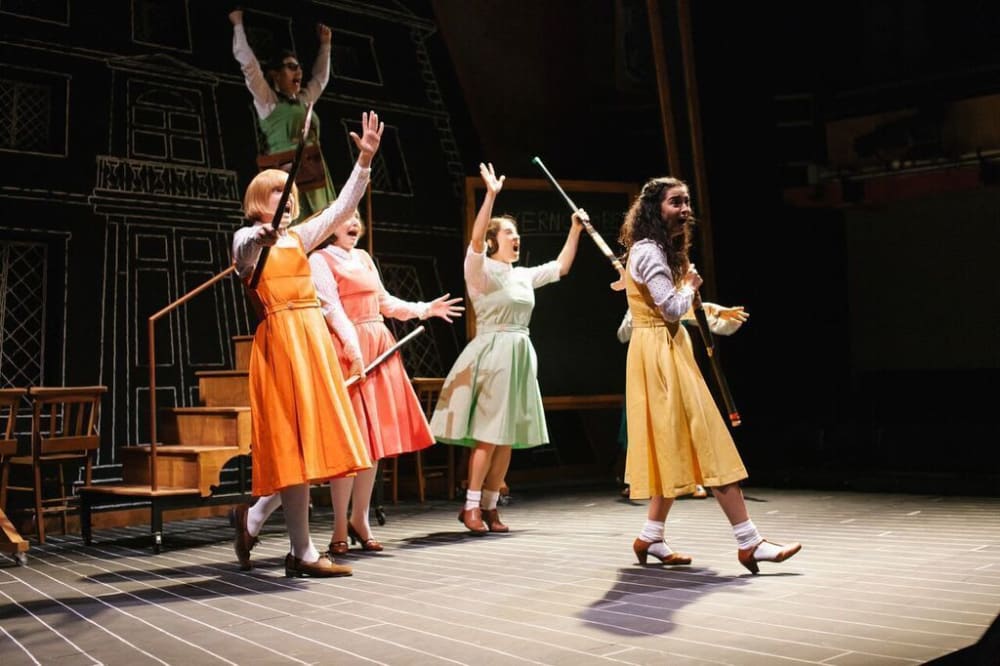 The odds are that anyone tripping along to the Park Theatre to see Daisy Pulls It Off will come away feeling positive about the experience. That is almost inevitable, given that this spoof ripping yarn saves most of its fireworks for the last 20 minutes. In the earlier stages, this 35-year-old comedy, which had enough public appeal to manage a three-year run in the West End, is always pleasantly amusing but without giving up all that many belly laughs.
Denise Deegan ensures that the clichés come thick and fast throughout. The plot is the stuff of numerous Boys' (and Girls') Own stories as plucky Daisy Meredith, played by Anna Schaffer of Hollyoaks and Harry Potter fame, leaves her mother and four brothers to take up the first ever scholarship at swanky Grangewood School, an institution that might be compared to Roedean on speed.
The snobs of the Upper Fourth, led by EastEnders' Shobna Gulati in the role of snooty Sybil lawyerly supported by Clare Perkins as her quietly malign sidekick Monica, shower opprobrium on the highly intelligent former elementary school pupil.
Daisy hardly helps her case by outshining them in every facet of the school's curriculum in addition to having innate genius, making her a rare teenager who can both play the piano like a pro or hockey at something approaching Olympic level.
However, in the 1920s, class still mattered, even to the teachers. As a result, even they were generally willing to think the worst of their new acquisition, especially as she turns out to be highly espionage-prone.
The evening is spiced up by a series of disasters great and small, all of which seem to involve poor, sweetly innocent Daisy and her rather mature but lovable best friend Trixie, portrayed with superb comic sensibility by Father Ted favourite Pauline McLynn.
Rather than a prehistoric version of St Trinian's, this public school experience is much more genteel and of the jolly hockey sticks variety, featuring jolly japes instead of criminality. Beyond trying to fight off the tricks played by her peers, the main story features Daisy and Trixie getting into lots of trouble as they attempt to find hidden treasure somewhere on the school premises.
The 2½ hours build towards a hilarious hockey match and then a midnight clifftop rescue, both supremely choreographed by director Paulette Randall, who adds a good many other witty touches to bolster a script that can be predictable, though there are some well-hidden double entendres to amuse those paying close attention.
In the season of goodwill, Daisy Pulls It Off could be a perfect alternative to the panto for family groups, with its mixture of comedy and social commentary delivered deliberately unsubtly but most effectively, particularly in the later stages of the evening.
Reviewer: Philip Fisher